Movie Review
The Story of Ruth
All The Spectacle Of Heathen Idolatry, Human Sacrifice, Pagan Revels - All The Beauty Of One Of The Bible's Timeless Love Stories!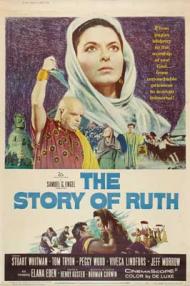 US Release Date: 06-17-1960
Directed by: Henry Koster
Starring
▸
▾
Stuart Whitman

,

as

Boaz
Tom Tryon

,

as

Mahlon
Peggy Wood

,

as

Naomi
Viveca Lindfors

,

as

Eleilat
Jeff Morrow

,

as

Tob
Elana Eden

,

as

Ruth
Thayer David

,

as

Hedak
Les Tremayne

,

as

Elimelech
Eduard Franz

,

as

Jehoam
Leo Fuchs

,

as

Sochin
Lili Valenty

,

as

Kera
John Gabriel

,

as

Chilion
Ziva Rodann

,

as

Orpah
Basil Ruysdael

,

as

Shammah
John Banner

,

as

King of Moab
Victor Buono

as

Extra
Reviewed on:
March 24th, 2015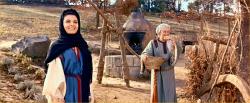 Elana Eden and Peggy Wood in The Story of Ruth.
The Story of Ruth was made at the height of the Biblical epic craze in Hollywood, which lasted roughly from the end of the 1940s to the mid-60s but hit its peak in the late 50s to early 60s. This was the era of Ben-Hur and Spartacus. To compliment those movies, The Story of Ruth offered a splashy CinemaScope rendering of the life of an ancient historical figure that happened to be a woman. It tells a very Hollywood-ized version of the Old Testament story traditionally ascribed to the prophet Samuel. According to scripture, Ruth was the great-grandmother of King David, as well as an ancestor of Jesus of Nazareth.
The Story of Ruth was directed by the prolific Henry Koster. The German born Koster had directed his first movie in Berlin back in 1932. His Hollywood films included The Bishop's Wife (1947) and Harvey (1950) and he would go on to direct Flower Drum Song (1961) and his final film The Singing Nun (1966). He was no stranger to the Biblical epic, having directed The Robe in 1953.
Israeli actress Elana Eden made her movie debut in the title role, beating out Susan Strasberg, Susan Kohner, Tina Louise (the future Ginger Grant herself), Diane Baker and several other actresses. The Story of Ruth proved both a commercial and critical success upon its release in the summer of 1960. Eden is very good as Ruth, radiating a quiet dignity and steely-yet-pious determination. She was singled out by critics for her work but was overlooked when Oscar nominations were announced. In fact The Story of Ruth failed to garner even a single nod from the Academy.
The first half of the movie is pure Hollywood spectacle. If Cecil B. De Mille hadn't died the year before I would almost have thought he directed it. Ruth becomes a favorite young idolatress to the pagan king of the Moabites. When she is about to be offered up as a human sacrifice to the Moabite deity Chemosh, a blemish appears suddenly on her arm, making her unfit for the altar and thus saving her life. The blemish then disappears as miraculously as it appeared. Later, a now grown-up Ruth must mentor another young girl being groomed for sacrifice. Witnessing the murder of this child causes Ruth to flee and begin questioning her beliefs.
After Ruth meets and falls for an Israelite, she follows her heart and denounces the Moabite religion. She marries the man but he dies suddenly. When his mother Naomi decides to return to the land of her birth, Ruth famously vows to accompany her mother-in-law. Ruth 1:16 and 17 says, "Where you go I will go, and where you stay I will stay. Your people will be my people and your God my God. Where you die I will die, and there I will be buried. May the Lord deal with me, be it ever so severely, if even death separates you and me." The remainder of the story deals with Ruth's acceptance by the Israelites and her eventual marriage and progeny, thus fulfilling the prophesy.
Stuart Whitman, Tom Tryon and Jeff Morrow provide the beefcake. They are all a bit similar and on the bland side. They are okay in these roles but not one of them does anything to distinguish themselves or to leave an impression. One reason it doesn't matter too much is because the real heart of the story is between Eden's Ruth and Peggy Woods as Naomi. The evolution of their relationship is the most compelling aspect of Ruth's story.
In short, The Story of Ruth is an entertaining and well-made Biblical chick-flick with a stunningly beautiful debut performance from Elana Eden.
Photos © Copyright Twentieth Century Fox Film Corporation (1960)