Movie Review
Stormbreaker
You're never too young to die.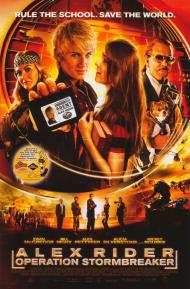 US Release Date: 10-06-2006
Directed by: Geoffrey Sax
Starring
▸
▾
Alex Pettyfer

,

as

Alex Rider
Missi Pyle

,

as

Nadia Vole
Mickey Rourke

,

as

Darrius Sayle
Andy Serkis

,

as

Mr. Grin
Alicia Silverstone

,

as

Jack Starbright
Sarah Bolger

,

as

Sabina Pleasure
Robbie Coltrane

,

as

Prime Minister
Stephen Fry

,

as

Smithers
Damian Lewis

,

as

Yassen Gregorovich
Ewan McGregor

,

as

Ian Rider
Bill Nighy

,

as

Alan Blunt
Sophie Okonedo

as

Mrs. Jones

Reviewed on:
September 5th, 2008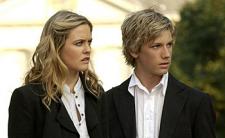 Alex and his hot nanny, Jack!
My oldest son's favorite book series in middle school was the Alex Rider series. Alex is a British, teenage version of James Bond. Throughout the series, he has adventures all over Europe, working for MI6.
As the movie opens, Alex is living with his uncle Ian and a female American nanny/housekeeper named Jack. Unknown to Alex and Jack, Ian is a secret agent for MI6. After Ian comes up missing, Alex is recruited by MI6 to go undercover as a computer whiz to discover what a very rich American entrepreneur is up to. It is the same assignment his uncle was working on when he disappeared.
With such a famous cast, I wondered why this film was never released in the United States. It takes itself, for the most part, seriously. It explains Alex's athletic and martial arts ability quite logically. Although you know Alex will live to have another adventure, there is killing, and Alex is responsible for at least one death.
The problem, I think, this film had was timing. When it came out in 2006, American audiences had tired of the Spy Kids series and the Cody Banks movies. Both American franchises dumb down the genre to monotonous levels of childish jokes and zero tension. Although Stormbreaker is not a perfect movie, it rises above both of it's American rivals.
Alex is given gadgets. He has a yo-yo that is actually a wire used for scaling walls. He has Zit cream that can burn through metal. Although the gadget's uses are nothing new, the packaging for them is. Alex complains that the yo-yo is an outdated toy.
Any British film buff, and by that I mean you Scott, will recognize most of the cast. The most recognizable name is, of course, Ewan McGregor. The American cast carry their own. Silverstone plays the role of a loyal servant, a part usually reserved for a Brit. Rourke plays the bad guy. With that mug of his, how many choices of roles could he have. Pyle is the comic relief as Rourke's assistant. Think of her as a tall thin version of Rosa Klebb and Frau Farbissina.
Due to the lack of response to this movie, on this side of the Atlantic, it looks like the movie series will not continue. Movies like this have a real hard time finding an audience. Movies marketed for a teen audience tend to avoid blood, swearing and real hard core tension. As the Harry Potter movies have proved though, movies starring teenagers can attract an adult audience, if they treat the subject seriously enough. Stormbreaker comes closer than Spy Kids and Agent Cody Banks to succeeding. However, it never found the right tone, or worse yet, gave Alex enough personality, to make this movie as good as it could have been.
Photos © Copyright Metro-Goldwyn-Mayer (MGM) (2006)