Movie Review
The Star
Bette Davis eyes her chance to be The Star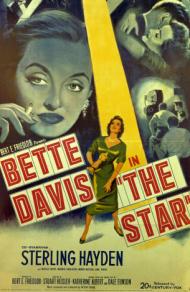 US Release Date: 12-11-1952
Directed by: Stuart Heisler
Starring
▸
▾
Bette Davis

,

as

Margaret Elliot
Sterling Hayden

,

as

Jim Johannson
Natalie Wood

,

as

Gretchen
Warner Anderson

,

as

Harry Stone
Minor Watson

,

as

Joe Morrison
June Travis

,

as

Phyllis Stone
Robert Warwick

as

R.J., Aging Actor at Party
Reviewed on:
October 7th, 2003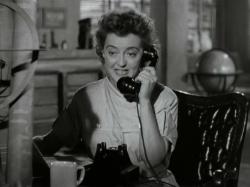 Bette Davis in The Star.
Two years after she failed to win the Oscar for her role as Margo Channing in All About Eve Bette Davis gave it another shot as Margaret Elliot in The Star. This time she's a washed up movie star instead of an aging Broadway diva, but beyond that the characters have very little in common; whereas Margo was regal and domineering, Margaret is much more insecure and less talented. The way that Bette Davis, a great actress, was able to so successfully capture the bad acting of Margaret Elliot makes this movie fun to watch.
Former Academy Award winning star Margaret Elliot is out of work and broke. To make matters worse her dead-beat poor relations have dropped in for their monthly allowance. Margaret tries to explain to them that the gravy train has stopped running and when they refuse to accept this she throws them out in a huff. She then gives the movie's most famous line, spoken to her Oscar statuette. 'Come on, Oscar, let's you and me get drunk!' She then proceeds to drive around Hollywood, cigarette in one hand, bottle of booze in the other, with her Oscar on the dashboard. Needless to say she crashes the car and winds up in jail.
The next morning Margaret is bailed out by her former gardener, a man who has carried a torch for her all these years. He takes her to his home and tries to help her get back on her feet. There is a minor subplot dealing with her teenaged daughter played by Natalie Wood. But all Margaret really seems to care about is a chance at a comeback, preferably as the star of 'The Fatal Winter' a part she has coveted for years.
When she finally gets a chance to audition for the movie, she is horrified to learn that they want her not as the star, but to play the ingénue's older sister, what is essentially a character part. She blows the screen test by dressing and acting like a flirtatious teenager. It is in this scene specifically that Bette Davis shows what a brilliant actress she was by fearlessly overacting as Margaret Elliot desperate to play a young coquette one more time. The follow-up scene where Margaret excitedly watches the daily rushes, only to be completely humiliated by her grotesque appearance, is also wonderful.
Although the movie itself is not in the same league as Eve the performance Bette gives as Margaret Elliot is greater in some ways. She is more real and therefore more tragic. Besides being remembered today as a camp classic The Star is also one of Bette Davis' best performances in a career filled with them.
Photos © Copyright 20th Century Fox (1952)
Related Review