Movie Review
A Star Is Born
Fate Raised Her To Fame - and killed the man she loved !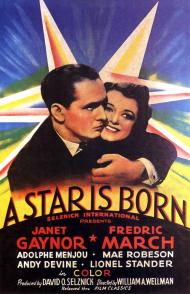 US Release Date: 04-27-1937
Directed by: William A. Wellman
Starring
▸
▾
Janet Gaynor

,

as

Esther Victoria Blodgett - aka Vicki Lester
Fredric March

,

as

Norman Maine
Adolphe Menjou

,

as

Oliver Niles
May Robson

,

as

Grandmother Lettie Blodgett
Andy Devine

,

as

Danny McGuire
Lionel Stander

,

as

Matt Libby
Owen Moore

,

as

Casey Burke - Director
Peggy Wood

,

as

Miss Phillips - Central Casting Clerk
Elizabeth Jenns

,

as

Anita Regis
Edgar Kennedy

,

as

Pop Randall - Landlord
J.C. Nugent

,

as

Mr. Blodgett
Guinn 'Big Boy' Williams

,

as

Posture Coach
Clara Blandick

,

as

Aunt Mattie
Pat Flaherty

,

as

Cuddles
Franklin Pangborn

,

as

Billy Moon
Carole Landis

as

Girl in Beret at Santa Anita Bar


Reviewed on:
May 21st, 2014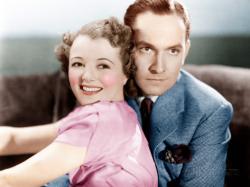 Janet Gaynor and Frederic March in A Star is Born
Having seen the 1954 and 1976 versions, I will start this review by stating that although both have something to offer, neither is better than the original. The academy agreed as A Star is Born was the first all-color film nominated for an Academy Award for Best Picture. The plot may have been similar to What Price Hollywood? (1932) but none of the eight writers responsible for that film are given any credit here. Another ten writers are given writing credit for this film, including Dorothy Parker.
Janet Gaynor plays Esther Blodgett, a rube from North Dakota who goes to Hollywood with dreams of becoming a movie star. Her first stop is Grauman's Chinese Theater, where she admires the cemented signatures of Jean Harlow, Harold Lloyd, Shirley Temple and her favorite, Norman Maine. She visits Paramount studios casting office and discovers that getting work on film is not as easy as she thought.
She meets and befriends struggling assistant director Danny Maguire. After he gets work on a war picture, he takes Esther to a concert at The Hollywood Bowl. There she gets her first glimpse of a drunk Norman Maine, sitting a few rows in front of them. With the bills due, and acting offers non-existent, Danny gets Esther the classic Hollywood role of waitressing at a Hollywood party. This is one of my favorite scenes with Gaynor impersonating Greta Garbo, Katharine Hepburn and Mae West as she serves food and drinks to confused directors and producers.
Norman is in attendance where he, of course, drinks and meets Esther. He is with a shrew, making Esther a pleasant alternative. He takes her home with sex on his mind while she is quite clearly not that kind of girl. He gets her a screen test and from there her career takes off.
Most of the film is played like a romantic comedy. Maine trying to find Esther's phone number, while drunk, is worth a few laughs, as is the annoyed landlord who answers the call. I loved the press agent who romanticizes Esther's life story and becomes disgusted when he hears her name. Esther is quickly renamed Vicki Lester, taught posture, elocution and given a makeover. Vicki and Norman make a movie together in which Vicki outshines Norman. He says to her after the premiere, "A star is born."
This is easily the lightest of all the interpretations. Vicki and Norman fall in love and elope after Norman promises her that he will quit drinking and save his money. They unsuccessfully go camping on their honeymoon, to get away from the glaring lights. The scene is played entirely for laughs.
Their love is enough to sustain them as long as they keep work at a distance. Things become more dramatic as Vicki's star rises and Norman's falls. The studio head tells Norman that his popularity has slipped, or as he so eloquently puts it, "Every 25 cents they (fans) pay for a theater ticket buys them the right to be a critic and your last few performances have not pleased your critics." Norman quits acting and soon becomes bored. Before long, he starts drinking again.
Janet Gaynor is fine playing sweet but I was struck by Fredric March's performance. He plays a hilarious drunk and a sad disappointment. His best moment is when he arrives intoxicated at the Academy Awards just as Vicki is giving her acceptance speech and accidentally hits her. His low point is reached after he gets into a fight and tells a cop, "I am Norman Maine." And the cop responds, "That's not my fault." Of all the Normans in all the movie versions, I felt the most sympathy for this one. He has better chemistry with Gaynor than James Mason did with Judy Garland and is a stronger character than Kris Kristofferson ever was with Barbra Streisand.
A Star is Born is a classic Hollywood tale of the rise and fall of fame. It does not shed a complimentary light on tinsel town but it is very honest and realistic. Norman, asking a policeman if he knows who he is has been done in real life by such stars as Alec Baldwin and Reese Witherspoon. Rumor was that Norman was based on real hard drinking actors of the time, but the part seems far too iconic to be attached to any one star.
Reviewed on:
October 22nd, 2014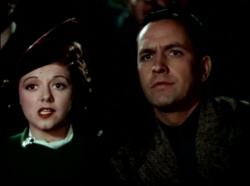 Janet Gaynor and Fredric March in A Star Is Born.
If you remove all of Judy Garland's songs from her version then the original is definitely the best. It remains the most pure rendering of this oft-told tale as well as the most universal in appeal. First of all the time period of the 1930s suits the story best. Hollywood was in the midst of its Golden Age and parts of this movie play like a tour guide. It features some of the earliest Technicolor footage of Tinsel Town. Clips of which were used as stock footage in many other movies over the years.
Unlike the two remakes, both of which begin on the night Norman and Esther first meet, this one begins far from the lights of Hollywood. It opens with a shot of the script setting the scene. Cut to a lonely snow covered house in the mountains with a wolf howling in the foreground. We first meet Esther Blodgett daydreaming of stardom. Her Granny (May Robson) gives Esther a speech about following her dreams, but cautions her that they will come with a price. She sees her granddaughter off on a train to California.
The first half of the movie belongs to Janet Gaynor. She is quite good as the starstruck rube trying to make good. Unlike Judy Garland and Barbra Streisand, both of whom possessed such enormous talent, her Esther comes across as rather plain and ordinary, which better suits the role. Sure she is good at impressions but she doesn't seem at all larger than life. In fact, while it was difficult to buy Judy or Barbra as a struggling unknown singer, it is entirely believable that Gaynor would need inside help making it to the top.
Watching her transformation from nobody to movie star is highly entertaining. Adolphe Menjou's best scene is where he comes up with her new monicker. He cleverly transforms Esther Victoria Blodgett into Vicki Lester. Once Lester is a star, however, the focus of the story switches from her rise to Norman Maine's downfall. In one scene Norman is arrested for drunk driving. The judge berates him for having squandered the many advantages he's had and sentences him to 90 days in the slammer. But when Vicki Lester, whose star is shining brightly, intervenes on her husband's behalf, the judge reacts like a starstruck fan and immediately remands Norman into his wife's custody.
Fredric March gives a hell of a performance as Norman Maine. I agree with Eric that he's the best of the three actors who've played the role. I also agree that this version is more comedic than either of the remakes but it also has the biggest emotional punch. And whereas the musical versions are all about their female star, this one is much more equally balanced. I loved the press agent played by Lionel Stander. His reaction to the news of Norman's death is priceless. He's sitting at a bar looking at the headlines and he says to the bartender, "Pardon me, how do you wire congratulations to the Pacific Ocean?" It isn't until the final seven minutes that the focus shifts back to Vicki for Gaynor's big emotional outburst as she emerges from the funeral service. The picture ends as it began, with a shot of the script. This time it's the final page containing the famous last line, "This is Mrs. Norman Maine." Fade out. The end.
Reviewed on:
November 14th, 2014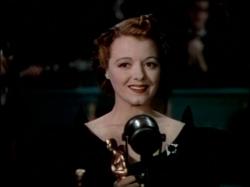 Janet Gaynor in A Star is Born.
There's one odd thing that all three versions of A Star is Born have in common and that is the inappropriate age of their leading ladies. Judy Garland was 32, Barbra Streisand was 34, while Janet Gaynor was 31. Hardly old in a chronological sense, but all too old for the role of the young ingenue. Also ironic, considering the part they're playing is that of a young girl whose career is just beginning, is the fact that both Gaynor and Garland were well past the peak of their careers in real life. Gaynor, who had been making movies since the silent era, would only make 3 more movies following this one, while Garland wouldn't make another movie following her turn as Esther for 7 years when she would go from star to a supporting player in Judgment at Nuremburg.
The age discrepancy is most noticeable in this version during the early scenes before Gaynor travels to Hollywood. Once you get used to her in the part, she's a good enough performer that the age stops mattering, helped by the makeover she receives at the hands of the studio as part of her transformation into Vicki Lester. And, like Eric, I enjoyed her skills as a comedian and her impressions of actresses of the day. And yet she's equally good with the drama, including her moving recitation of the film's classic final line.
Agreeing with my brothers, March is easily the best of the actors to play Norman Maine. Where Garland and Streisand both dominate their films, Gaynor and March share the story much more democratically. March also manages to make what is basically a very weak and selfish character into someone likable. Reportedly his character was based in part on the alcoholic tales of actors John Barrymore and John Gilbert.
The supporting cast helps keep the mood light. Andy Devine, in what might be the only non-Western I've ever seen him in, plays a director friend of Gaynor's and as my brothers mentioned, Menjou and Lionel Stander are both quite good in their parts.
I also enjoyed the scenes of 1930's Hollywood that Patrick mentioned. The color isn't of the highest quality, but it's still a treat to see a barely 10 year old Grauman's Chinese Theater in color. And the avid Oscar watcher in me got a kick out of seeing the recreation of just the 8th annual Academy Award ceremony.
Although Gaynor's performance isn't as dramatically strong as Garland's, they are both classic versions of the same story. They each have plenty to recommend about them and it's hard to say which is the better version. I do agree with Patrick that the 1930's setting suits the story best. Hollywood was young and innocent enough for the public to believe anyone could become a star while still being shocked by the drunken behavior of those who already were.
Photos © Copyright Selznick International Pictures (1937)
Related Reviews