Movie Review
A Star Is Born
Screen Legend Judy Garland is Re-Born!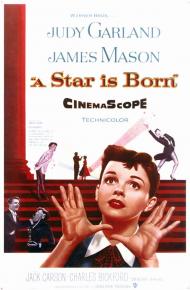 US Release Date: 09-29-1954
Directed by: George Cukor
Starring
▸
▾
Judy Garland

,

as

Vicki Lester/Esther Blodgett
James Mason

,

as

Norman Maine
Jack Carson

,

as

Matt Libby
Charles Bickford

,

as

Oliver Niles
Tommy Noonan

,

as

Danny McGuire
Lucy Marlow

,

as

Lola Lavery
Amanda Blake

,

as

Susan Ettinger
Irving Bacon

,

as

Graves
Hazel Shermet

,

as

Libby's Secretary
James Brown

,

as

Glenn Williams
Grady Sutton

as

Artie Carver

Reviewed on:
November 16th, 2003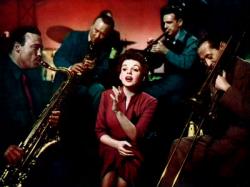 Judy Garland in A Star is Born.
In 1932 a movie called What Price Hollywood? told the story of an unknown waitress (Constance Bennett) working at The Brown Derby who gets discovered by a boozing but famous director and soon becomes a star. George Cukor directed it. A few years later in 1937 the story was revived but with a few minor plot adjustments. Renamed A Star is Born, it starred Janet Gaynor as the female lead. Seventeen years later Cukor made a third version – this time as a musical. Judy Garland - in her first screen role since being fired by M-G-M four years earlier – plays struggling singer Esther Blodgett who gets discovered by the drunken and soon-to-be washed-up Norman Maine. The story didn't end there. It was revived yet again by Barbra Streisand in 1976's 'rock' version and in 2001 pop diva Mariah Carey used a slight variation of the storyline in her famous flop Glitter.
This 1954 Judy Garland version is easily the most celebrated of the five movies. She was famously passed over at the annual Academy Awards ceremony in favor of Grace Kelly in (the nearly forgotten) The Country Girl. Judy gives such an incredibly moving performance it really is a shame that she lost. She quivers with vulnerability and bursts with rage and when she sings forget about it. She was quite simply the most talented singer/dancer in movie history and 'The Man that Got Away' and the 'Born in a Trunk' medley are two of the most dazzling musical numbers ever put on film.
James Mason is also genuinely moving as the doomed Norman Maine. He plays the drunk without resorting to the predictable slurred speech and clumsy mugging. He is also completely believable as a once great star. From the moment he staggers out onto the stage in the middle of Esther's number to his final sunset swim in the Pacific he is never less than stellar. Unfortunately the chemistry between him and Garland never gets beyond the fond stage. His love for her seems next door to platonic and hers for him seems just plain desperate. Perhaps this is the effect Cukor wanted but the passion in the Streisand/Kristofferson version makes their ending more romantically tragic.
Shortly after the premier in September of 1954 the executives at Warner Bros. made the decision to trim (some say butcher) the movie by removing 27 minutes of film. They did this for financial - not artistic - reasons. They could fit in more screenings of a shorter movie.
The DVD has a nearly complete restored version. Although several scenes are still missing they are filled in using still photos accompanied by the original audio. I personally think that the movie plays better in the shorter version. Most of what was put back in deals with the early relationship of Esther and Norman. In the edited version it cuts directly from the night they meet to Esther's first day at the movie studio. At the risk of invoking the wrath of hard-core Judy fans, this is the better way to tell the story.
On the plus side A Star Is Born has great performances, great songs and great cinematography. On the minus side it suffers from a slow pace and lack of sexual tension between the leads and I've always hated the fact that she doesn't sing at the end.
The bottom line: Judy performing at the peak of her powers outweighs every flaw.

Reviewed on:
November 23rd, 2003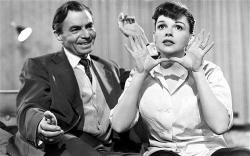 James Mason and Judy Garland in A Star is Born.
There is a reason why most movie stars are good looking. If you have to stare at someone on screen for two hours wouldn't you prefer that they be attractive. In fact, there are many movie stars who got to where they are, or were, simply because of their looks. Rare is the actor or actress that is so talented that their ugliness can be over looked. Bette Davis is a good example, but Judy Garland is the best.
A Star Is Born is a veritable tour de force of film talent. If ever someone was robbed of an award it was Garland getting passed over for the attractive, but far less talented, Grace Kelly.
In A Star Is Born Garland runs the entire scale of emotions. She starts as an unassuming ingenue and ends up a saddened but wiser diva. She acts her ass off. The scene in her dressing room where she discusses her husbands failings is dramatically perfect. The film also has comedy, such as where Garland is playing the role of an arm waving out of a train window. A director says 'We can still see her face.' The punchline kind of plays into her looks. There is also the classic scene where she thinks someone just told her to 'go to hell.'
The best Garland has to offer though is in the musical numbers. Her version of 'The Man that got Away' is the quintessential torch song. She really brings emotion to her singing. With the 'Born in a Trunk' number you find a performance that matches the best work of Fred Astaire or Gene Kelly.
The weakness of this movie is James Mason. As Patrick wrote, he and Garland have no chemistry to speak of. It is almost as if his Norman wants to be her. He admires her talent in an almost creepy way. His accent doesn't help. He sounds almost threatening in some scenes. Almost any other leading actor of the time could have made this movie better.
Reviewed on:
November 2nd, 2012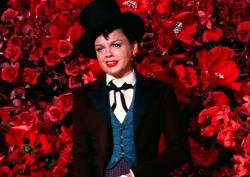 Judy Garland in A Star is Born.
Following Judy Garland's loss at the 1954 Academy Awards to Grace Kelly, Groucho Marx famously said, "This is the biggest robbery since Brinks." I couldn't agree more. Her performance in this film isn't just one of the best of that year, but is one of the all time best and is certainly the dramatic highlight of her career. It was her first movie in four years and should have marked her triumphant return to the screen, but would instead be the last time she appeared in a film for seven years.
Originally, director George Cukor wanted Cary Grant, whom he had worked with 3 times previously, to play Norman Maine. Grant was in semi-retirement at the time and turned down the role. Rumor has it that the reason was at least in part due to Garland's deteriorating reputation. Further rumor has it that Cukor never forgave Grant for rejecting the part.
While I'm sure Grant would have been brilliant, the most important thing he would have brought to the role was his past. When the movie starts Norman Maine is already past his prime and a drunk whose popularity is waning. If Grant, with his charm and good looks, had played Norman, then the audience would have an instant connection with him and would have connected Norman's past with Grant's. With Mason though, that connection is missing and so we only have the script's word that at one time this was a charming, charismatic actor.
However, while Garland dominates the film and rumors of Grant and other famous actors who turned down the part often overshadow James Mason's performance, he does still do a good job in the part. The further along the story went, the more I warmed to him. It's a difficult role for a man, because he's playing such a weak and often unlikable character, which, I suspect, is another reason so many leads of the day turned it down. There isn't much time, without making a long movie even longer, to show his younger, charming self, which is why Grant's personal charm and history would have helped. As Jack Carson's character says, "Norman Maine's charm has always been lost on me." And later the studio head tells him that, "You never really knew Norman Maine." And I have to say that's true of the audience as well.
Watching Judy's tear jerking scene where she discusses Norman's addiction, I couldn't help but focus on the irony. Here was a woman whose entire career and life was marred by drugs, alcohol and a slow slide to an early death, asking, "What is it that makes him want to destroy himself?" And saying, "You don't know what it's like to watch someone you love crumble before your eyes." Later, the studio head tells Norman that the days when a star could turn up late and hold up production for weeks at a time were over. Did Judy see the irony? It certainly adds poignancy to the scene.
I have to confess that I sat down to watch this movie with some trepidation. A three-hour, musical melodrama wasn't something I was looking forward to and I was planning on the possibility of watching it in two parts. Any thought of pausing it was quickly forgotten however, as I became caught up in the story and particularly by Garland's performance.
My one complaint is about the ending and is a point that Patrick touched upon. Yes, the last line of, "This is Mrs. Norman Maine." is a touching one, but it should have ended with a song. This is a far superior film than the 1976 remake, but Streisand does at least sing a final song, even if she does overdo it.
There's been talk of yet another remake of this film, with Clint Eastwood as director. Of course I will see it if it ever gets made, but this 1954 release will always stand as the definitive version of the story.
Photos © Copyright Warner Bros. (1954)
Related Reviews