Movie Review
Stand Up and Cheer!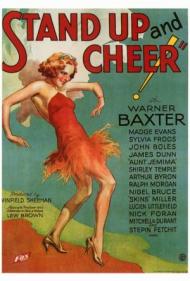 US Release Date: 05-04-1934
Directed by: Hamilton MacFadden
Starring
▸
▾
Warner Baxter

,

as

Lawrence Cromwell
Madge Evans

,

as

Mary Adams
James Dunn

,

as

Jimmy Dugan
Sylvia Froos

,

as

Sylvia Froos
John Boles

,

as

John Boles
Arthur Byron

,

as

John Harly
Shirley Temple

,

as

Shirley Dugan
Ralph Morgan

,

as

Secretary to President
Tess Gardella

,

as

Aunt Jemima
Frank Mitchell

,

as

Senator Danforth
Jack Durant

,

as

Senator Short
Dick Foran

,

as

Nick Foran
Nigel Bruce

,

as

Dinwiddle
John 'Skins' Miller

,

as

Hill-Billy
Stepin Fetchit

as

George Bernard Shaw
Reviewed on:
February 16th, 2014
James Dunn, Shirley Temple and chorus girls in Stand Up and Cheer!
Stand Up and Cheer! is remembered today as the movie that made six-year-old Shirley Temple a star. From a story by Lew Brown (who also wrote the lyrics to the score) and Will Rogers it is little more than an excuse to feature popular vaudeville acts of the day in a musical revue format. What slight plot there is concerns President Roosevelt appointing a Broadway producer (Warner Baxter) to the newly created post of Secretary of Amusement in order to help lift the American people out of the throes of the Great Depression.
The adorably cute tot Shirley Temple has one brief scene and performs one song & dance number "Baby, Take a Bow". She wore her own white-with-red-polka-dots organza dress (see photo). A costume that would become her trademark. The tap dance routine she performed was the same one she auditioned with. This young girl was ready for the big time. All she needed was the opportunity to show off her talents and this movie provided the perfect launching pad for the soon to be famous child star. Within a few short months Shirley Temple would be the top box office attraction in the country with a huge line of merchandise bearing her likeness including dolls, mugs, hats, dresses, phonograph records; even a famous non-alcoholic beverage made of ginger ale, grenadine, and orange juice, topped with a maraschino cherry, was named in her honor.
Other performers include Dick Foran (making his movie debut, credited as Nick Foran) who sings several of the optimistically titled songs including "We're Out of the Red" and "I'm Laughin'", and John Boles and Sylvia Froos who duet on "This Is Our Last Night Together" (all playing themselves). James Dunn plays little Shirley's father and he joins her on "Baby, Take a Bow". The jubilant title number can be heard over the end credits.
On the downside the movie features several cringe inducing racial stereotypes from the era. Italian-American performer Tess Gardella appears in blackface as her popular stage persona "Aunt Jemima", and Lincoln Theodore Monroe Andrew Perry (better known by his stage name Stepin Fetchit) plays a character facetiously named George Bernard Shaw. His big scene consists of him and a talking penguin (Lew Brown doing a Jimmy Durante impression) that culminates with Perry climbing inside a large fish tank.
On a personal note I have a vivid memory of watching this movie with my brother Eric at our grandparents' house back around 1974 (I am horrified to realize now that that was half of the movie's 80 year lifespan ago). I recall our grandmother making a few comments about how popular Shirley Temple had been, as well as feeling incredibly optimistic during the rousing finale, wherein the Great Depression seems to end miraculously and instantaneously. In truth it would take several years for the countries' economy to rebound but in the meantime Shirley Temple was there to help lift America's flagging spirits.
Stand Up and Cheer! is historically important as the movie that helped create an American icon but seen today it also exemplifies this countries' history of racism.
Photos © Copyright Fox Film Corporation (1934)