Movie Review
Stand by Me
For some, it's the last real taste of innocence, and the first real taste of life. But for everyone, it's the time that memories are made of.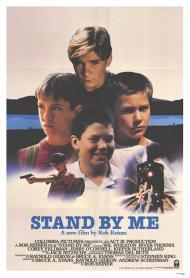 US Release Date: 08-08-1986
Directed by: Rob Reiner
Starring
▸
▾
Wil Wheaton

,

as

Gordie Lachance
River Phoenix

,

as

Chris Chambers
Corey Feldman

,

as

Teddy Duchamp
Jerry O'Connell

,

as

Vern Tessio
Kiefer Sutherland

,

as

Ace Merrill
Casey Siemaszko

,

as

Billy Tessio
Richard Dreyfuss

,

as

The Writer
John Cusack

as

Denny Lachance


Reviewed on:
June 12th, 2008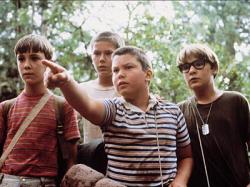 Wil Wheaton, River Phoenix, Jerry O'Connell and Corey Feldman in Stand By Me.
No film has ever captured that magical age in a boys life, between childhood and adulthood, better than Stand by Me. It is the time in their life where childhood imagination and fascination has yet to abandon them even as they are starting to view the world differently. The main characters in the movie talk about candy, cartoon characters, Annette Funicello's breast and personal insecurities, their interests lie in both the childish and the adult world.
Upon hearing about a boy being killed, and his body yet to be discovered by the authorities, four twelve year old friends head out to see it, out of curiosity. Along the way they have a few adventures. They have to out run some guard dogs and a train. Stand by Me contains the best scene with leeches since The African Queen. It is though, their bonding through conversation that we get to know them and they each other.
One minute they are having a childish argument, "Boy, you don't know nothing! Mighty Mouse is a cartoon. Superman's a real guy. There's no way a cartoon could beat up a real guy." Teddy informs Vern, who replies, "Yeah, maybe you're right. It'd be a good fight, though." In another scene Gordie cries to Chris that, "My father hates me!"
This two day trip through the woods represents the turning point in these boy's lives. Although the process of growing out of childhood, in real life, takes a longer time. This movie represents that point in life where responsibility is just about to hit and a completely carefree youth is disappearing. The serious conversations between Chris and Gordie seem more suited to boys several years older than them. They work in the movie because this is a time capsule of these boy's problems and growth condensed into a few days.
The greatest accomplishment of this movie, and that credit probably should go to Reiner, is the balance of humor and drama. In one scene, an angry Gordie tells Chris, "Fuck writing, I don't want to be a writer. It's stupid, it's a stupid waste of time." but later on he tells the boys a hilarious story. Teddy has an abusive Dad but defends him when Vern calls him looney, "My father stormed the beach at Normandy!" Teddy also provides much of the film's lighter moments, "Oh Billy, I wish we'd never boosted that car! Oh Billy, I think I just turned my Fruit-of-the-Looms into a fudge factory!" He says mocking Vern's older brother.
Everyone can watch this movie and relate to these boys. We all had childhood friends that, at the time, were very important to us, but have since lost track of. "It happens sometimes. Friends come in and out of our lives like busboys in a restaurant." The narrator explains. If that line does not get you thinking, then the last line in the movie will, "I never had any friends later on like the ones I had when I was twelve. Jesus, does anyone?"
A good film will have the audience thinking about it after watching it. Stand by Me is that rare film that leaves you feeling nostalgic. You may want to call up an old friend afterwards.
Reviewed on:
June 15th, 2008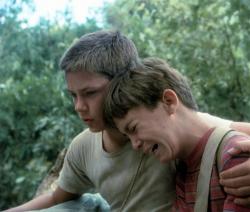 River Phoenix and Wil Wheaton in Stand By Me.
Eric's right, this movie balances drama and humor perfectly. And like all the best comedies, its humor is rooted in reality and contains a hint of sadness. None of these kids come from healthy families and yet they find joy and escape in each other's company and their interactions create the humor and the drama that we can all relate to.
The cast is uniformly terrific, with Phoenix and Wheaton at the heart of it. They handle the drama and the comedy admirably especially considering their age. Like Eric I give most of the credit to Reiner. The 1980s was definitely his decade, with this and When Harry Met Sally, he managed to create two timeless films. O'Connell and Feldman are both good too, but are definitely there more for comedy relief than for drama, especially O'Connell. And as a side note, who would have thought O'Connell of all the cast would go on to have the longest acting career of them all?
The movie also contains many memorable lines. "What the hell is Goofy anyway?" and "Cherry flavored Pez, no question" are two that leap to mind, but there are many, many more.
Nostalgic, as Eric said, is definitely the best word for this movie. For me it's almost doubly so because it evokes two time periods, the first is my own childhood when I was the age of the characters in this movie and again for my teenage years which was when I saw this movie for the first time. And any time a movie can evoke that kind of emotion, it has to be a good thing.
Reviewed on:
June 24th, 2008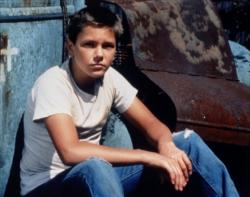 River Phoenix in Stand By Me.
Based on the short story "The Body" by Stephen King, Stand By Me is that rare perfect movie. Reiner is at the top of his game here. He must surely be credited for getting such great performances out of these four very young actors. According to the "making of" documentary on the DVD, much time was spent on rehearsal before shooting even started and Reiner made a point of doing extended shots, some of which feature all four boys onscreen at once, instead of using the cut-and-paste method commonly required with such a young cast.
One thing my brothers didn't mention is the wonderful 50's songs heard throughout the movie. The Chordettes' "Lollipop", Buddy Holly's "Everyday" and of course the title track by Ben E. King, to name just a few. The music and the pop cultural references very clearly define the era. In fact Reiner got all the details right, including the waitress who rushes out and asks, "Who's lettin' off cherry bombs out here?" And speaking of lines, two of my favorites are "Chopper, sic balls." and "It's a goocher!"
Like all the best coming-of-age movies this one involves a journey. They don't travel far in miles but for each boy this two-day adventure marks the irrevocable line between childhood and adolescence. This is a universal theme of course, but like Eric said, for most of us it's a more gradual shift than the one experienced by Gordie, Chris, Teddy and Vern; here it's brilliantly distilled. It's a journey that like all perfect movies can be enjoyed over and over again.
Photos © Copyright Columbia Pictures (1986)
Related Reviews