Movie Review
Stage Door
GREAT STARS! GREAT STORY! GREAT PICTURE!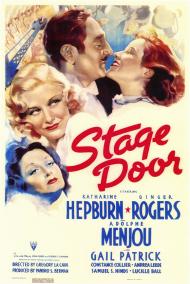 US Release Date: 10-08-1937
Directed by: Gregory La Cava
Starring
▸
▾
Katharine Hepburn

,

as

Terry Randall
Ginger Rogers

,

as

Jean Maitland
Adolphe Menjou

,

as

Anthony Powell
Gail Patrick

,

as

Linda Shaw
Constance Collier

,

as

Miss Luther
Andrea Leeds

,

as

Kay Hamilton
Samuel S. Hinds

,

as

Henry Sims
Lucille Ball

,

as

Judith
Franklin Pangborn

,

as

Harcourt
William Corson

,

as

Bill
Pierre Watkin

,

as

Carmichael
Grady Sutton

,

as

Butch
Frank Reicher

,

as

Stage Director
Jack Carson

,

as

Mr. Milbanks
Phyllis Kennedy

,

as

Hattie
Eve Arden

,

as

Eve
Ann Miller

,

as

Annie
Mary Forbes

,

as

Cast of Stage Play
Theodore Kosloff

,

as

Dance Instructor
Marie Osborne

as

Extra

Reviewed on:
May 4th, 2012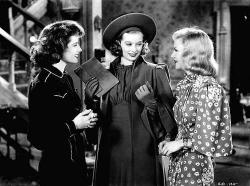 Legends Katharine Hepburn, Lucille Ball and Ginger Rogers in Stage Door.
Stage Door tells the story of a group of struggling young actresses living at the fictional Footlights Club, a theatrical boarding house on West 58th Street in Manhattan. It was loosely based on the play of the same name by Edna Ferber and George S. Kaufman. It boasts an amazing cast of legendary female stars, as well as a few familiar male faces in small or supporting roles.
Katharine Hepburn and Ginger Rogers share top billing. They were the two reigning female stars at RKO at the time. Hepburn already had her first Oscar and brought the studio prestige, while Rogers was the studio's top money maker in her pairings with Fred Astaire. Future stars Lucille Ball, Ann Miller and Eve Arden play wisecracking residents at the boarding house.
Gail Patrick and Andrea Leeds, although not as well remembered today, both give solid performances, as the snooty paramour of a wealthy theatrical producer (Adolphe Menjou), and the most talented of the aspiring actresses, respectively. Constance Collier, a renowned Shakespearean actress and drama coach in real life, plays an older woman living at the Footlights Club that offers acting classes to the girls while talking incessantly of her glory days and dreaming about one last chance at the spotlight. A chair where Sarah Bernhardt once sat is kept roped off in one corner of the parlor by the woman that runs the boarding house.
Like she often did, Hepburn plays a rich girl. Her wealthy father is against the idea of his daughter going into show business. Rogers plays her usual working class dame. She and Hepburn become roommates and though their relationship starts off acrimoniously they eventually warm to each other. Eve Arden and Lucille Ball get some of the best lines as they comment on the busy goings on of the other girls around them. Incredibly, Ann Miller was just 14 years old when she made this movie. She was already quite tall and easily passes for a grown woman. She has one dance routine with Ginger Rogers where she holds her own with the much more experienced musical star.
Stage Door is - for the most part - a comedy, with the best scenes being those that take place in the common rooms of the boarding house with the many girls interacting with lively banter. The melodramatic exception is the storyline concerning the character played by Andrea Leeds. I won't give it away but it plays a pivotal part in the conclusion of the story.
Although this movie is all about the women, it does feature a few familiar male faces. Adolphe Menjou has the only large role by a man, but character actors Samuel S. Hinds and Franklin Pangborn show up in supporting roles, and a young Jack Carson gets one brief scene as half of a pair of men that stop by to pick up two of the girls for a date.
This movie provided Katharine Hepburn with one of her most famous and often quoted lines of dialogue. "The calla lillies are in bloom again..." She says it several times while rehearsing for the play within the movie and then gives the definitive reading of it in her debut performance in the play "Enchanted April". Ironically, this was a line from an actual play Hepburn had starred in on Broadway called "The Lake". Dorothy Parker famously reviewed her performance in that play by saying of Hepburn, "She ran the gamut of emotions from A to B." Clearly her acting talents had improved in the intervening years as she's terrific in this movie.
As of this writing it has been 75 years since the release of Stage Door. As long as there are ambitious young actresses with dreams of stardom this movie will remain relevant and entertaining. The cast alone guarantees it immortality.

Reviewed on:
April 16th, 2014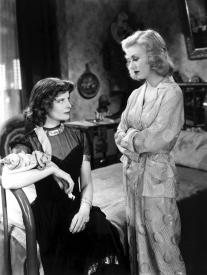 Katharine Hepburn and Ginger Rogers in Stage Door
Based on a play, Stage Door has very lively banter indeed. Some of the best quips are biting comments between Gail Patrick and Ginger Rogers. When Patrick asks, "May I come in?" Rogers responds, "Oh sure, I guess you'll be safe. The exterminators won't be here until tomorrow." One of the more suggestive lines comes when Patrick says, "Do you know, I think I could fix you up with Mr. Powell's chauffeur. The chauffeur has a very nice car too." And Rogers comes back with, "Yes, but I understand the chauffeur doesn't go as far in his car as Mr. Powell does."
Stage Door is all about the ladies and what ladies they were. Gail Patrick is good as Ginger Roger's snooty rival. She pretty much played the same stuck up character the year before in the classic My Man Godfrey.
To the casual movie buff, Ginger Rogers is remembered as half of a famous dance team. That however, cuts her immense talent short. Rogers was not only a great dancer, but a good dramatic actress and a splendid comedienne. Whether exchanging insults or getting drunk, Rogers is hilarious. She also is pretty easy on the eyes.
Lucille Ball has many good moments. My favorite is when she answers the door for a butcher who has come for a date with another girl. Coming in from the storm, he states, "It's raining." Ball returns, "Oh is that what it's doing?" Captain obvious continues, "I am kind of wet." Without missing a beat, Ball comes back with, "Yeah, rain usually is this time of year." She then flirts with him with rapid introductions and a not so subtle hint that she wants some meat.
Whereas Rogers and Ball provide many laughs, Katharine Hepburn owns the movie's most dramatic scene where she speaks the famous, "The calla lilies…" line. She and Rogers make a very good team. Although they are opposites, as Patrick wrote, "Hepburn plays a rich girl…while Rogers plays her usual working class dame…" they worked very well together.
Stage Door reminded me of the Three Movie Buffs' tour of Paramount studios. Our guide pointed out an office that was Katharine Hepburn's when she was at RKO. Later, after Hepburn had moved to MGM, Lucille Ball took it over. I am not sure what that building is now used for but I hope whoever occupies it today appreciates the Hollywood royalty that previously spent time there.
Reviewed on:
April 24th, 2014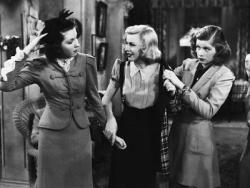 Ann Miller, Ginger Rogers and Lucille Ball in Stage Door.
Stage Door is based on a play, but as Patrick wrote, only very loosely. While the character names remain, much of the original plot and dialogue were ejected. So much of it was changed, including the removal of many lines that poked fun at Hollywood, a place that co-author of the play, George S. Kaufman, believed no serious actress should ever venture to, that Kaufman quipped that it should have been called Screen Door.
The plot is pure Hollywood formula and if that was all there was to it, this movie would long be forgotten. It's the scenes in the boarding house with the girls bantering back and forth that are the most memorable. Reportedly, the film's writers observed the way the actresses spoke to each other off-camera and incorporated their relaxed and teasing method of interacting into the script while director Gregory La Cava encouraged them to ad lib. They snap out their dialogue in the rapid fire style of the times, speaking around and sometimes expertly over each other. The result are some very funny lines and scenes that shows (as if it weren't already obvious) how stupid that old idea is that women can't be funny.
Hepburn is the biggest name in the cast, although several of the supporting players would grow greatly in stature, but Rogers makes the movie. Her Jean is the heart of the story and although there are many great lines from the supporting cast, it is her bantering with Hepburn and Gail Patrick that provides some of the biggest laughs. She also gets to play a funny drunk with Adolphe Menjou. Hepburn gets a few good moments, but she's really there for the more dramatic scenes.
The boardinghouse that the girls live in was based on the real life Rehearsal Club in New York City that was open from 1913 to 1979. It was, as shown in the movie, a girls only boarding house for aspiring theatrical types. Its most famous resident was Carol Burnett who wrote about her time there in her book This Time Together. James Dean was often seen in the home's parlor while he was dating resident Liz Sheridan (most known today for playing Jerry's mom on Seinfeld).
Sure the ending is a little corny and melodramatic, but the humor and the banter amongst the cast more than makes up for any of the script's more trite moments. It's the scenes in the boarding house that make this a classic.
Photos © Copyright RKO Radio Pictures (1937)