Movie Review
Stage Door Canteen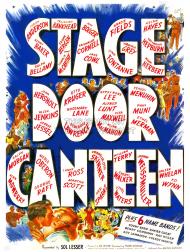 US Release Date: 01-22-1944
Directed by: Frank Borzage
Starring
▸
▾
Cheryl Walker

,

as

Eileen Burke
William Terry

,

as

Dakota Smith
Marjorie Riordan

,

as

Jean
Lon McCallister

,

as

California Jack Gilman
Margaret Early

,

as

Ella Sue
Sunset Carson

,

as

Tex
Dorothea Kent

,

as

Mamie - Jersey's Girl
Frederick Brady

,

as

Jersey Wallace
Judith Anderson

,

as

Judith Anderson
Kenny Baker

,

as

Kenny Baker
Tallulah Bankhead

,

as

Tallulah Bankhead
Ralph Bellamy

,

as

Ralph Bellamy
Edgar Bergen

,

as

Edgar Berger
Charlie McCarthy

,

as

Charlie McCarthy
Ray Bolger

,

as

Ray Bolger
Ina Claire

,

as

Ina Claire
Katharine Cornell

,

as

Katherine Cornell
Gracie Fields

,

as

Gracie Fields
Lynn Fontanne

,

as

Lynn Fontaine
Helen Hayes

,

as

Helen Hayes
Katharine Hepburn

,

as

Katharine Hepburn
Hugh Herbert

,

as

Hugh Herbert
Jean Hersholt

,

as

Jean Hersholt
Gypsy Rose Lee

,

as

Gypsy Rose Lee
Harpo Marx

,

as

Harpo Marx
Ethel Merman

,

as

Ethel Merman
Paul Muni

,

as

Paul Muni
Merle Oberon

,

as

Merle Oberon
George Raft

,

as

George Raft
Martha Scott

,

as

Martha Scott
Ethel Waters

,

as

Ethel Waters
Johnny Weissmuller

,

as

Johnny Weissmuller
Ed Wynn

,

as

Ed Wynn
Jane Darwell

,

as

Jane Darwell
William Demarest

,

as

William Demarest
Roscoe Karns

,

as

Roscoe Karns
Alan Mowbray

,

as

Alan Mowbray
Dame May Whitty

,

as

May Whitty
Allen Jenkins

,

as

Allen Jenkins
Count Basie

,

as

Conductor of the Count Basie Orchestra
Xavier Cugat

,

as

Conductor of the Xavier Cugat Orchestra
Benny Goodman

as

Conductor of the Benny Goodman Orchestra

Reviewed on:
March 5th, 2014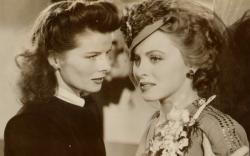 Katharine Hepburn telling Cheryl Walker to buck up in Stage Door Canteen
The Stage Door Canteen was a real place located in New York that fed and entertained soldiers before being sent overseas to fight in World War II. Movie, Broadway and radio stars often stopped by to entertain the troops.
This film follows three soldiers as they visit the popular Stage Door Canteen. Each soldier goes by the name of their home state. California is the youngest, and has never kissed a girl. Dakota and a hostess named Eileen, who once had four lines in a play, start out bitter but we know how that will go. Tex meets a girl from Alabama and the two are worth listening to, just for their accents.
The plot is circumspect, making every effort to honor the men in uniform. Often an announcement is made that a certain division must leave. They are always sent away with applause or a song.
The young Canteen hostesses dine, dance and talk with the servicemen as if they were on a date that ends when the soldier leaves the club. Although filled with lonely men, beautiful women, subtle innuendoes, and a very innocent striptease, Stage Door Canteen remains completely family oriented.
The fun of this film is spotting all of the movie stars. Ray Bolger waits tables between his stage acts. Johnny Weissmuller washes dishes. Ed Wynn works at hat check. He has a joke about how the men would starve if they went to the canteen in Washington DC that is manned by politicians instead of movie stars. Katharine Hepburn, the biggest star in the film, makes a last minute cameo. She gives a firm pep talk to Eileen that likely spoke to many in the audience who had a loved one overseas.
Many of the songs are war oriented or patriotic. Ethel Merman sings of marching into Berlin. Another singer does a song about shooting down "Jap" planes. One song may be recognized by more modern audiences as the one Jessica sang in Who Framed Roger Rabbit (1988).
This film is so very dated it is a history lesson. Many of the stars are long forgotten to modern audiences. The dancing is swing-tastic. Even more important is the attitudes and manners of the time. One interesting social commentary is that Ethel Waters performs with Count Bassie and his orchestra at the Stage Door Canteen, yet we are only once shown a colored soldier, who of course has a colored hostess.
Stage Door Canteen is a thinly veiled story set around a series of songs and comic routines by celebrities of the time. Will California get his first kiss? Will Eileen loosen up for Dakota? It is not big on story but it captured the mood of a nation during a very important time in United States history.
Photos © Copyright Sol Lesser Productions (1944)
Related Review