Movie Review
St. Vincent
Love Thy Neighbor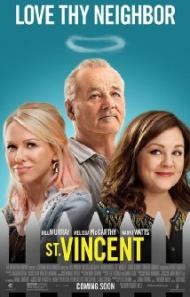 US Release Date: 10-10-2014
Directed by: Theodore Melfi
Starring
▸
▾
Bill Murray

,

as

Vincent
Melissa McCarthy

,

as

Maggie
Naomi Watts

,

as

Daka
Chris O'Dowd

,

as

Brother Geraghty
Terrence Howard

,

as

Zucko
Jaeden Lieberher

,

as

Oliver
Kimberly Quinn

,

as

Nurse Ana
Lenny Venito

,

as

Coach Mitchell
Nate Corddry

,

as

Terry
Dario Barosso

,

as

Ocinski
Donna Mitchell

,

as

Sandy
Ann Dowd

,

as

Shirley
Scott Adsit

as

David

Reviewed on:
November 12th, 2014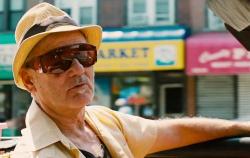 Bill Murray in St. Vincent.
The story of an inappropriately foul mouthed man with bad habits taking a mentoring role over small children is one we've seen in various movies over the years, such as Bad News Bears, Bad Santa, and Bad Words, just to name a few. St. Vincent is such a film, although maybe it should have been named Bad Vincent, to keep the titling style going. While it flirts with some darker material, by the end it has become overtly sentimental. The real draw of the film is its star Bill Murray.
Murray plays the title Vincent who seems as far from being a saint as its humanly possible to be. He lives on his own, with his cat, in his rundown house in Brooklyn. He spends his days in debt at the race track, drinking in bars, and sleeping with a pregnant Russian prostitute played by Naomi Watts. His life is interrupted when he gets new neighbors in the form of newly single mother Maggie (Melissa McCarthy) and her son Oliver (Jaeden Lieberher). When Oliver gets locked out of his house one afternoon, he ends up in Vincent's house and Vincent sees an opportunity to make some money by babysitting for the long hour working Maggie. That Maggie would initially allow Oliver to be looked after by Vincent is the plot's weakest moment as well as Maggie's weakest parenting moment. Inevitably, Vincent and Oliver bond. Oliver is clearly in need of a father figure and Maggie is self-obsessed over the loss of her marriage. This all builds up to an emotional moment in a school auditorium where the schmaltz level gets pretty high.
The movie works best when it plays up the comedy. Murray plays the caustic old drunk well. It's easy to believe that this is where one of those slacker characters he played in the 1980s would end up. Because he's Murray, he brings that baggage with him and even when he's at his most ill-behaved it's hard to dislike him. The consequences of his most despicable act is glossed over without resolution. Naomi Watts also gets laughs as the stripper/prostitute complete with thick Boris and Natasha Russian accent. McCarthy (thankfully) plays it very restrained. Her's is mostly the straight and thankless part as the mother who behaves as if she's doing her best, but the script gets in several subtle digs at her parenting methods and often it is Oliver who must comfort his mother. Prolific Irish actor Chris O'Dowd has a small but funny part as a priest at Oliver's school.
Of course this isn't the first time Murray has played a father figure to a young boy. 1978's Meatballs saw him in a similar situation, although in that case his behavior was a little more appropriate. In both films the technique is the same simple premise of paying attention to the child. Oliver gets from Vincent, as inappropriate as it often is, the attention and mentoring that he so clearly craves.
Although the movie flirts with some dark humor, as it goes along the sentimentality starts to take over. We learn about Vincent's past and he becomes a bit more sympathetic. Oliver is tasked with writing a paper about someone he knows who could be a saint. You can guess from the title who he writes about. It's this moment that really pushes the schmaltz button. It's only the cast that keeps it from going too far over the top.
St. Vincent isn't a perfect film, but it is a showcase for Bill Murray who raises the material higher than it would go in the hands of someone else, helped out by the sincere performance of young Lieberher as Oliver.

Reviewed on:
March 19th, 2015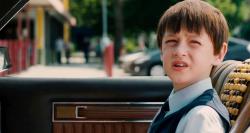 Jaeden Lieberher in St. Vincent
We know from the first time Vincent finds Oliver sitting on his stoop where this movie will go. As Scott wrote, a father figure guiding or helping someone else's son is a well-worn plot device. We had Charlie Chaplin in The Kid (1921). There was Spencer Tracy in Boys Town (1938). Who can forget Alan Ladd in Shane (1953). The list goes on and on and I kept thinking of Clint Eastwood in Gran Torino (2008).
I like these kinds of stories as they are ultimately positive. In the best of these stories we also see that the adult benefits from the child's companionship as well as the child from the adults. Think Henry Fonda in On Golden Pond (1981). Vincent needs Oliver as much as Oliver needs Vincent. This is obvious from Vincent's run down home and bad habits. I smiled when Oliver was mowing Vincent's dirt yard and watching Abbott and Costello with Vincent for the first time. "You never seen Abbott and Costello?" "No, sir. Are they old?" "No. They're dead. That's the oldest you can be." Vincent informs the curious yet ever optimistic Oliver who responds, "Or the youngest. Time freezes when you're dead."
As Scott wrote, the script quickly hits the schmaltz slope and goes downhill very fast. All of these types of stories contain schmaltzy elements to some degree but St. Vincent really lays it on thick. The visit to the assisted living facility and Oliver's homework assignment are as subtle as a brick to the face.
I agree that the comedic moments work best and that Chris O'Dowd is great as the highly likable priest/teacher. He has my favorite piece of dialogue, "We celebrate all the religions of the world in this room, Oliver. I'm a catholic, which is the best of all the religions, really, because we have the most rules and the best clothes. But among us, there is also a Buddhist, agnostic, we have a Baptist, and we have an "I don't know", which seems to be the fastest growing religion in the world."
Another moment I like is when it references "The Giving Tree" by Shel Silverstein. It is one of my favorite children's books that I read to my sons. It speaks of selflessness, which is ultimately the story of St. Vincent. We are not only defined by what we have but what we give to others.
There is not a whole lot of originality in this movie but its heart is definitely in the right place. It gets a bit overly sentimental at times but it will put a smile on your face and leave you feeling good.
Reviewed on:
March 24th, 2015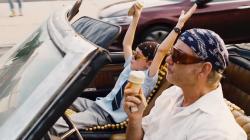 Jaeden Lieberher and Bill Murray in St. Vincent.
As my brothers already pointed out, St. Vincent is a funny and heartwarming little comedy served up on a big bed of sentimentality. This was writer/director Theodore Melfi's first feature film and it's not a bad first effort. He's not exactly new to the business though, as he's been working in film since the late 90s. At any rate, St. Vincent is a pretty decent rip off of plot devices and character types from many other movies.
Melfi manages to insert some laughs into the script and with Bill Murray to sell them he can't really miss. But if you think about it, these characters have no real depth to them. All of these people, including Vincent, behave exactly as we know they'll behave. Knowledge gathered watching many other movies over many other years. St. Vincent's lack of originality is glaring but I agree that its heart is in the right place.
I think sometimes filmmakers think they can get away with being overtly schmaltzy if only they insert enough cynical, darker humor into the script for balance. Sometimes that works, like it did in Bad News Bears or even Bad Santa. But here instead of diluting the syrupy quality of the story the darker humor just seems at odds with it.
Another quibble is about Melissa McCarthy. Maybe she wanted the chance to play a "normal" character without having to be wacky. Fair enough. I only wish they could have found a way for her to be normal and funny. As Maggie her considerable comic gifts go completely unused.
I liked St. Vincent but I didn't love it.
Photos © Copyright The Weinstein Company (2014)