Movie Review
St. Trinian's
School can be a riot.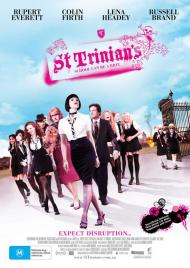 US Release Date: 08-28-2009
Directed by: Oliver Parker and Barnaby Thompson
Starring
▸
▾
Colin Firth

,

as

Geoffrey Thwaites
Rupert Everett

,

as

Miss Fritton/Carnaby Fritton
Russell Brand

,

as

Flash Harry
Gemma Arterton

,

as

Kelly
Fenella Woolgar

,

as

Miss Cleaver
Mischa Barton

,

as

JJ French
Caterina Murino

,

as

Miss Maupassant
Jodie Whittaker

,

as

Beverly
Talulah Riley

,

as

Annabelle Fritton
Tamsin Egerton-Dick

,

as

Chelsea
Stephen Fry

,

as

Quiz host
Amara Karan

,

as

Peaches
Lena Headey

,

as

Miss Dickinson
Lily Cole

,

as

Polly
Anna Chancellor

,

as

Miss Bagstock
Lucy Punch

,

as

Verity Thwaites
Kathryn Drysdale

,

as

Taylor
Juno Temple

,

as

Celia
Tereza Srbova

,

as

Anoushka
Denise Stephenson

,

as

Denise
Cheryl Cole

as

School Band Girl

Reviewed on:
July 31st, 2009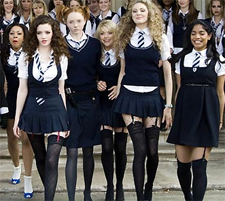 The girls are hot, even if the comedy is not.
St. Trinian's is a British comedy remake based upon a series of comic strips that were turned into movies in the 1950s and 60s. About the closest comparison from American Cinema that I can think of is The Trouble with Angels, except that St. Trinian's isn't nearly as good and completely lacks the heart of that one. It does though share a similar set-up, that of a girl's boarding school where the leads are apt to get into trouble.
From the previews and photos of this movie it looks as though there are things for the male members of the audience to enjoy; namely some hot women in short-skirted school uniforms that show plenty of leg and garters. And just in case you're thinking that's kind of pervy since this is high-school, believe me the actresses playing the older girls are well north of 18 and they look it. They're still hot, but there's no danger of mistaking them for real high-schoolers. Apart from the eye-candy though, this is a chick-flick whose target audience, based upon the level of humor, appears to be pre-teen girls.
There's not so much of a plot as there is a series of scenes that are loosely connected. Vaguely though, the plot revolves around the girls at the school trying to raise money to save their school from foreclosure. The girls, who are virtually all criminals, come up with the plan to steal Vermeer's Girl with a Pearl Earring and then fence it. To do this though they have to first make it to the finals of the School Challenge; a quiz show whose final is coincidentally being held in the National Gallery, which is also where the painting is located.
Although the movie makes a point of showing the different cliques around the school, most of the girls are fairly interchangable. The only real difference between any of them is the way they wear their uniforms.
Despite the low level of humor, the filmmakers were able to attract a fairly well-known cast. The girls aren't the most famous, but several of them are recognizable, like Gemma Arterton as the Head Girl. Arterton starred in Quantum of Solace and her career appears to be on the rise. It is the supporting cast though that features the really familiar faces. Rupert Everett plays dual-roles as the both the Headmistress of the School and her more shady brother. Colin Firth sends up his own romantic leading-man image as the Minister for Education. Stephen Fry and Russell Brand also make appearances and the rest of the cast is bound to make you think, "I know them from something."
It's just too bad that not very much is done with such a great cast. Stephen Fry is wasted. Everett is game as the headmistress, but the script doesn't give him enough to do. Firth is good and clearly the filmmakers had fun mocking his most famous role as Mr. Darcy in Pride and Prejudice.
The main point of this movie seems to be, "Girl Power" and all of the girls, while unruly, are all clean, attractive and politely unruly. There are a few amusing parts that I enjoyed, but I'm sure its target audience of tween girls will enjoy it much more.

Reviewed on:
May 3rd, 2012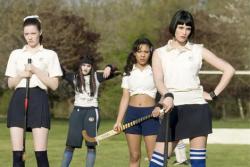 St Trinian's
I do not think you sound pervy Scott. Many of the older girls present themselves as sexual creatures, wearing lingerie as day fashion. Arterton's tight skirt alone removes this film from a rated "G" film status. When the girls visit the museum to scope out the painting they intend to steal, one girl clearly performs oral sex. She and a guy walk out of a room. The guy's clothes are disheveled, shirt untucked and he has a shocked look on his face. She is wiping her mouth and suddenly has full knowledge of the museum's security system. It was the one time I laughed.
The problem with the humor is that there is no straight person to react to all the dark goings on. Collin Firth comes across a dead girl under water. One girl is dropped over a ledge. There is bootlegging, gambling and all sorts of illegal activity. That is all fine and dandy, but with everyone playing a dark, heartless character, there is no one to react to any of it, think Blanche Devereaux without Dorothy Petrillo Zbornak, Kit De Luca without Vivian Ward, Mary Clancy without Mother Superior or Regina George without Cady Heron. There has to be someone around to act as the voice of reason to amplify the violence, sex and general lack of morality.
As it is, everyone is a criminal, therefore no one is a criminal. The humor is supposed to be based on presenting shocking immoral activities, but if there is no one to give the audience their cue to be shocked, then what is the point? The activity of pulling a tied up girl behind a tractor is only funny if another character reacts accordingly. The reaction is the punch line.
The best this movie has to offer is the many recognizable British faces. Firth and Everett have worked together several times before. Their first pairing being Another Country, in which they played mates at a private boarding school. Everett played a homosexual who sometimes shocked Firth with his frank talk and actions. Had everyone at that school been an out homosexual, there would have been no one to shock. Firth's reaction to Everett made those scenes shocking. That director knew what he was doing. A compliment I cannot give Oliver Parker and Barnaby Thompson.
Photos © Copyright NeoClassic Films (2009)