Movie Review
The Spy Who Came in from the Cold
The book the world could not lay down is now a motion picture.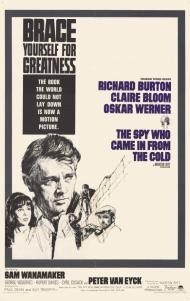 US Release Date: 12-16-1965
Directed by: Martin Ritt
Starring
▸
▾
Richard Burton

,

as

Alec Leamas
Claire Bloom

,

as

Nan Perry
Oskar Werner

,

as

Fiedler
Sam Wanamaker

,

as

Peters
George Voskovec

,

as

East German Defense Attorney
Rupert Davies

,

as

George Smiley
Cyril Cusack

,

as

Control
Peter van Eyck

,

as

Hans-Dieter Mundt
Michael Hordern

,

as

Ashe
Robert Hardy

,

as

Dick Carlton
Bernard Lee

as

Patmore

Reviewed on:
October 30th, 2009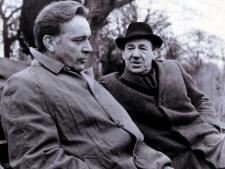 The anti-James Bond film.
Author John le Carré said in an interview that when he wrote the best-selling book upon which this movie is based that he was in part trying to write the anti-James Bond novel. It's safe to say that he succeeded. This movie, released in 1965 at the height of Bond-mania is also quite the opposite of the Bond films. There's no glamor, gadgets or sexy excitement. Instead it is a black and white film filled with many shades of gray. It's a stark reminder of the Cold War and shows that when it came to espionage telling the good guys from the bad wasn't always so clear cut.
Richard Burton stars as Alec Leamas, the head of the German Station for the British Secret Service. As the movie opens his last and best agent is gunned down trying to cross over from East to West Berlin. Recalled to London Alec is told that he must stay out in the cold a little while longer if he wants to get revenge upon East German agent Hans Deiter Mundt; the man responsible for the death of so many of Alec's agents. What follows is a complicated game of cross and double-cross that involves Alec being taken behind the Iron Curtain where a power struggle takes place between communist agents Fiedler and Mundt with Leamas a pawn being manipulated between them.
I've never been a big fan of black and white films. The way I see it probably 90% of the movies that were made in black and white would probably have been made (and looked better) in color if the technology or the cost had made color available. This movie is definitely one of the 10% that is actually better because it's filmed in black and white. From the melancholic opening to the dreary, rain swept London streets and right up to the emotional ending at the Berlin Wall, the lack of color helps set the mood and really, really suits the story. Filming this story in color wouldn't have improved it, it would have actually hurt it.
Like the book it's based upon this movie makes a point of saying that when governments fight over political philosophies, it is the little people who get hurt. Alec tells a story of seeing an accident while driving on the Autobahn when two massive trucks converged on a station wagon containing a family with children. It shows that even if the West was considered the free and open society, it didn't mean that it didn't have to resort to less than honorable means to keep it that way.
Richard Burton is terrific as Alec Leamas. Leamas plays the part of a broken man for so long that you're unsure where the act ends and the man begins and Burton portrays this perfectly. Nominated for an Academy Award for this part, which he would ultimately lose to Lee Marvin, this is one of Burton's most memorable roles. The rest of the cast is quite good, but the movie is carried by Burton.
The books John le Carré writes mostly involve espionage, but to call him a genre author belittles his talent. He's just a great author who happens to write about espionage. The same is true of this movie.
Reviewed on:
March 25th, 2012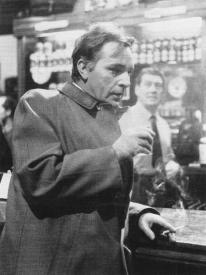 Richard Burton drinks and smokes in The Spy Who Came in from the Cold.
Scott, I agree 100% that this movie was made better by being shot in B&W. I also assume that you include most film noir in your 10% of movies that should not have been filmed in color. The Maltese Falcon and Casablanca are probably the two most obvious examples of movies that HAD to be B&W. In the case of The Spy Who Came in from the Cold the lack of color contributes to the appropriately ominous and dreary atmosphere of the story. This was also near the very end of the art form of black and white cinematography since by the end of the decade it would become virtually obsolete.
I thoroughly enjoyed the cat and mouse game of just when and if this person or that person is telling the truth or not telling the truth. In this complicated world of defection it is never entirely certain just whose side any given agent is on at any given time. The story unfolds beautifully and - unlike the recent Tinker Tailor Soldier Spy - it moves along at a fairly brisk pace, clocking in at right around the one hour and 45 minute mark.
Scott, I'm surprised that since you brought up the anti-Bond angle you didn't mention the fact that Bernard Lee is in this movie. He, of course, famously played 007's boss M in 11 James Bond movies between 1962 and 1979. Whereas Bond is all about the gadgets and adventure of the spy game, this movie is a realistic, and comparatively low key, glimpse inside the world of espionage.
No one could have been more surprised than Lee Marvin when he heard his name announced as the Best Actor of 1965 at the Academy Awards. His daffy comedic performance in the dual role of twin brothers in the Western/comedy Cat Ballou stands in stark contrast to the dramatically charged roles by his impressive competition. He was up against Laurence Olivier in Othello, Oskar Werner (who played Fiedler in this movie) in Ship of Fools (which, ironically, costarred Lee Marvin), Rod Steiger in The Pawnbroker and Richard Burton in The Spy Who Came In from the Cold.
For my money Steiger was robbed, as his performance as the titular pawnbroker is one of the greatest examples of acting I have ever had the privilege to watch. Burton is very good here, as well, although I think he should have won the following year for Who's Afraid of Virginia Woolf? (he lost to Paul Scofield in A Man for all Seasons).
The Spy Who Came in from the Cold was made at the height of the Cold War. It fairly drips with paranoia and features a sterling cast led by the larger than life Richard Burton. He possessed one of the greatest speaking voices in movie history and he uses it to great effect in this classic film.

Reviewed on:
March 31st, 2012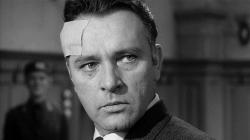 Richard Burton in The Spy Who Came in from the Cold
The Spy Who Came in from the Cold is most definitely the anti-Bond film. Alec Leamas de-glamorizes the spy mystique with this line, "What the hell do you think spies are? Moral philosophers measuring everything they do against the word of God or Karl Marx? They're not! They're just a bunch of seedy, squalid bastards like me: little men, drunkards, queers, hen-pecked husbands, civil servants playing cowboys and Indians to brighten their rotten little lives. Do you think they sit like monks in a cell, balancing right against wrong?"
In a James Bond film, 007 is often given a secret identity and sent behind enemy lines to discover secrets, kill the bad guys, bed women and blow shit up. Here it is played out much slower, yet more realistic. Leamas presents himself as a disenfranchised former spy. His lives a lonely, drunken life, presenting himself as some one who may be open to an opportunity. He gets a job at a library and takes a lover. Eventually the bait gets noticed and Leamas soon finds himself in the hands of men he would otherwise describe as his enemies.
The interrogation scenes are fairly routine, with Fiedler asking Leamas questions. Things reach an interesting and tense moment during the tribunal scene where nothing is clear and everything we thought gets turned around. Leamas's fate is always in question. This may have less action than a James Bond film but the tension is far greater.
I agree with Patrick about Richard Burton's voice. Voices rarely get so distinct. I was surprised to discover that his career, while lasting several decades was really only at its height for a half dozen years in the 1960's. His relationship with Elizabeth Taylor kept his name in print far longer than his films. What a shame, the guy had real screen presence.
As an odd little side note, Leamas tells Fiedler about an operation called "Rolling stone." The Magazine, "Rolling Stone" was founded in 1967. The British rock band, The Rolling Stones were founded in 1962. John le Carre's novel was written in 1963. The Bob Dylan song, "Like a Rolling Stone", was written in 1965. What was it about that term, at that time in pop culture?
Photos © Copyright Paramount Pictures (1965)
Related Reviews