Movie Review
Spy Kids 3-D: Game Over
3rd Mission. 3rd Dimension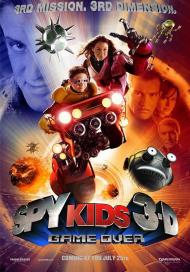 US Release Date: 07-25-2003
Directed by: Robert Rodriguez
Starring
▸
▾
Antonio Banderas

,

as

Gregorio Cortez
Carla Gugino

,

as

Ingrid Cortez
Alexa Vega

,

as

Carmen Cortez
Daryl Sabara

,

as

Juni Cortez
Ricardo Montalban

,

as

Grandfather
Holland Taylor

,

as

Grandmother
Sylvester Stallone

,

as

Toymaker
Mike Judge

,

as

Donnagon Giggles
Salma Hayek

,

as

Cesca Giggles
George Clooney

as

Devlin

Reviewed on:
July 28th, 2003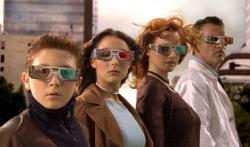 Daryl Sabara, Alexa Vega, Antonio Banderas and Carla Gugino in Spy Kids 3-D: Game Over.
Spy Kids 3D is wholesome family fun set in a gimmicky world of adventure. The last 3D movie I saw was Dial M For Murder, with Grace Kelly. It is not a bad movie, but it only occasionally took advantage of the 3D effect. Spy Kids 3D makes the effect the best thing about the movie.
Big sister Carmen is stuck in a virtual reality game and her younger brother, Juni, goes in after her. Once Juni is inside the game the audience is instructed to put on their glasses. The audience is then transported to a virtual 3D world. The director takes full advantage of the effect. Mere seconds may pass before something is shoved or thrown at the screen. My nine year old was particularly thrilled. Several times I witnessed him reach in front of him as something on the screen appeared to be reaching toward him. Juni participates in a race that is utterly thrilling. Even more so due to the 3D effect.
The plot is not as exciting as the gimmick of three-dimensional viewing. Juni of course finds Carmen and together they do battle with Sylvester Stallone's evil Toymaker, who created the game to ensnare the minds of children who played the game.
Stallone gets to ham it up. He actually plays 5 roles. Besides the Toymaker he is virtual representations of his different personality traits. A general, an intellectual and a hippy guru. He is also a newscaster in a early cameo. It is always great to see old stars still appearing in movies. This is his first hit movie in years. Unfortunately, the success of this film has little to nothing to do with him.
All of the Spy Kids movies have always carried the theme of the importance of family. Often the message is so blatant that it is almost annoying. Sometimes resulting in a near lecture. It is a bit subtler here. In one scene, Carmen's and Juni's father, Antonio Banderas, is shown completing work on a computerized brain that he actually started working on in the first movie. He says out loud that this is the most important moment in his life. A voice suddenly announces that his children need him. He immediately jumps up, smashing the brain into pieces as he flies off to help his family.
Take your children to see this movie. Introduce them to a rare form of filmmaking. Over look the silly plot and just enjoy this fast fun family film.
Photos © Copyright Dimension Films (2003)
Related Reviews