Movie Review
Speedway
Smooth, fast and in high gear!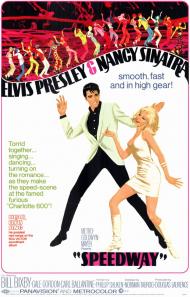 US Release Date: 06-12-1968
Directed by: Norman Taurog
Starring
▸
▾
Elvis Presley

,

as

Steve Grayson
Nancy Sinatra

,

as

Susan Jacks
Bill Bixby

,

as

Kenny Donford
Gale Gordon

,

as

R.W. Hepworth
William Schallert

,

as

Abel Esterlake
Victoria Paige Meyerink

,

as

Ellie Esterlake
Ross Hagen

,

as

Paul Dado
Carl Ballantine

as

Birdie Kebner

Reviewed on:
February 8th, 2006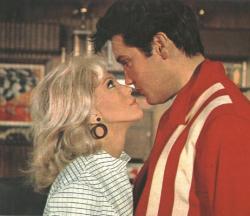 Nancy Sinatra and Elvis Presley in Speedway.
From 1966 to 1968 Nancy Sinatra was a pop icon. With mutiple hit records, movie theme songs, television specials and 4 movies all done during that time, she was a great choice to co-star with Elvis in Speedway in 1968. Elvis, by the way, made 27 films in the 1960s alone. Perhaps the fact that both of these stars were so busy that this movie suffers. Had more time been spent on it, it could have been a decent film.
Elvis plays a race car driver whose irresponsible manager gets him into trouble with the IRS. Nancy, with boots on, plays an IRS agent who has come to investigate him. Of course they fall for each other and Elvis has to win the big race at the end to save the day.
With two such musical powerhouses I would have thought that this movie would have had some great songs and duets. The writer did not have a clue about how to get these two singers to connect or even sing. At one point, Nancy is spying on Elvis at a night club that resembles Laugh In meets a car race. All of the tables look like cars and there are go-go girls dancing in cages. The MC of the club announces that when he puts the spot light on one of the patrons they have to stand up and do something. Gosh, do you think Elvis or Nancy might get that spotlight put on them?
Elvis sings Let Yourself Go, his best song in the movie, but he looks out of place. It is just like the time Elvis appeared in a Frank Sinatra television special. Frank sang one of Elvis's songs and Elvis sang one of Frank's. Frank was a decade too late to sing an Elvis song. Elvis seems a decade too late singing in a go-go bar to young people of the 60's. Nancy strutting around the room singing Your Groovy Self, which was penned by long time partner Lee Hazlewood, fairs better.
Nancy and Elvis first met in April of 1960, when Nancy still had her original brunette hair and nose. Her father had dispatched her to meet Elvis at Fort Dix after he arrived home from Germany at the end of his enlistment. He then appeared on Frank's television special, as did Nancy, that May. It was Elvis's first public appearance and performance after leaving the Army.
I hoped at least for a duet. The closest it gets is at the end of the movie when Nancy sings a few lines of the last song with Elvis. The king of rock n roll makes a movie with one of the 60's greatest girl singers and they don't even duet? Missed opportunity anyone?
The songs are so bad that Elvis is even forced to sing a song at the IRS waiting room with a bunch of middle aged men waiting to be audited. The song is about Uncle Sam with such lyrics as, "he's your uncle, not your dad."
Elvis's movie career was, thankfully, winding down. His last movie was made in 1969. In Speedway he proved once again that he was better than the material he was given.
Photos © Copyright Metro-Goldwyn-Mayer (MGM) (1968)