Movie Review
Speak Easily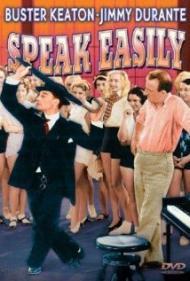 US Release Date: 08-13-1932
Directed by: Edward Sedgwick
Starring
▸
▾
Buster Keaton

,

as

Professor Post
Jimmy Durante

,

as

James
Ruth Selwyn

,

as

Pansy Peets
Thelma Todd

,

as

Eleanor Espere
Hedda Hopper

,

as

Mrs. Peets
William Pawley

,

as

Griffo
Sidney Toler

,

as

Stage Director
Lawrence Grant

,

as

Dr. Bolton
Henry Armetta

,

as

Tony
Edward Brophy

as

Reno


Reviewed on:
May 8th, 2014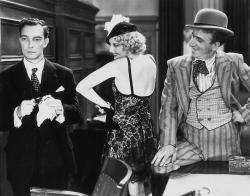 Buster Keaton, Thelma Todd and Jimmy Durante in Speak Easily
Although Jimmy Durante was two years older, Buster Keaton had a dozen years movie seniority on him. Durante had only been in Hollywood for a couple of years when they appeared together in Speak Easily. Keaton's career was entering its B movie stage; while Durante would go on to conquer film, radio and television. Both comedians' careers would continue well into the 1960s.
Keaton plays Professor Post, a brilliant mind with no social life or understanding. When he thinks he has inherited $750,000, he decides to take a trip on a train. You just knew Keaton would get on a train. There he meets James (Durante) and Pansy, a girl he has eyes for. Both work on a show that barely sells any tickets. Post decides to fund the show and take it to Broadway.
Post takes every question and statement literally. When someone tells him to keep his shirt on, he responds that he has no intention of removing it. When Eleanor, a flirtatious actress who just heard Post has money, tells Post about her performance history, she says she worked at "…a speak easy." Post has no clue what she means and corrects her, "You should purify the verb and say, "speak easily"." It becomes the name of their show.
Made in 1932, this is definitely a pre-code film. Later, Eleanor takes Post into a back room and gives him a key to her apartment, inviting him to come up for "a cup of tea" whenever he "…felt like it." She clearly means something else but he, of course, has no clue. She also asks that he pay the rent on her apartment and then goes about kissing him. Later, another girl tries to explain what she meant, and adds that if he ever wants tea, he should come to her apartment. Post responds, "I prefer cocoa." A bit later, Post and Eleanor get drunk and end up in their underwear. In another scene, Post says the dancers in the show should be in the nude.
Speak Easily is fairly routine but often funny and a tad naughty (for the time). Keaton was still doing pratfalls and stunts with comfortable ease. The opening night of the show features Keaton and Durante ruining it all. It is a fiasco but not as funny as it is supposed to be. My favorite moments are the dialogue. Early on, Durante tells a critic that his jokes got applause. The man responds that they were not clapping, they were killing mosquitoes. When Eleanor purrs to Post, "Tell me, Timmy. Have you ever seriously thought of marriage?" Post responds, "Yes... that's why I'm single."
If not for the fact that the copyright lapsed and this film became public domain, it would have vanished into obscurity. It has one recognizable scene, due to it being included in the 1974 documentary, That's Entertainment. Jimmy Durante sits at a piano and hums a few bars from "Singing in the Rain." He tells a man, "It's something they'll remember." The man responds, "Yeah, I remember it already."
Reviewed on:
February 5th, 2015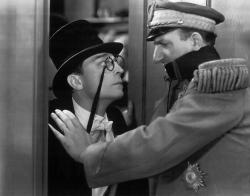 Buster Keaton and Jimmy Durante in Speak Easily.
Speak Easily was the first of three movies Buster Keaton and Jimmy Durante made together for MGM in the early 1930s. All three proved quite popular with the public. It's worth noting that Keaton's demise in Hollywood wasn't from a lack of support from moviegoers. He was vocally unhappy with his contract and was therefore constantly butting heads with his bosses at MGM. This, coupled with his increasingly heavy drinking, is what eventually led to the studio letting him go.
Keaton's speaking voice had always been a bit of a liability in my opinion. It lacked refinement. But here, as Professor Post, he speaks each word with careful enunciation. He still moves like Buster Keaton but he's playing a different character than his pork pie hat wearing silent movie persona. As Eric wrote, he takes everything anyone says to him at face value and this produces some of the movie's funniest lines.
Keaton and Durante play off of each other well. They were so different in style; Buster being the consummate daredevil mime while Durante was a chatterbox with a personality as big as his nose. They are both American comedy icons and it's interesting to see their careers cross paths at this point in time. Keaton on his way down and Durante on the rise. As my brother mentioned, they both continued working well into the 1960s. Although they don't share a scene together, both men appeared in Stanley Kramer's all-star comedy epic It's a Mad, Mad, Mad, Mad World in 1963.
Thelma Todd steals a few scenes as gold digging actress Eleanor Espere. The way she brazenly throws herself at the clueless professor is worth a few laughs. Todd's career was cut tragically short when she was discovered dead inside a car in a garage on the morning of December 16, 1935; a victim of carbon monoxide poisoning. After a brief investigation her death was ruled as "accidental with possible suicide tendencies". Many people believed she was murdered and her death remains a mystery to this day. Just 29 when she died, Thelma Todd left behind an impressive body of work including two movies with the Marx Brothers and several with Laurel and Hardy.
Speak Easily is far from a comic masterpiece but it is a fun watch nonetheless. It runs just 80 minutes and features three incredibly gifted comic performers at very different stages in their careers.
Reviewed on:
February 6th, 2015
Buster Keaton and Thelma Todd in Speak Easily.
This movie proves that Keaton's career could have survived more successfully than it did in the sound era. As Patrick noted, his early talkies were financially successful, only Keaton wasn't very happy with them or his contract. And I agree with Patrick that while Keaton's speaking voice was a weakness, it actually worked to his advantage here. His slow method of talking just makes it seem as if his Professor is thinking things over before saying anything and then pronouncing each word clearly. This is certainly the most enjoyable of his speaking parts that I've yet to see and Keaton himself seemed to consider it the least bad of his MGM talkies saying about it and Durante in his autobiography, "He was very good in the one picture we made together that had quality. I think this was because the character he played was very much like the real Jimmy Durante. The picture was Speak Easily, which...had a sound comedy plot."
Keaton is right about Durante. He provides some peppy jokes and while his and Keaton's comedy styles were quite opposite, they manage to work well together. I also agree with my brothers that Thelma Todd as the gold digging actress is quite funny. Her drunken night with Keaton is one of the film's comic highlights.
Although not a typical stunt filled comedy, Keaton does still generate plenty of laughs. I don't know if the makers of the Big Bang Theory ever watched this movie, but Sheldon Cooper of that show could easily be a direct descendant of Professor Post. They both use their inability to understand normal social conventions to great comic effect.
Ironically, while Keaton was playing a straitlaced square, in real life he was drinking quite heavily and going through a divorce. His drinking, coupled with his unhappiness over his contract with MGM and the loss of creative control, lead to him being absent from and often late to filming, causing this movie to run over budget. According to Durante's biography, Keaton also failed to show up to a press conference to promote the film, leaving Durante to cover for him, saying that Keaton was sick with a cold.
As Patrick said, this is no masterpiece. It's a long way down from Keaton's greatest silent works, but it's still an amusing little film and proof that with a little more humility and self control, Keaton's career could have continued successfully throughout the 1930s.
Photos © Copyright Metro-Goldwyn-Mayer (MGM) (1932)