Movie Review
Sparkle
Celebrate the legend.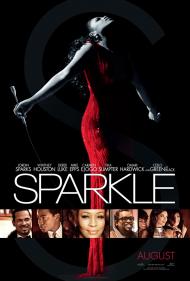 US Release Date: 08-17-2012
Directed by: Salim Akil
Starring
▸
▾
Jordin Sparks

,

as

Sparkle
Whitney Houston

,

as

Emma
Derek Luke

,

as

Stix
Mike Epps

,

as

Satin
Carmen Ejogo

,

as

Sister
Tika Sumpter

,

as

Dolores
Omari Hardwick

,

as

Levi
CeeLo Green

,

as

Black
Curtis Armstrong

as

Larry

Reviewed on:
January 14th, 2013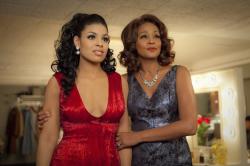 Jordin Sparks, her cleavage and Whitney Houston in Sparkle
Whitney Houston obtained the rights to this story and acted as an executive producer. It was intended to be a film comeback for her. She died during post production. Although not a great film by any means, it has some things to offer, including showcasing some parallels with Houston's career.
It tells the story of three grown sisters who live with their religious single mother in Detroit in 1968. The oldest girl is named Sister. No, I am not making that up. She and her mother do not get along as she has a less than respectable reputation. The middle girl is Dolores, who is going to school to be a doctor. The youngest girl is named Sparkle. Seriously. She writes music and does not know just how talented she really is.
Along comes Stix, a Barry Gordie wannabe. At first he is attracted to Sister, as every man in the film is. Then he realizes that Sparkle writes songs. He forms the girls into a "Supremes" type singing group with Sister acting as Diana Ross and Dolores and Sparkle in place of Mary Wilson and Florence Ballard. The girls become locally famous. Sister attracts the attention of a semi-famous comedian and soon takes up with him. He is abusive and gets her hooked on drugs. Her drug problems cause the girls to miss out on getting a record contract. Things get worse and someone ends up in jail.
Although she was the one who got this project moving, Houston has very little to do. She plays Emma, the mother who keeps a strict eye on her daughters and is very active in her church. The minister comes over for dinner and she sings in the choir. She has one song in the entire film. A gospel ballad. She and Sparks sing the theme song during the closing credits.
The reason she may not have much screen time is because she is not, nor has she ever been, a good actress. In one scene, Sister brings her comic boyfriend to dinner, where he makes some jokes that offend Emma. This is intended to be a big scene for Houston as she tells him off. However, she plays it all so low key, that it barely registers. Her performance is so bad here that in the editing room they cut away from her as often as possible. Instead of seeing Emma's outrage at this idiot, we are shown the other actors reaction to how Houston is supposed to be acting. The camera should have stayed on Houston as she told this bum what she thought of him.
Houston once told Oprah that she did cocaine or marijuana every day while shooting the film The Preacher's Wife (1996). How drugged out was she during the filming of this movie? The only time she is convincing is when she appears to be sleeping. Yet, even then she looks more like a passed out drunk than a mother who has stayed up late. My wife, whose idea it was to rent this film, reacted incredulously to seeing Houston in her first scene. "That's Whitney Houston!" She exclaimed. Houston's drug use was not kind to her looks.
Other than one scene that changes everything, the plot is fairly paint by numbers. We know Jordin Sparks will get her moment in the spotlight to sparkle. Just before going on stage her pious mother gives her another dress to wear on stage. It shocked both my wife and I. It is cut low enough to embarrass a porn star. Okay, so that is a slight exaggeration, but the dress is certainly unsuited to a character who just earlier bragged of being a virgin.
In fact, other than some drug use and Sister's implied sexual past, this film is as clean cut as they come. It hints that Emma has some skeletons in her closet but they remain there. With such a tame script, the only thing left to enjoy are the songs. Unfortunately, none of the songs stood out. All have a soulful pop sound, but nothing very catchy. The girls are sold more on their looks than their singing.
Whitney Houston recorded some memorable songs in her day, and she appeared in some decent films. Although I admitted to my wife that Sparkle was not as bad as I feared, it does not live up to any of Houston's past glory. In fact, it only serves to remind us of how far she fell before the end.
Photos © Copyright Sony Pictures Entertainment (SPE) (2012)