Movie Review
Space Chimps
Go bananas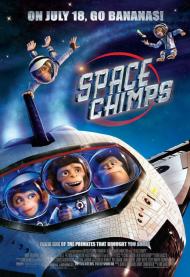 US Release Date: 07-18-2008
Directed by: Kirk De Micco
Starring
▸
▾
Andy Samberg

,

as

Ham III (voice)
Cheryl Hines

,

as

Luna (voice)
Jeff Daniels

,

as

Zartog (voice)
Patrick Warburton

,

as

Titan (voice)
Kristin Chenoweth

,

as

Kilowatt (voice)
Kenan Thompson

,

as

Ringmaster (voice)
Carlos Alazraqui

,

as

Comet (voice)
Zack Shada

,

as

Houston (voice)
Omid Abtahi

,

as

Dr. Jagu (voice)
Patrick Breen

,

as

Dr. Bob (voice)
Jane Lynch

,

as

Dr. Poole (voice)
Kath Soucie

as

Dr. Smothers (voice)

Reviewed on:
July 24th, 2008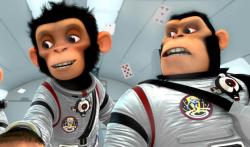 Space Chimps
Space Chimps is a family film that does not deserve to succeed, but to some extent, does. The animation is average. The story is paper thin. The characters are straight out of any number of other movies.
A probe has been lost in a worm hole in space. Not wanting to risk a human's life, a group of monkey's are sent after it. Ham III is the grandson of the first chimp in space, but all Ham III wants to do is wow crowds at a circus, being shot out of a cannon. Despite his lack of ambition, Ham is soon drawn into the mission. He, along with two other chimps, Titan and Luna, head out into space. Luna is around simply as a love interest and a few lines of banter with Ham III. Titan steals the movie. Warburton's voice was made for cartoons. He does sarcasm better than most.
The best line of dialogue is one that most kids will not even get. "Are you in aluminum clothes?"" Titan asks Ham II, who responds, "Yes." "Are you in a rocket?" He continues. "Yes." "In outerspace?" "Yes." "Are you David Bowie?" "Uh...no."
Hamm III falls for Luna while Titan tends to fall asleep. With an ornery Senator threatening to close down the space program and a maniacal alien wanting world domination, the three chimps have plenty on their plate. Whenever things seem about to become slow, a song plays and someone dances. Sometimes it's funny, such as when a nerdy scientist starts grooving. Other times, such as when Ham III dances with some alien jelly babies, it's not.
The writers behind this film do not have the strongest resumes. Director/writer De Micco wrote the dissapointing Racing Stripes while Robert Moreland wrote the forgettable Shrek knock off, Happily N'Ever After. Although Space Chimps is not a great film, it offers more entertainment than both of those films put together.
Photos © Copyright Twentieth Century-Fox Film Corporation (2008)