Movie Review
The Sound of Music
The Happiest Sound In All The World!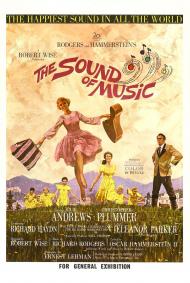 US Release Date: 03-02-1965
Directed by: Robert Wise
Starring
▸
▾
Julie Andrews

,

as

Maria
Christopher Plummer

,

as

Capt. Georg Von Trapp
Eleanor Parker

,

as

Baroness Elsa Schraeder
Richard Haydn

,

as

Max Detweiler
Peggy Wood

,

as

Mother Abbess
Charmian Carr

,

as

Liesl Von Trapp
Angela Cartwright

,

as

Brigitta Von Trapp
Nicholas Hammond

,

as

Friedrich Von Trapp
Heather Menzies-Urich

,

as

Louisa Von Trapp
Duane Chase

,

as

Kurt Von Trapp
Angela Cartwright

,

as

Brigitta Von Trapp
Debbie Turner

,

as

Marta Von Trapp
Kym Karath

,

as

Gretl Von Trapp
Anna Lee

,

as

Sister Margaretta
Portia Nelson

,

as

Sister Berthe
Ben Wright

as

Herr Zeller

Reviewed on:
March 2nd, 2001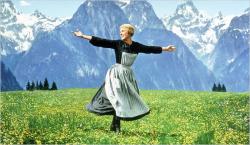 Julie Andrews in The Sound of Music.
This is the glorious retelling of the Rodgers and Hammerstein musical Starring Julie Andrews and Christopher Plummer. This movie was a huge box office hit and features some of the best-loved songs in movie history. Even today this is an immensely popular motion picture. The opening shot of Maria on the side of a mountain singing her heart out is splendidly filmed and performed.
For those who don't know, this is the story of a young woman named Maria who is studying to become a nun in 1930's Austria. She is sent by her Reverend Mother to become a nanny for the Von Trapp Family, a motherless household of seven children that happen to be notorious for going through nannies. Of course Maria wins them over in no time with her perky personality and winning way with a song.
After learning that the children don't know how to sing, Maria teaches them in one of the most famous scenes from this beloved movie. "Doe, a deer, a female deer...". The children are soon singing along with perfect pitch. After this there is nothing left but for Maria to fall in love with the dashing yet melancholy Captain Von Trapp.
It is after the nuptials are spoken that The Sound of Music goes beyond most other Hollywood musicals. Instead of fading out after the kiss we are treated to a rousing and fairly intense action sequence. The Nazis want the Captain to serve in their navy and they aren't the type that takes no for an answer. Will the Von Trapp family successfully escape over the mountains and into Switzerland where the sound of music will live once more?

Reviewed on:
March 2nd, 2002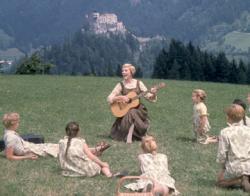 The Sound of Music
The Sound Of Music has a lot of innocent charm, yet it is such an annoying chick flick. Ask any woman who loves this movie and they will undoubtedly say that their favorite scene is where Maria tells off The Captain after they fall out of the rowboat. It's not a bad scene. It just demonstrates the big flaw in the movie. Maria is practically a saint. Her only error in life is that she falls in love. Aaahh! The Captain, on the other hand is a big idiot. He ignores his kids for a whole summer so he can go off to Vienna and screw the Baroness. He treats the children like soldiers. They wear uniforms and answer to a personalized whistle. Anyone this strict was probably abusive. Its hinted at during the scene where the children are first introduced to Maria.
The captain is loved in this movie, god knows why, by everyone. However the only time he shows any real passion is when someone dares to question his loyalty to Austria. Maria brings song back to his house and he turns mushy. I don't buy it.
My favorite part to this movie is the scenery. Most of the charm of this movie lies in the fact that it was shot on location. It steals your eyes away from the bland stars quite easily. I would choose to look at the Alps instead of an unattractively dressed Julie Andrews any day.
There are about two good songs here, the title song and "Doe Re Me". Notice that both of these songs are accompanied by great outdoor cinematography. Christopher Plummer singing "Adelvise" more than once in this movie is beyond my tolerance level.
Reviewed on:
March 2nd, 2003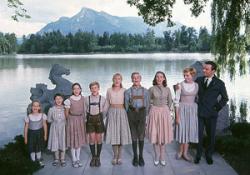 The Sound of Music
To me this movie is a guilty pleasure. Objectively I can look at it and see that is a load of sentimental hogwash, but if I relax and just watch it, it sucks me in every time.
Like Eric, I enjoy the scenery, but unlike him, I enjoy most of the songs. They aren't the kind of songs you want to hear over and over again, but taken as a part of the movie they can be enjoyed.
I think Eric also hit the correct phrase about this movie when he used the term 'innocent charm'. Again, this isn't the sort of movie I like to brag about liking, perhaps because of it's naïve charm, but when it comes on television, I can't help but watch.
Photos © Copyright 20th Century Fox (1965)