Movie Review
Soul Surfer
When you come back from a loss, beat the odds, and never say never, you find a champion.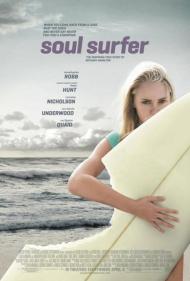 US Release Date: 04-08-2011
Directed by: Sean McNamara
Starring
▸
▾
AnnaSophia Robb

,

as

Bethany Hamilton
Dennis Quaid

,

as

Tom Hamilton
Helen Hunt

,

as

Cheri Hamilton
Ross Thomas

,

as

Noah Hamilton
Chris Brochu

,

as

Timmy Hamilton
Lorraine Nicholson

,

as

Alana Blanchard
Kevin Sorbo

,

as

Holt Blanchard
Jeremy Sumpter

,

as

Byron Blanchard
Sonya Balmores

,

as

Malina Birch
Carrie Underwood

,

as

Sarah Hill
Craig T. Nelson

,

as

Dr. Rovinksy
Cody Gomes

,

as

Keoki
Arlene Newman-Van Asperen

,

as

Sydney Blanchard
Sean McNamara

as

Ripcurl Executive

Reviewed on:
April 14th, 2011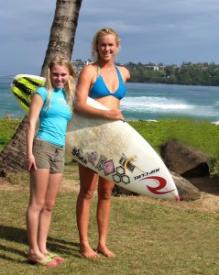 AnnaSophia Robb and Bethany Hamilton
To often it seems we measure a person merely by the amount of their accomplishments. I believe it is more important to measure a person by the amount of adversity they overcame to reach those accomplishments. There is no better arena to demonstrate this than the world of sports.
Bethany Hamilton was a promising young surfer living in Hawaii with her parents and two older brothers. After winning many amateur competitions, she was offered a sponsorship by Ripcord, the first step to becoming a professional surfer. Her life long dream was coming true. On the morning of October 31, 2003, Hamilton went surfing with her best friend Alana, Alana's father and brother. While lying on her surfboard with her left arm in the water, a 14 ft tiger shark attacked her, biting her left arm off just below the shoulder.
It was a devastating injury for her as a surfer needs two arms to paddle competitively out to the waves. Sure you can paddle with one, but when everyone else has two arms, you are definitely at a disadvantage. Bethany's family and friends rally around her and she maintained her faith in God. In her book, Soul Surfer: A True Story of Faith, Family, and Fighting to Get Back on the Board, she credited them all for helping her get through this difficult event.
Soul Surfer is a family film filled with Christian values. The Hamilton family attends church and Bethany is a member of a Christian youth group. Carrie Underwood plays her youth group leader, who in the movie takes the group to Thailand after suffering from the tsunami. The scene is a bit eerie after recent events in Japan. On the trip Bethany sees that she can still help people. When she returns home, Bethany finds stacks of fan mail from around world. She has become a hero to disabled kids. This helps in her decision to keep going.
Although this is Bethany's story, my wife and I related more to her parents. Quaid and Hunt do a great job at bringing you into their world. Through their reaction to what happened to their daughter, we are allowed to feel all of their frustrations. Watch Hunt as she races into the hospital telling Bethany, "I am here." or when Bethany says she wants to take off the prosthetic arm, and Hunt, playing the protective mother adds, "She says she wants it off."
If anything, the film needed to better explore the family. One scene has Quaid and Bethany's eldest brother, Noah, get into an argument, but it goes away quickly. What do Bethany's parents do for a living that they can live in a beach house in Hawaii? They are never shown going to work, other than Quaid making a surf board in the back yard. Bethany's parents and brothers seem to do nothing but support her and her surfing.
I am currently reading Josh Hamilton's (no relation) memoirs, Beyond Belief, about his descent into and recovery from drug abuse, to finding his way back to playing baseball. It has many similarities to Bethany's story. Both had support from family as well as faith in God. Is believing in something greater than yourself, while a supportive family believes in you the recipe to redemption and recovery? It definitely works for some people, and their stories are certainly inspiring to the rest of us.
Photos © Copyright Mandalay Vision (2011)