Movie Review
Soul Plane
The party is nonstop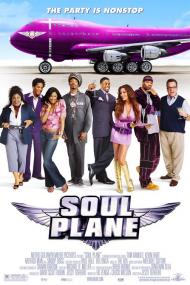 US Release Date: 05-28-2004
Directed by: Jessy Terrero
Starring
▸
▾
Tom Arnold

,

as

Mr. Hunkee
Kevin Hart

,

as

Nashawn
Method Man

,

as

Muggsy
Snoop Dogg

,

as

Captain Mack
K.D. Aubert

,

as

Giselle
Godfrey

,

as

Gaeman
D.L. Hughley

,

as

Johnny
Monique

,

as

Jamiqua
Missi Pyle

,

as

Barbara
Gary Anthony Williams

,

as

Flame
John Witherspoon

,

as

Blind Man
Arielle Kebbel

,

as

Heather Hunkee
Ryan Pinkston

,

as

Billy Hunkee
Karl Malone

,

as

Himself
Terry Crews

,

as

Security
Sofia Vergara

as

Blanca

Reviewed on:
May 27th, 2004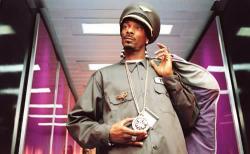 Snoop Dogg in Soul Plane.
Soul Plane is a sleek, raunchy comedy that features some funny moments, especially if you appreciate bawdy bathroom humor. The writers clearly have never met a stereotype they didn't like. From the average-joe white-guy played by Tom Arnold (his last name is Hunkee) to the average-joe black-guy played by Kevin Hart, there isn't a character in sight with more than two dimensions. Granted this is a silly spoof of a comedy meant to parody the style of the old Airplane! movie (which was itself a parody of the old Airport movies) still a bit more characterization never hurts. And I for one am extremely tired of the flaming-black-gay-guy character who is always the tackiest sissy on the planet and is the butt of every crude joke imaginable. Just once I would like to see a black gay character who doesn't have a broke wrist and a lisp.
After Nashawn Wade (Hart) has a humiliating and traumatic experience on a commercial flight (his butt gets stuck in the plane's toilet among other things) he sues and receives a $100 million settlement. He uses his instant wealth to create his own airline called NWA. The plane is tricked-out and ghetto-fabulous. It is metallic purple and chrome colored, features an onboard dance club, live DJs, hip-hop music, scantily clad flight attendants and even a bathroom attendant played by D.L. Hughley. And of course there is Snoop Dogg as Captain Mack the pimped-out pilot of flight #O-69 from Los Angeles to New York.
Method Man has a few good moments as the likable Muggsy, Nashawn's goofy, always-messing-up cousin. Comic Mo'Nique plays a loud-mouthed security officer talking shit to the passengers as they pass through the metal detector. Missi Pyle (as Mr. Hunkee's horny girlfriend - those facial expressions are priceless), Ryan Pinkston (as Mr. Hunkee's wanna-be-black son) and John Witherspoon (as a blind man who has a sexual experience with a baked potato - you have to see it to believe it) all add to the fun, but what Soul Plane lacks, ironically, is soul. We are supposed to root for Nashawn but the movie doesn't create much motivation for doing so and this only takes the focus away from the laughs.
Some funny and outrageous moments and a few mildly offensive jokes are not enough to keep Soul Plane airborne.

Reviewed on:
April 30th, 2011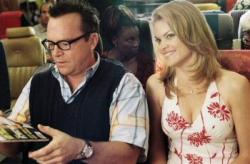 Tom Arnold and Missi Pyle in Soul Plane.
Soul Plane feeds on stereotypes. The vacationing white Hunkee family just came from Crackerland. The over weight, loud mouth black women giving everyone a hard time, "When the buzzer pops, nigga, you stop!" Barbara being nervous about being the only white woman on the plane.
Poking fun at stereotypes can certainly be entertaining, if done right. Unfortunately there is not much creativity to be found here. At least the film makers were brave enough to show people reacting suspiciously to a middle eastern looking man getting on board the plane.
Snoop Dog has a few decent lines, such as, "In a hot second, I'll be hittin' them switches and gettin' this bitch pumpin' and jumpin'. So screw your shit on tight and enjoy the flight." Which the wanna-be-black, white kid has to translate for his Dad.
Soul Plane too often attempts jokes that never work. A Texas airline has cow patterned seats and all of the white passengers lock their doors as the purple plane goes by on the run way. Patrick was offended by the gay steward, but he has the funniest scenes. The first one is when he serves the Hunkee family beverages and the second is when he races to the cock pit with other stereotypical gay men.
Photos © Copyright MGM (2004)