Movie Review
Soul Food
A story of the people who make us strong and the recipe that makes us a family.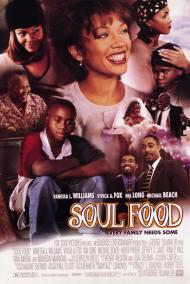 US Release Date: 09-26-1997
Directed by: George Tillman Jr.
Starring
▸
▾
Vanessa L. Williams

,

as

Teri
Vivica A. Fox

,

as

Maxine
Nia Long

,

as

Bird
Michael Beach

,

as

Miles
Mekhi Phifer

,

as

Lem
Brandon Hammond

,

as

Ahmad
Irma P. Hall

,

as

Mother Joe (Big Mama)
Jeffrey D. Sams

,

as

Kenny
Gina Ravera

,

as

Faith
Carl Wright

,

as

Reverend Williams
Mel Jackson

,

as

Simuel
John M. Watson Sr.

as

Uncle Pete

Reviewed on:
November 23rd, 2012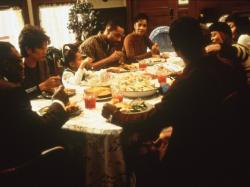 The cast of Soul Food gather together for a family dinner.
Soul Food is a wonderful family film that makes a great annual Thanksgiving Day watch. It features just one scene on Turkey Day but the emphasis on Sunday family dinners gives the movie the perfect holiday feel for a viewing at any large family gathering. It was written and directed by George Tillman Jr. based on his life growing up in an extended African American family in the Midwest.
The story is narrated by, and told through the eyes of, 11 year old Ahmad. He's Big Mama's oldest grandchild and they have a special bond, but then Big Mama has a special bond with everyone in the family. She's the glue that holds them all together. For 40 years she's kept the Sunday family dinner tradition alive at her home in a middle-class neighborhood in Chicago. Irma P. Hall plays the quintessential strong but loving black family matriarch. This is a serious version of the same character both Martin Lawrence and Tyler Perry have turned into cash-cow caricatures.
When Big Mama, a diabetic, has one of her legs amputated below the knee she suffers a stroke and slips into a coma. The family soon begins to fall apart without her steady hand to guide it. Young Ahmad takes it upon himself to try to bring them all back together. The movie is filled with humorous and heartwarming moments. The lecherous old Reverend that never misses a Sunday dinner provides some low brow humor, while Ahmad's scenes with Big Mama will bring a tear or two to your eyes. It also features many shots of delicious looking soul food dishes being served steaming hot.
The various family members are played by a talented group of actors. Big Mama's three grown daughters are Teri (Vanessa L. Williams), Maxine (Vivica A. Fox) and Bird (Nia Long). Teri, the oldest, is an uptight but very successful attorney. She is quick to pick up the check but even quicker to remind everyone that she is paying the bills. As she tells her sister Maxine, "As far as you're concerned, I'm an ATM. Automatically Teri's Money." Maxine is the maternal one who is destined to take Big Mama's place one day as the family matriarch. Ahmad is the oldest of her three children. Bird is the youngest of Big Mama's daughters, she works as a hair dresser and is a newlywed. Their three men, and a trouble-making cousin named Faith, round out the family.
Soul Food, without getting heavy-handed, shines a positive light on a modern black family. From the 1920s through the 1960s thousands of blacks migrated from the Southern states to Northern cities like Chicago and Detroit. For the first time they were able to more than double their incomes by moving a day's journey away and by switching from sharecropping to factory work. Soul Food tells of the second (and third) generation(s) of one such American family. It was a hit at the box office in 1997 and spawned a television series of the same title that aired on Showtime from 2000 to 2004.
While it's not a perfect movie, Soul Food has special sentimental value for me. It came out the year I met my husband and we've watched it together nearly every Thanksgiving for the past 15 years. If you've never seen it I highly recommend this heartwarming and amusing family movie. Who knows, perhaps it will become a part of your families' holiday tradition too.
Reviewed on:
December 3rd, 2014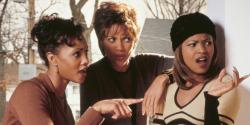 Vivica A. Fox, Vanessa L. Williams, and Nia Long in Soul Food.
I agree that this is a wonderful movie about family, but oddly, for such for a family film, it includes a couple of adult scenes as well as adult language. There's nothing overly explicit, but for a movie that is, as Patrick wrote, a good holiday film that celebrates and could be watched by the whole family, it seems odd that the filmmakers chose to release it with an R rating.
It's easy to see why the film was turned into a television series. There's enough characters and storylines for an entire season's worth of shows. It's the film's greatest strength that it weaves all of these stories together and wraps them up with a bow in less than 2 hours and without feeling as though any of the characters are shortchanged.
There's an old fashioned feel to the film and it wears its heart proudly on its sleeve. It has the feel of a family series from the 1970s like The Waltons or Little House on the Prairie. Its positive depiction of a family (black or white) is a rarity in movies today.
The cast are all good, but the focus is definitely on the women and the three sisters in particular. They're not the deepest of characters, but Vanessa Williams, Vivica A. Fox, and Nia Long do a good job with what they're given and they feel like real people and it's easy to believe that they're sisters.
One odd inconsistency in the script is the way it begins and goes back often to being narrated by young Ahmad, but it too often veers away from this strategy. We are shown scenes that he isn't privy to. When he's narrating, he does so using the unreliable narrator technique, meaning that he often doesn't understand what's happening with the grown-ups. But it's as if writer/director Tillman didn't believe strongly enough in that perspective, so instead of allowing the audience to interpret the things that Ahmad sees, but doesn't understand, in the way a movie/book like To Kill a Mockingbird does, we are spoon fed exactly what is happening in everyone's life.
To be honest, I wasn't expecting much when Patrick suggested I watch this movie. However, I was drawn into this family's life and their everyday struggles. Sure, it's overly sentimental, but maybe it caught me in a soft mood, because I didn't really mind. Heartwarming is such a marketing term these days that it sounds like a cliche to use it, but it's quite an apt word to use to describe Soul Food.

Reviewed on:
December 6th, 2014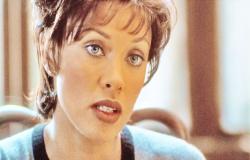 Vanessa Williams in Soul Food
There was much that I liked about Soul Food yet much of it tasted like left overs. We know the husband will find out how he got his job and that he will not respond well to it. It is obvious that as soon as she moves in, the cousin and neglected husband will hook up. The biggest cliché is with Big Mama. The overweight, wise black home maker character has been in films since before Mammy took care of Scarlett O'Hara in 1939's Gone with the Wind. Why could she not be a healthy woman who got hit by a car?
I agree that the cast is good but I disagree with Scott, in that the male characters are not given a full helping. One husband is very busy playing the victim. "No one will hire me." Another is chasing a dream he should have pursued or gotten over some ten years prior. The last husband is simply notable for being a nice guy. The script does not give them any depth what-so-ever.
As Scott noted, the main course is definitely the three sisters and what dishes they are. The tastiest one is played by Vanessa Williams. Her Teri is the proud sister who worked hard to get where she is but feels she does not get the proper amount of respect from the family. Williams' best scene is when the three sisters and two of their husbands gather in a kitchen and Teri calls out her husband for his affair. "Fuck the family. The family fucked my husband!"
What Teri needed to learn is that family is not impressed with a bank account or a degree. When she sits at that dinner table, the family does not see her as a lawyer but as a sibling or a daughter. Teri has the best story arc in the film.
Soul Food has some weaknesses but it is a beautiful toast to families. These characters have different opinions, arguments, good times and bad. They have their own love lives and professions. However, once they sit around that dinner table they become a family unit, where no one is above or below the other.
From a critical point of view, this movie is a soap opera but from a personal perspective, I love its message about the strength and undeniable love between family members. Soul Food brought to mind when Oprah once said, "The kitchen is the heart of the home." It is the kitchen where people start their day, gather for meals and celebrate holidays with birthday cakes and Christmas cookies. The kitchen represents family whether the people in it are cooking soul food, tacos or chicken casserole.
Photos © Copyright Twentieth Century Fox Film Corporation (1997)