Movie Review
Song of the Sea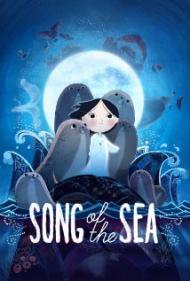 US Release Date: 12-19-2014
Directed by: Tomm Moore
Starring
▸
▾
David Rawle

,

as

Ben
Brendan Gleeson

,

as

Conor and Mac Lir
Fionnula Flanagan

,

as

Granny and Macha
Lisa Hannigan

,

as

Bronagh
Lucy O'Connell

,

as

Saoirse
Jon Kenny

as

Ferry Dan

Reviewed on:
February 2nd, 2015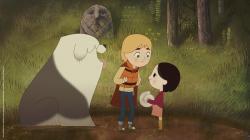 Traditional hand drawn animation in Song of the Sea.
Song of the Sea is the second film from Irish animation studio Cartoon Saloon to be nominated for Best Animated Feature at the Academy Awards. Like its predecessor, 2009's The Secret of Kells, Song of the Sea was directed by Tomm Moore and also like that earlier film it features traditional hand drawn animation. It tells a wistful Irish folktale that effectively combines humor and pathos. Its old fashioned visual style gives Song of the Sea a timeless quality. It could have been made at any time in the past 50 years.
It tells of two young siblings, Ben and Saoirse. They live in a lighthouse by the sea with their father, and Ben's large sheep dog. Their father is a gruff man of few words who has never completely gotten over the death of his wife. Ben resents his little sister, who -at six years old- has yet to utter a word. One night it's revealed that Saoirse (like her mother) is actually a selkie, which is a female fairy that transforms into a seal in the water and becomes human on dry land.
Saoirse, it turns out, is the last of her kind and she alone can restore order to the fairy world. Ben and Saoirse's odyssey really begins after they are taken to live with their grandmother in the city. They must work together to find their way home. Ben must learn responsibility while his sister must find her voice. From this point the story becomes an exciting children's adventure that remains fast paced right up to its heartwarming conclusion.
Foreign films have always had a different tone, style and content than mainstream Hollywood movies. Perhaps this is no place more evident than in the world of animation. American animation offers the very latest in sophisticated CGI visuals that are unfortunately usually paired with a very simplistic story featuring bathroom humor and tons of pop culture references. Foreign animation is far more likely to be hand drawn and to feature more mature themes. Song of the Sea is a great example of this. It deals with some adult ideas but it's definitely a children's movie. It's a beautiful little cartoon with heart and humor.
The Secret of Kells lost to Up (probably the best American animated movie so far this century) at the 82nd Academy Awards. I don't know if Song of the Sea stands a chance of taking home the Oscar this year but I'll be rooting for it.
Reviewed on:
February 2nd, 2015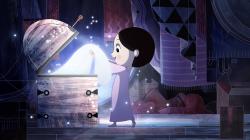 Saoirse finds her coat in Song of the Sea.
Song of the Sea does include hand drawn animation, but parts of it were developed using computers. Director and creative force behind the film, Tomm Moore has stated that he was definitely going for an organic, timeless quality. In an interview with Screendaily.com he said, "Computer animation can sometimes date very quickly. If you look at the first Toy Story, you can see the cracks now. If you look at the old Jungle Book film, that still looks fresh because it's a more timeless look." I agree with both the filmmaker and my brother that Moore succeeded. There is definitely a timeless quality to the visuals, as well as to the story, that suits the film quite well.
I wasn't impressed with The Secret of Kells, Moore's earlier Oscar nominated animated film that shared a similar visual style and fairy tale elements. While I felt that story was stretched too thin, this one feels just right in length. Perhaps the long gestation period allowed Moore to perfect it. He originally came up with the idea 9 years ago when visiting the seashore with Ben, his then 10 year old son, who became the namesake and inspiration for the Ben in the story. The two of them came across several dead seals on the beach, which brought to mind the old legend of the selkies. It took four years to finish the story and find financing, something that was helped along by the Oscar nomination for The Secret of Kells, although Moore avoided the offers of American studio money stating that he and his team "felt that for this kind of story a European co-production was the right way to go."
Although it's an original story, it feels and looks like a classic children's book. Ben and Saoirse's story is told like an old fashioned fairy tale. The journey of a brother and sister through the woods where they face an evil witch and other dangers is an old one, but it's freshened up here so that it feels both new and timeless at the same time. Since this is essentially a children's tale, the sense of peril is somewhat limited, but still remains entertaining for adults, even managing to generate some true emotion by the film's climax. Along with the adventure there are also some nice lighter moments to provide some comic relief.
Moore is already at work on his next project, which will also feature Irish folklore, only this one is to be set in the 1600s in a very ancient city. Although not a trilogy, he has said,"It would be nice to do three of the same themes with the same look, and they can sit together." If he can match the quality of that one with this one and continue to resist the lure of big money, I wouldn't be surprised to see more Oscar nominations in his future.

Reviewed on:
April 7th, 2015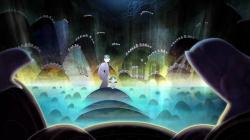 Song of the Sea
I agree with Patrick that Hollywood animated CGi films have become fairly generic. Foreign films are more adventurous and creative when it comes to animated movies. Hand drawn films allow for a more imaginative visual experience than CGI. Compare the scene where Ben meets the long haired fairy king to any number of scenes of Rapunzel in the computer animated Walt Disney Pictures Tangled (2010).
I also agree with Scott that Song of the Sea feels and looks like a traditional children's story we have seen and read before. Children taking a journey across country and through magical peril are as old as The Wizard of Oz (1939). Like Dorothy and the fantasy world she travels, it needs a child to save it. Adults seem to only exist for dramatic purposes.
What I found most enjoyable about Song of the Sea is the hand drawn illustrations. They have a strong cultural influence that is integral to the story. The background is filled with flowing designs and immense detail. Look at when Saoirse and Ben crawl through the tunnel. Not only are their patterns in the tunnel behind them but we also can see what is in the surrounding earth. The most beautiful moment for me was when Saoirse swims under a blue whale with the seals. The color tone is cold yet the use of light is warming and dramatic. The contrast of sizes and use of lines is gorgeous.
Song of the Sea starts strong with plenty of mystery and intrigue thrown at us. The adventure aspect of it all is rather tame and I found myself losing some interest two thirds of the way in. However, it ends strong on an emotional level. Although much of the story seems familiar, the animation will never disappoint you.
Photos © Copyright Cartoon Saloon (2014)
Related Review