Movie Review
Son of Rambow
Make Believe. Not War.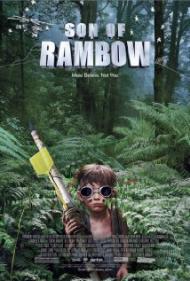 Film Festival Release Date: 01-27-2007
Directed by: Garth Jennings
Starring
▸
▾
Bill Milner

,

as

Will Proudfoot
Will Poulter

,

as

Lee Carter
Neil Dudgeon

,

as

Joshua
Jessica Hynes

,

as

Mary Proudfoot
Anna Wing

,

as

Grandma
Tallulah Evans

,

as

Jess Proudfoot
Emilie Chesnais

,

as

French Teacher
Paul Ritter

,

as

Geography Teacher
Finola McMahon

,

as

Gail Graham
Rachel Mureatroyd

,

as

Marie Plante
Taylor Richardson

,

as

David Smart
Peter Robinson

,

as

Lucas Dupont
Charlie Thrift

,

as

Duncan Miller
Jules Sitruk

,

as

Didier Revol
Sam Kubrick-Finney

as

Danny


Reviewed on:
August 29th, 2013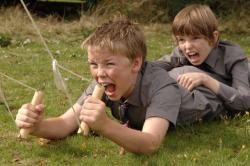 Will Poulter and Bill Milner in Son of Rambow
After enjoying Will Poulter's performance in We're the Millers (2013), I decided to check out his film debut in Son of Rambow. Will was just another student in a drama class until his teacher encouraged him to audition for the part of Lee Carter. After Son of Rambow he did some British television comedy work until being cast in The Chronicles of Narnia: The Voyage of the Dawn Treader (2010). You see, it pays to listen to your educators.
Although Poulter, as Lee Carter, steals every scene he is in, the movie is told more from the perspective of Will Proudfoot, played by Bill Milner. Will is a lonely child who lives in a dream world. He draws constantly in his notebooks and on bathroom walls. His widowed mother belongs to a strict religious organization that does not allow the use of technology. In school, whenever the teacher shows something on television to the class, Will has to sit in the hall. On one such occasion he meets delinquent Lee Carter who has been thrown out of his class for misbehaving.
Lee is likewise from a dysfunctional home. His parents are nowhere in sight. He lives with his older brother who treats him more like a servant than a sibling. He films movies illegally that are playing in theaters. When Will first visits Lee, he sees part of Lee's bootleg copy of Rambo: First Blood (1982) and he starts to fantasize that he is the son of Rambo and saves his father from capture. This leads to the two boys deciding to make a movie titled, what else, Son of Rambow. They soon become best friends and change each other's lives forever
The heart of the film is the friendship between Will and Lee. Both are outcasts. Will because he is withdrawn and Lee because he is a delinquent. Making the movie gives them both an outlet. It focuses Lee's otherwise troublemaking energy and it gives Will's imagination some hope.
Some exchange students from France come to their school with one in particular capturing the attention of the entire school. He gets wind of the film being made and wants to be in it. He brings his growing entourage and soon the film has outgrown the two friends, causing a rift between them.
Son of Rambow celebrates that brilliant but however brief moment in a boy's life when they are old enough to have adventures away from adults but not old enough to be distracted by girls. They steal from a store for movie supplies. Will almost drowns. They become blood brothers. They laugh and they fight. They are just what each other need.
Son of Rambow is mostly light and lively but not always funny. It ends better than it leads you to believe it will. The final line of the film spoken by Poulter, "This has been my best day of all time." could only be sincerely stated by a child their age.
Reviewed on:
February 8th, 2015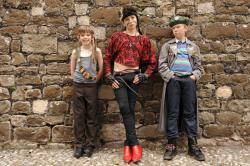 Bill Milner, Jules Sitruk and Will Poulter in Son of Rambow.
This coming of age tale has plenty of humor, heart and innocence. As someone who lived through the 80s I enjoyed revisiting the era. In addition to First Blood, Lee and Will are shown attending a screening of Yentl (just as three movie buffs did in real life) and the soundtrack includes many classic pop tunes of the day like "I Can't Wait" by Nu Shooz and Siouxsie and the Banshees's "Peek A Boo". To name just two. My one complaint is that it gets a bit too cutesy at times, especially during the scenes depicting Will's imagination.
As Eric wrote, Son of Rambow is about that magical age in every boy's life right before childhood becomes adolescence and sex changes everything (not every boy gets distracted by girls though Eric). Will and Lee are two quite memorable characters and their relationship is touching to watch unfold. Again agreeing with Eric, making their home movie together gives both boys something to focus on as a distraction from their unsatisfying home lives. Through his friendship with Lee, Will experiences things he had only ever imagined before. Lee, on the other hand, had plenty of life experience but didn't really know how to tap into his imagination in a positive way before meeting Will. They compliment each other and make a great team.
It is them against the world until the sixth formers get involved. In one scene Will and Lee attend a party thrown by the older students. Will looks around in awe and proclaims, "I can't believe we're in the Sixth Form Common Room!" Lee hates sharing his friend with others and leaves in dismay. The involvement of the older students leads to the climactic scene where a near fatal accident occurs during the making of the movie within the movie.
The third most interesting character in the film, to me, is the charismatic French exchange student named Didier Revol. He dresses like a dancer in a Michael Jackson video (see photo) and smokes cigarettes. He eventually gets a part in Son of Rambow and brings along his sycophants. In one brilliantly simple shot, as Didier Revol gets on the bus to return to Paris, we learn that although he was looked up to and hero worshiped in England, he is ridiculed by his French classmates and is actually a bit of a loner in his normal life.
Son of Rambow is sweet, charming and nostalgic.
Photos © Copyright Hammer & Tongs (2007)