Movie Review
Somebody Up There Likes Me
It's tougher than Blackboard Jungle!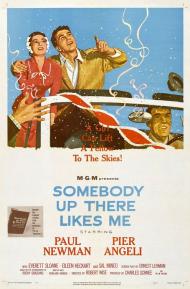 US Release Date: 07-03-1956
Directed by: Robert Wise
Starring
▸
▾
Paul Newman

,

as

Rocky
Pier Angeli

,

as

Norma
Everett Sloane

,

as

Irving Cohen
Eileen Heckart

,

as

Ma Barbella
Sal Mineo

,

as

Romolo
Harold J. Stone

,

as

Nick Barbella
Joseph Buloff

,

as

Benny
Sammy White

,

as

Whitey Bimstein
Arch Johnson

,

as

Heldon
Robert P. Lieb

,

as

District Attorney Hogan
Theodore Newton

,

as

Athletic Commissioner Edward Eagan
Steve McQueen

as

Fidel
Reviewed on:
March 2nd, 2011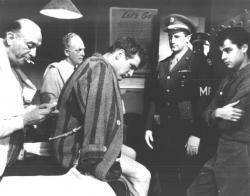 Paul Newman, Sal Mineo and other cast members in Somebody Up There Likes Me.
Somebody Up There Likes Me made Paul Newman a star and established him as the heir apparent to James Dean, who had died in a car crash the previous September, and who had been set to star in this movie himself. As is often the case one man's great misfortune turned out to be another's good luck. This was just Newman's second motion picture after the embarrassing sword and sandal flop The Silver Chalice.
Somebody tells the story of how Rocky Barbella, a tough kid growing up in the tenements of Manhattan's Lower East Side, began a life of petty crime, served stints at Riker's Island and Leavenworth Prison (after going AWOL while in the army) to becoming Rocky Graziano, World Middleweight Boxing Champion.
Taken from Graziano's autobiography and with a screenplay by Ernest Lehman, Somebody is an engaging fact based account of one man's journey overcoming adversity. At the beginning we see Rocky as a little boy while his drunken father spars with him for the amusement of his friends. Rocky's father was a boxer that gave up the ring to put one on Rocky's mother's finger. He never recovered from that decision and as a result of giving up his dream made a piss poor husband and father.
Young Rocky starts his career as a criminal early and is on the fast track for either an untimely death or life behind bars when he discovers he can make a fast buck with his fists. Sal Mineo, fresh from his success in Rebel Without a Cause (ironically, opposite James Dean), plays Romolo, one of Rocky's hoodlum friends. Although Newman was 31 and Mineo just 17 they are convincing as pals and contemporaries. Look for Steve McQueen in a bit part making his movie debut as another street hood.
Pier Angeli matches Newman's intensity as his sweetheart and wife Norma. The love he feels for her enables Rocky to keep his life headed in the right direction. Their courtship is sweet and well enacted. I enjoyed the scene where Rocky sees her home to Brooklyn.
By the mid 1950's the archaic Hay's Code was being challenged in small ways but still held sway in others. Somebody Up There Likes Me is a perfect example of this. They are allowed to make a playful reference to Rocky wearing a "cup" for protection but he and his wife are shown sleeping in separate twin beds.
Although it failed to garner Oscar nominations in the big categories it did win Best Black & White Cinematography and B&W Art Direction/Set Direction. It was shot partly on location in New York City and there are a few scenes set on the tenement rooftops with breathtaking views of the Manhattan skyline in the background.
Boxing movies have been a staple in the sports genre since at least the original The Champ way back in 1931. They continue to be crowd pleasers to this day with The Fighter winning several Oscars this year. Although Rocky and Raging Bull are more famous and feature better fight scenes both of those movies borrow from this one. Graziano's trainer calls him "Rocky" in a gruff voice as Burgess Meredith would later do and Newman wears a prosthetic nose much like De Niro would in Raging Bull.
Somebody Up There Likes Me ends on a triumphant note. As a true story it uplifts and inspires. James Dean's untimely death provided Paul Newman with the role that made him a star. Such is the role of fate and fast cars in Hollywood history.

Photos © Copyright Metro-Goldwyn-Mayer (MGM) (1956)