Movie Review
Soapdish
A Deliciously Malicious Comedy.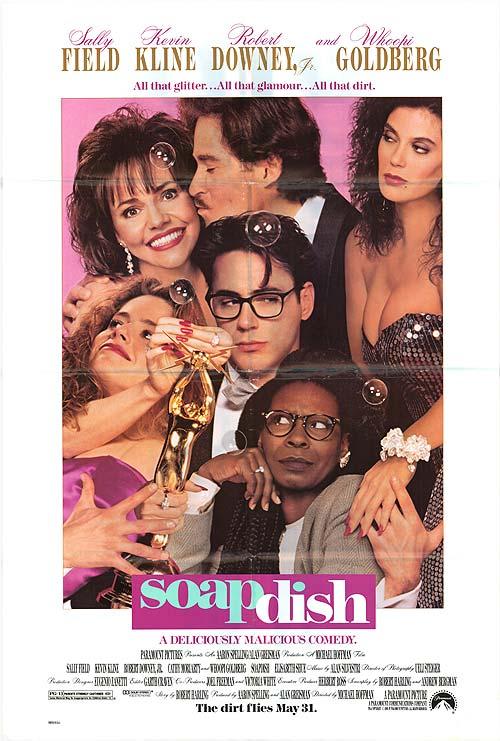 US Release Date: 05-31-1991
Directed by: Michael Hoffman
Starring
▸
▾
Sally Field

,

as

Celeste Talbert / "Maggie"
Kevin Kline

,

as

Jeffrey Anderson / "Dr. Rod Randall"
Robert Downey, Jr.

,

as

David Seton Barnes
Cathy Moriarty

,

as

Montana Moorehead / "Nurse Nan"
Elisabeth Shue

,

as

Lori Craven / "Angelique"
Whoopi Goldberg

,

as

Rose Schwartz
Carrie Fisher

,

as

Betsy Faye Sharon
Garry Marshall

,

as

Edmund Edwards
Teri Hatcher

,

as

Ariel Maloney / "Dr. Monica Demonico"
Kathy Najimy

,

as

Tawny Miller
Paul Johansson

,

as

Blair Brennan / "Bolt"
Leeza Gibbons

,

as

Herself
John Tesh

,

as

Himself
Mary Pat Gleason

,

as

Housewife
Ben Stein

,

as

Nitwit Executive
Finola Hughes

,

as

All My Trials Actress
Costas Mandylor

as

Mark

Reviewed on:
June 23rd, 2015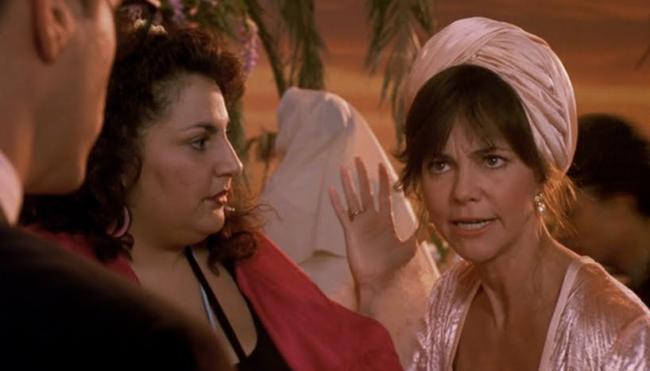 Kathy Najimy and Sally Field in Soapdish.
Soapdish spoofs the daytime serial, formerly known as soap operas, a genre that is nearly extinct these days. Sally Field stars as Celeste Talbert, the reigning diva on The Sun Also Sets. Her costar, the conniving Montana Moorehead (Cathy Moriarty), wishes to usurp Celeste's position and plots with the show's producer, played by Robert Downey Jr. She promises sexual favors if he helps her get rid of Celeste.
Meanwhile, Celeste's niece Lori (Elizabeth Shue) arrives in town with dreams of stardom, and Celeste's ex, played by Kevin Kline, reenters her life in a big way. The behind the scenes scheming and shenanigans prove far more entertaining than the cliched story-lines on the actual soap. Secrets are revealed and plans are stymied along the way to Soapdish's uproariously funny conclusion.
Sally Field gets to wear plenty of glamorous but ugly dresses as Celeste Talbert. At one point she's pissed off about an outfit she was forced to wear in a scene for The Sun Also Sets. After the director yells cut, she demands to know who the new costume designer is. After being introduced to her, Celeste turns to her producer and very calmly explains to him (see photo), "I don't feel quite right in a turban. What I feel like is GLORIA FUCKING SWANSON! What am I, 70, David? Am I 70? Why don't you just put me in a walker? Buy a goddamn walker and put me in it!"
Kevin Kline steals the movie as Jeffrey Anderson, actor and professional ham. It's the type of role he was born to play and he doesn't disappoint. His performance garnered a Golden Globe nomination. One of my favorite moments is when, during a live broadcast, he must read his lines off a teleprompter but he's too myopic to see them without his reading glasses. He misreads "brain fever" as "brake fluid" and "bran flavor" then says, "laterally explore" instead of "literally explode".
Like all soap operas, the plot contains several surprises along the way. The climactic scene, where an episode of the series airs live during which a big secret is revealed, borrows heavily from Tootsie. But this movie is much sillier than the Dustin Hoffman classic.
The talented cast also includes such comedy luminaries as Whoopi Goldberg, Garry Marshall, Carrie Fisher, Teri Hatcher and Kathy Najimy as well as cameos by several real life soap stars. Leeza Gibbons and John Tesh show up as themselves, hosting Entertainment Tonight. Like All About Eve it begins and ends with an awards banquet. Soapdish both celebrates and spoofs long running daytime serials and all the hilarious melodrama that surrounds them.

Reviewed on:
August 14th, 2015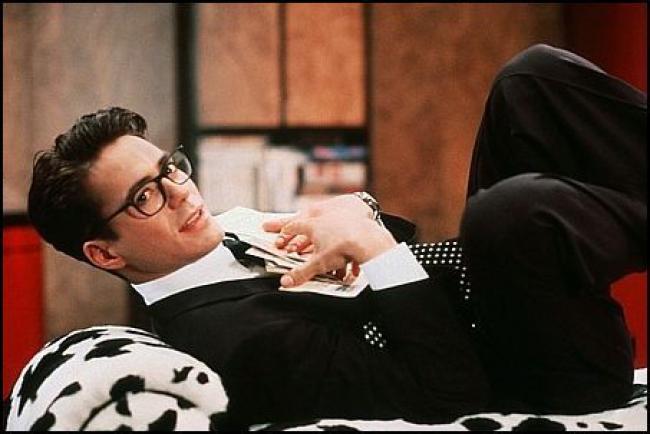 Robert Downey Jr in Soapdish
I recall being none too impressed with Soapdish when I first saw it in theaters. I rarely laughed as I found the jokes to be either delivered loud and obnoxiously or too subtle for my taste. This time around I was still a bit put off by the over acting, that everyone in the cast is guilty of, but I now enjoyed the Hollywood in jokes.
My brothers and I always watch the Academy Awards and I have often wondered what the celebrities in the audience are thinking during someone's acceptance speech. Early in the film Celeste Talbert wins a Daytime Emmy. Upon arriving at the podium and receiving her award, she begins, "Ohhh, there's so many people to thank. First of all, my fabulous supporting cast, who gives a new meaning to the word "support"..." We are then shown her supporting cast in the audience that does not enjoy her condescending tone. Ariel Maloney spouts, "Bitch!" David Barnes says, "Hag!" and the jealous Montana Moorehead confesses, "I hate her so much!"
Whoopi Goldberg, as writer Rose Schwartz, delivers one of my favorite lines when she explains during a staff meeting that, "Actors don't like to play coma. They feel it limits their range." I have never been a big fan of Goldberg but she hit the right tone on that line. She also helps Garry Marshall out in a different scene.
After the truth about Celeste Talbert's past comes to light, studio head Edmund Edwards announces to the show's staff, "She's been through hell, and we're her family. So in this crisis, we have to support her." Rose, standing behind him says, "Yeah." Edmund adds, "We have to love her." Rose, "Mmm." Edmund continues, "We have to care about her." Rose, "Mmm." Edmund then gets to the point, "And we have to milk it for every drop of publicity we can get."
Soapdish is not always a laugh out loud film but it has its moments. From decent slapstick, like Sally Fields walking out of Kline's apartment, to some good lines such as the ones that I have already mentioned, it stays light hearted and entertaining throughout. As Patrick mentioned, Soap Operas are passed their popularity height, making this film dated. The acting is overwrought but in a humorous way. It is worth a single watch.
Photos © Copyright Paramount Pictures (1991)