US Release Date: 04-30-1932
Directed by: William A. Wellman
Starring
▸
▾
Barbara Stanwyck

,

as

Selina Peake De Jong
George Brent

,

as

Roelf Pool
Dickie Moore

,

as

Dirk De Jong (younger)
Bette Davis

,

as

Miss Dallas O'Mara
Mae Madison

,

as

Julie Hempel
Hardie Albright

,

as

Dirk De Jong
Alan Hale

,

as

Klass Poole
Earle Foxe

,

as

Pervus De Jong
Robert Warwick

,

as

Simeon Peake, Gambler
Dorothy Peterson

,

as

Maartje Pool
Noel Francis

,

as

Mabel, a 'Fancy Woman'
Dick Winslow

as

Roelf, age 12
Reviewed on:
June 20th, 2012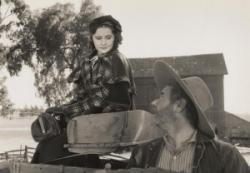 Barbara Stanwyck and Alan Hale in So Big!
So Big! was the second movie version of Edna Ferber's Pulitzer Prize winning 1924 novel. A silent version starring Colleen Moore was released the same year the novel was published; and Robert Wise would direct a second remake in 1953 starring Jane Wyman. This 1932 version holds the distinction of being the first of just two movies (out of the 80+ that each of them made in their long careers) in which Barbara Stanwyck and Bette Davis both appeared. They both played themselves in the 1944 all-star war effort called Hollywood Canteen. This would also mark the first of eleven movies Bette Davis made with George Brent.
Stanwyck plays Selina Peake De Jong. When the story begins she's the daughter of a free-spirited gambler in the 1880s. They've just moved to Chicago following the death of Selina's mother. At a restaurant her father gives her this bit of whimsical advice, "I want you to realize that this whole thing called Life is just a grand adventure. The trick is to act in it and look on at the same time. And remember: no matter what happens - good or bad - it's just so much velvet."
Selina lives well until her father is killed. Her aunts place her in a boarding school where she is raised. The adult Selina (Stanwyck making her first appearance maybe 15 minutes in), with the help of a friend, gets a job teaching school in a small Dutch farming community. She marries and has a son. Her husband dies and her son grows up. Selina tries to instill in him an appreciation for beauty and hard work but he is more interested in money and position.
This 80 minute film covers many years. Selina goes from a young girl to a late-middle-aged mother. Alan Hale has a small part as a Dutch farmer whose son Selina takes under her wing. In the third act Bette Davis shows up as an aspiring artist. George Brent plays the grown-up version of Alan Hale's son, who's now become a celebrated sculptor in Europe. Meanwhile Selina's adult son loves Bette Davis but realizes he doesn't stand a chance against George Brent. The movie ends with a close-up of Barbara Stanwyck as she worries about her son's uncertain future.
The title comes from the nickname Selina gives her baby. Whenever anyone asks how big her son is getting she holds up her hands a few feet apart and says, "So Big." Stanwyck is the star of the picture. She played self-sacrificing mothers better than anyone. She was already an established star in 1932 while Bette Davis was just beginning to make her mark in the business. Davis was quite pretty at this stage in her career and is more attractive than Stanwyck in the movie. George Brent has only one scene but he completely overshadows Hardie Albright who plays Selina's son.
This pre-code movie has one scene where Selina and her young son go to town to sell their crops after Selina's husband has died. Planning to sleep overnight in their wagon they encounter two kindhearted prostitutes who offer them money and advice. So Big! is melodramatic and unevenly paced by the great William A. Wellman. It features a memorable cast but is but a minor entry in the careers of all its stars and its director.
Photos © Copyright Warner Bros. Pictures (1932)