Movie Review
Snow White and the Seven Dwarfs
Still the fairest of them all!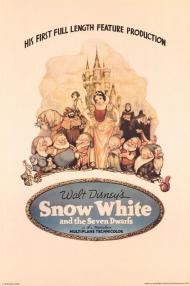 US Release Date: 12-21-1937
Directed by: David Hand
Starring
▸
▾
Adriana Caselotti

,

as

Snow White
Lucille La Verne

,

as

The Queen/Witch
Moroni Olsen

,

as

Magic Mirror
Roy Atwell

,

as

Doc
Pinto Colvig

,

as

Sleepy/Grumpy
Billy Gilbert

,

as

Sneezy
Otis Harlan

,

as

Happy
Harry Stockwell

as

Prince

Reviewed on:
April 9th, 2003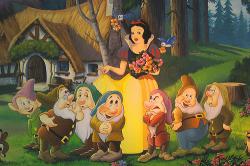 Snow White and the Seven Dwarfs
Walt Disney's (and for that matter the world's) first feature length animated movie was, of course, Snow White and the Seven Dwarfs. Released in 1937 - after four years in production - Snow White was a huge box office hit as well as a pop culture phenomenon and marked the true beginning of the fabulous Disney empire. The characters from the story became instantly recognizable around the globe and several of the songs have since become standards, most notably 'Someday My Prince Will Come', 'Whistle While You Work' and 'Heigh-Ho'.
Everyone is familiar with the story of the beautiful and innocent princess, Snow White. The evil, jealous Queen orders her put to death after being informed by her Magic Mirror that Snow White is, in fact, "The fairest in all the land". She commands a hunter to take the child into the forest, kill her, and bring back her heart in a velvet box. The hunter, naturally, can't bring himself to kill Snow White, so he tells her to run off into the forest and instead takes a pig's heart back to the mean Queen. Snow White stumbles upon a cute little cottage in the woods and before you can say Doc, Grumpy, Sleepy, Happy, Sneezy, Bashful and Dopey she has made herself right at home and the lives of the seven dwarfs will never be the same. Of course the Queen, thanks to that damn mirror, eventually finds out that Snow White is still alive and sets out to do the job herself with a poison apple. But this is a fairytale so you know it must end with a handsome prince and the words 'They Lived Happily Ever After'.
By today's standards the animation is rather primitive, especially in the facial expressions of the characters. In my opinion this is more than made up for by the lavish detail in the background illustrations. They remain, after nearly seventy years, breathtaking.
I also appreciate the seriousness of the evil Queen. She is not kidding around. Unlike many later Disney villains, there is nothing funny about her.
When you compare Snow White to more modern Disney cartoons the plot is simple to the extreme and not a whole lot really happens. Still this is a timeless and magical movie with an unparalleled legacy. Originally laughed at by the Hollywood industry and produced at a huge financial risk, Snow White and the Seven Dwarfs is still paying dividends.

Reviewed on:
June 22nd, 2003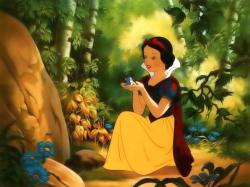 Snow White and the Seven Dwarfs
Sometimes, I think, Patrick reviews a movie and rates it unfairly. He gets so in awe of an old film that I think his judgement gets clouded by the fact that the film is considered classic. This is the case with Snow White. In his own words 'the plot is simple to the extreme and not a whole lot really happens.' I couldn't agree more. Yet he still gives this movie 4 stars?
We bought this movie for our boys years ago and they barely watched it once. 'Some Day My Prince Will Come' nearly put them to sleep. The dwarfs are in it too little and they really are not as funny as you might think. I agree that the background animation is lush and vivid. However, like Disney's computer animated Dinosaurs, plot is more important than the animation.
If this film were made today it would lose money. Historically this film is important. Entertainment wise, you could watch almost any other animated film ever made and enjoy it more. This film may be considered a classic, but it has not stood the test of time.
Reviewed on:
March 1st, 2009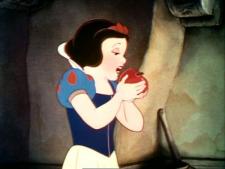 Adriana Caselotti has a voice that annoyed the hell out of me.
I somewhat agree with you Eric, although this movie isn't quite as bad as you make it out to be, it is more important historically than it is entertaining.
Although it's not that long of a movie, the plot is stretched to the breaking point. The filler in the movie are the songs, most of which I hated. Snow White's voice annoyed me to no end. I knew the chorus to a few of them, but had no urge to sing along, instead I just hoped they would be over quickly every time they started.
The dwarfs do have a few funny scenes, although the humor falls more on the cute side than the hilarious. You have to wonder if this movie were remade today if the character of Dopey would be considered politically correct. He pretty much comes off as mentally challenged, although he is the only dwarf who wants his kiss from Snow White to be on the lips, so maybe he's not so stupid after all.
I agree also Eric that plot is more important than great animation, but some of the scenes in this movie are impressive, especially for their time. One of the best scenes is the movie's one action scene, when the dwarfs chase the Hag-Queen up the rocks and onto the ledge.
Patrick, I do agree with you about the Queen being a good villain. She's not fucking around and is willing to murder a young girl just because a talking-mirror told her that the girl was prettier than her. The face in the mirror told you to kill? Paging Dr. Freud!
Cut the songs, and edit it down to 30 minutes and you'd have yourself a pretty entertaining movie. As it is though, it's better for what it stands for than what it actually presents.
Photos © Copyright Walt Disney (1937)
Related Reviews