Movie Review
Smoke Signals
A new film from the heart of Native America.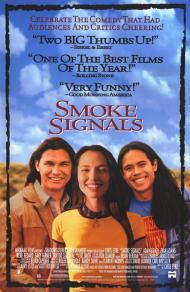 US Release Date: 06-26-1998
Directed by: Chris Eyre
Starring
▸
▾
Adam Beach

,

as

Victor Joseph
Evan Adams

,

as

Thomas Builds-the-Fire
Irene Bedard

,

as

Suzy Song
Gary Farmer

,

as

Arnold Joseph
Tantoo Cardinal

,

as

Arlene Joseph
Cody Lightning

,

as

Young Victor Joseph
Simon Baker

,

as

Young Thomas Builds-the-Fire
Monique Mojica

,

as

Grandma Builds-the-Fire
John Trudell

,

as

Randy Peone
Chief Leonard George

,

as

Lester Fallsapart
Michelle St. John

,

as

Velma
Elaine Miles

as

Lucy
Reviewed on:
December 11th, 2012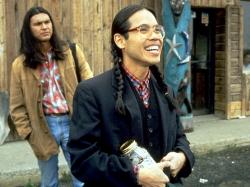 Adam Beach and Evan Adams in Smoke Signals.
Smoke Signals is an independent film that made the festival rounds in 1998. On a 2 million dollar budget it eventually grossed more than 6 million dollars. It was the very first film to be written, directed and co-produced by Native Americans. The theme of this dramedy is the relationship between fathers and sons. It is set on the Coeur d'Alene Indian Reservation in Idaho.
The movie is narrated by Thomas Builds-the-Fire. It begins with a story that happened on the Fourth of July in 1976, when Thomas and another boy named Victor Joseph were infants. After a rowdy party, the house Thomas and his family were sleeping in caught fire. Everyone in it perished except Thomas who was tossed to safety from a second story window into the arms of Victor's father.
The story continues ten years later when Arnold (Victor's father) leaves his wife and son because of his constant drinking and resulting domestic abuse. In the present (1998) Victor has become a bitter young man whose only recreation is playing basketball. Thomas is a nerdy Indian. He wears his hair in braids, dresses in a preppy looking suit, and has seen Dances with Wolves many times. Victor and Thomas are lifelong frenemies, connected by the fire that so tragically impacted both their lives as infants. As Thomas explains it, "Victor and me, we were children of flame and ash."
When word of Victor's father's death in Phoenix (yes, some of the symbolism is that obvious) reaches them, Victor and Thomas begin a road trip to retrieve his ashes and belongings. This will prove to be a cathartic adventure that reveals secrets and heals long festering emotional wounds.
Smoke Signals combines the comic with the tragic in a unique manner. Most of the humor is generated by the quirky personality of Thomas. Here's a snippet of conversation between him and Victor. Thomas: "Hey Victor! I'm sorry 'bout your dad." Victor: "How'd you hear about it?" Thomas: "I heard it on the wind. I heard it from the birds. I felt it in the sunlight. And your mom was just in here cryin'."
Here's another typical statement from Thomas, "Hey Victor! I remember the time your father took me to Denny's, and I had the Grand Slam Breakfast. Two eggs, two pancakes, a glass of milk, and of course my favorite, the bacon. Some days, it's a good day to die. And some days, it's a good day to have breakfast."
Although much of the story is kept lighthearted, even when dealing with tragedy, the underlying tone is somber. Thomas Builds-the-Fire's final narration sums up the movie's theme beautifully and leaves the viewer with much to ponder...
"How do we forgive our fathers? Maybe in a dream. Do we forgive our fathers for leaving us too often, or forever, when we were little? Maybe for scaring us with unexpected rage, or making us nervous because there never seemed to be any rage there at all? Do we forgive our fathers for marrying, or not marrying, our mothers? Or divorcing, or not divorcing, our mothers? And shall we forgive them for their excesses of warmth or coldness? Shall we forgive them for pushing, or leaning? For shutting doors or speaking through walls? For never speaking, or never being silent? Do we forgive our fathers in our age, or in theirs? Or in their deaths, saying it to them or not saying it. If we forgive our fathers, what is left?"
Photos © Copyright Miramax Films (1998)