Movie Review
Slumdog Millionaire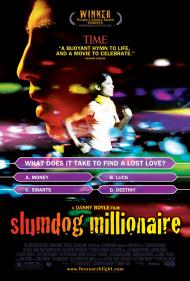 US Release Date: 11-12-2008
Directed by: Danny Boyle
Starring
▸
▾
Dev Patel

,

as

Older Jamal
Anil Kapoor

,

as

Prem
Irrfan Khan

,

as

Police Inspector
Madhur Mittal

,

as

Older Salim
Freida Pinto

,

as

Older Latika
Saurabh Shukla

,

as

Sergeant Srinivas
Tanay Chheda

,

as

Middle Jamal
Tanvi Ganesh Lonkar

,

as

Middle Latika
Ashutosh Lobo Gajiwala

,

as

Middle Salim
Ayush Mahesh Khedekar

,

as

Youngest Jamal
Rubina Ali

,

as

Youngest Latika
Azharuddin Mohammed Ismail

as

Youngest Salim

Reviewed on:
November 15th, 2008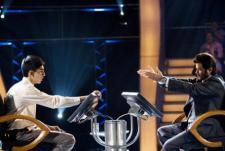 Jamal on the Indian version of Who Wants to be a Millionaire.
Slumdog Millionaire is that rare gem of a movie that comes along every few years. It is brilliantly directed and features solid performances, but most importantly it ENTERTAINS. The plot has been aptly described as Bollywood meets Dickens. It is a colorful, violent, humorous and triumphant movie.
The story is told in a non-linear manner. The central characters are three orphans from the slums of Mumbai, India. Two are brothers and the third is a girl they befriend. The movie opens with one of the boys, Jamal, now a young man, being interrogated by the police after appearing on the Indian version of the game show "Who Wants to be a Millionaire". He does so well that the authorities assume he is cheating. After all he is an uneducated "Slumdog" from the streets. In flashbacks he tells his story to a detective as a way of explaining his surprising success.
The violence, pathos and humor are woven together flawlessly. Director Danny Boyle (Trainspotting, 28 Days Later) deserves an Oscar. Like in Dickens there are some truly disturbing images; street-life in the slums of Mumbai is not sugar coated. You will find yourself rooting for Jamal and a happy ending but without any saccharine aftertaste.
For my money Slumdog Millionare is the best movie of 2008. Go see it!
Reviewed on:
December 3rd, 2008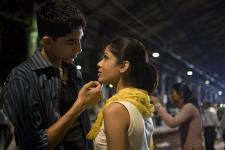 The ending of the movie is pure Hollywood.
I don't know if I'm ready to declare this the best movie of 2008 just yet, but it's definitely in the running.
Danny Boyle has proven that he is a very versatile director with movies such as Trainspotting, 28 Days Later, the terrific and under seen Millions and now Slumdog Millionaire. But while all of those movies are different in tone, they do share one thing in common, they're all really good.
His movies sometimes contain dark elements, but at the same time they also manage to entertain. Slumdog is no exception. It's a feel good movie that also contains violence, murder, torture, dirt and grime. Despite this the ending of the movie is pure Hollywood and much of the plot is sheer melodrama, although I mean that in a good way.
Patrick's Dickens reference is apt, as this movie shares many elements with Oliver Twist. It's updated and moved to India, but you can definitely see similarities.
Although I'll reserve judgment until all the entries are in, I will say that Slumdog Millionaire should be in the running come Oscar night.

Reviewed on:
January 31st, 2009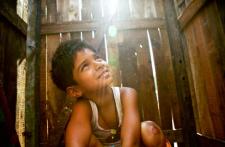 Slumdog Millionare
After watching Slumdog Millionaire, I turned to my fifteen year old son and said that being poor in The United States sure beats being poor in India. I did not consider myself poor before watching this movie, but I felt down right blessed afterwards.
I do not consider this the best movie of the year, that honor still goes to The Dark Knight. Slumdog Millionaire is likely the most entertaining best picture Oscar nominated film this year. The Dark Knight was original in its approach to some old characters. The ending had Batman become a hero by being the villain. Slumdog is a bit paint by number. Boy meets girl. Boy loses girl. Boy finds girl. Okay, it is a bit more than that, but at it's core, that is all it really is.
I almost felt like I was watching a social studies documentary. Here are the minority Muslims getting abused in the Hindu majority of India. Here is the poorest of the poor do anything they can to survive. Yes, I like Jamal and rooted for him, but each little puzzle piece fit too perfectly together. Do not get me wrong, I liked this movie. Even my fifteen year old found it interesting enough to watch it with me. I am just not prepared to call it the best movie of the year.
Photos © Copyright Warner Bros. Pictures (2008)