Movie Review
Slap Shot
You'll see Paul Newman doing things you'd never expect him to do... saying things you'd never expect him to say!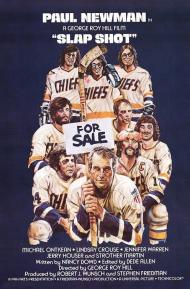 US Release Date: 02-25-1977
Directed by: George Roy Hill
Starring
▸
▾
Paul Newman

,

as

Reggie Dunlop
Strother Martin

,

as

Joe McGrath
Michael Ontkean

,

as

Ned Braden
Jennifer Warren

,

as

Francine Dunlop
Lindsay Crouse

,

as

Lily Braden
Jerry Houser

,

as

Dave Carlson
Andrew Duncan

,

as

Jim Carr
Jeff Carlson

,

as

Jeff Hanson
Steve Carlson

,

as

Steve Hanson
David Hanson

,

as

Jack Hanson
Melinda Dillon

,

as

Suzanne Hanrahan
M. Emmet Walsh

,

as

Dickie Dunn
Swoosie Kurtz

as

Shirley Upton

Reviewed on:
October 7th, 2010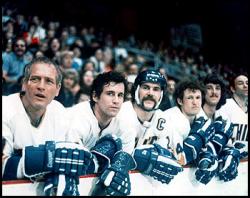 Paul Newman, Michael Ontkean and The Chiefs.
Slap Shot is a movie my brothers and I saw and loved when we were kids. Watching it now, I cannot believe our parents let us watch it. Actually, knowing our parents I am not surprised. The dialogue is full of four letter words and has plenty of sex talk. One woman sits topless in bed with Newman, who just performed cunnilingus on her. This is definitely an adult comedy.
Reggie is an over the hill hockey player/coach on a minor league team, the Chiefs. They are having a losing season and only a hand full of fans turn out to watch them. Reggie gets wind that the owner is planning to sell the team, leaving this band of loser players in the cold.
The owner just hired three new players, the Hanson brothers. They all wear glasses, play with race cars and generally keep to themselves. Reggie describes them as, "Those guys are retards!" After he finally puts them in a game, he devises a plan to save the team. The Hansons all play a violent, aggressive game. The crowd goes nuts when they fight.
He encourages all his teammates to kick the other team's ass. "Yeah, a hundred bucks of my own money for the first of my guys who really nails that creep." He taunts the other team's players to get them to start fights, "Suzanne sucks pussy! Hey Hanrahan she's a dyke! I know, I know! She's a lesbian, a lesbian, a lesbian!" He yells to an opposing goalie about his wife. The plan works and the fans start pouring in, but not to see Hockey, to see the violence. Things get so bad that one game never gets played. The players just come out on the ice and start fighting.
Slap Shot is hilarious! "Well, maybe Braden's a faggot, you ever think of that?" Reggie suggests, but another player corrects him, "No way, he got a big cock, like horse." Apparently homosexuals do not have big penises. The views of sex do seem a bit archaic here. At one point Reggie complains to the owner that the Hanson brothers brought toy race cars with them. "Well, I'd rather have 'em playin with their toys than playin with themselves." This was before masturbation came out of the closet.
Slap Shot is even funnier today than it was when it first came out. With the soundtrack and attitude, this movie is completely dated. Wow, were we an ugly group of people in 1977! The guys had mops and brillo pads on their heads disguised as hair. The clothes are laughable. I nearly spit Dr Pepper when Paul Newman walks across a park wearing plaid, bell bottom pants and a fur collared leather trench coat. What the fuck were people thinking then?
Scott asked in his Revenge of the Nerds review, "...not every (comedy) movie has to be kid friendly, does it?" My answer is hell no! Put the kiddies to bed and watch Slap Shot. It is the greatest sports comedy movie ever made.
Photos © Copyright Universal Pictures (1977)
Related Review