Movie Review
Sky High
Brains, Brawn And Beyond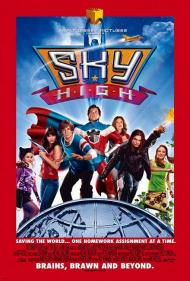 US Release Date: 07-29-2005
Directed by: Mike Mitchell
Starring
▸
▾
Michael Angarano

,

as

Will Stronghold
Kurt Russell

,

as

Steve/The Commander
Kelly Preston

,

as

Josie/Jetstream
Danielle Panabaker

,

as

Layla
Kevin Heffernan

,

as

Ron Wilson - Bus Driver
Dee Jay Daniels

,

as

Ethan
Kelly Vitz

,

as

Magenta
Jake Sandvig

,

as

Lash
Will Harris

,

as

Speed
Mary Elizabeth Winstead

,

as

Gwen
Lynda Carter

,

as

Principal Powers
Bruce Campbell

,

as

Coach Boomer
Steven Strait

,

as

Warren Peace
Cloris Leachman

as

Nurse Spex


Reviewed on:
July 29th, 2005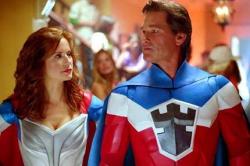 Kelly Preston and Kurt Russell in Sky High.
Apparently the only time Disney can make a family film that features a traditional family is if the family are superheroes. Other than The Incredibles, name a Disney movie that features a traditional intact family. Anyway, like The Incredibles, Sky High is a fun family film that applauds the family unit. However, it lacks the tension that made The Incredibles so good.
Will Stronghold is a typical teenager except that his parents are secretly world famous superheroes. He is a freshmen attending a high school for kids with super-powers. On his first day of school, Will gets placed in the sidekick class. He has yet to discover his super-powers. The first half of the movie is Will discovery them and learning to fit in.
Will has all of the usual angst of your average teen. There are bullies, hotties and his loyal friends. Will's father is overzealous about him becoming a great superhero and his best friend, Layla, is secretly in love with him. He also has some unusual angst, like the supervillain plotting revenge against his parents.
Sky High is first and foremost a fun film. It moves quickly along at a harmless pace. Nothing in this film is offensive and is completely suitable for all ages. I would have liked the villain to have been a little more threatening. The bad guy and the special effects come across like an episode of The Power Rangers.
Both of my sons loved this movie! The film features characters that are in high school but they act as innocent as elementary school students. Sky High is family fun, but as The Incredibles proved, a little tension can up the entertainment value without making it too mature.
Reviewed on:
July 31st, 2005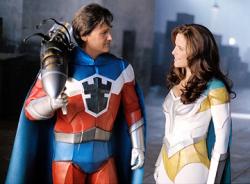 Kurt Russell and Kelly Preston in Sky High.
I find it funny that The Incredibles, which is a cartoon, could indeed have more tension and more humor aimed at adults than the live-action Sky High does. Of course that movie was told from the point of view of the parents while this one is told from the son's. Despite this, like Eric, I found this movie to be light, friendly and funny, moving along at a nice clip.
Despite being aimed at kids, the movie does still get off some funny jokes that I just wish they could have taken even further. They get some mileage out of the sidekick versus hero gag, with Dave Foley playing the hapless Sidekick instructor. Also funny, but underused is Foley's fellow Kids in the Hall alum, Kevin McDonald, as the teacher in charge of the Mad Science Lab. And former-Wonder Woman herself, Lynda Carter gets a laugh of recognition just by appearing.
This movie is also a full circle mark in Kurt Russell's career as he returns to live action Disney films, where he began in movies such as The Computer wore Tennis Shoes and The Strongest Man in the World. If this movie had been made 30 years ago it would have been him as the son. But, since this is the son's movie, here he mostly just does supporting work and spends most of his time trying to look heroic.
For a lightweight summer movie that the whole family can enjoy, Sky High is a winner, but it is definitely aimed at the still-in-school crowd.
Photos © Copyright Walt Disney Pictures (2005)