Movie Review
Sky Captain and the World of Tomorrow
Join the resistance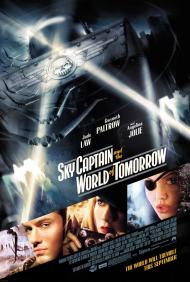 US Release Date: 09-17-2004
Directed by: Kerry Conran
Starring
▸
▾
Jude Law

,

as

Sky Captain
Gwyneth Paltrow

,

as

Polly Perkins
Giovanni Ribisi

,

as

Dex
Ling Bai

,

as

Mysterious Woman
Angelina Jolie

,

as

Capt. Franky Cook
Michael Gambon

,

as

Editor Morris Paley
Trevor Baxter

,

as

Dr. Walter Jennings
Laurence Olivier

as

Dr. Totenkopf

Reviewed on:
September 18th, 2004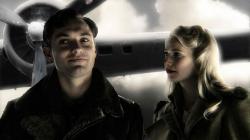 Jude Law and Gwyneth Paltrow in Sky Captain and the World of Tomorrow.
Sky Captain and the World of Tomorrow is the most entertaining movie of the year. Featuring great visuals, a fantastic cast and an old-fashioned thrill ride of a story; it puts the fun back in theaters. It reminds me of all the things I love about the movies.
The plot is straight out of the 1930s. A mad scientist is sending giant robots into the world's major cities to collect machine parts, where they wreak havoc in the process. Trying to stop them and uncover their mysterious master are former lovers, ace reporter Polly Perkins (Paltrow) and freelance pilot Joe Sullivan aka. The Sky Captain (Law). Helping them in their quest are gadgets wiz Dex (Ribisi) and British Royal Air Force Pilot Frankie (Jolie). Together they travel the globe from New York City to the Himalayas and beyond in an effort to stop the scientist known only as Totenkopf.
It's fairly well known that nearly every set and prop in the movie is digitally created. At first, this might seem like a gimmick, but it's not. Unlike George Lucas, first-time director Kerry Conran knows how to use CGI to create a very specific mood and atmosphere without ever letting the effects take over the movie. And the mood and atmosphere that he's created are a cross between a 1930's serial and a graphic novel. The shades of color almost appear like a colorized black & white movie. There are a few times, where the interaction between actor and digital prop doesn't quite work, but only occasionally and never enough to detract from your enjoyment.
In recent interviews, I've heard Paltrow and Law compare their character's relationship to Hepburn and Tracy. While I would never say they reach anywhere near that level, they do have a nice chemistry together as they bicker over their past relationship at the most inopportune times. Law definitely evokes something of the swashbuckling Errol Flynn here, which is a touch ironic considering he will be playing Flynn in the upcoming film, The Aviator.
Jolie, who is featured so heavily in all the film's promotional materials, gives her usual sexy performance, but doesn't get nearly as much screen time as you might be expecting. Her character doesn't appear until nearly an hour into the movie and then only for approximately 10 minutes. Ribisi, who also doesn't get as much screen time as he should, does a small but entertaining turn as Joe's brainy sidekick.
The story nips along quite quickly with never a dull moment. When they aren't battling giant robots, or avoiding being blown up in an old mine shaft or racing against the clock to save the world, Polly and Joe are battling each other. It's a potent combination that will leave you wanting more after the credits roll much too soon.
Too often when a movie is labeled fun for the whole family it just means that it has been dumbed down to the point where it won't offend anyone, rather than actually being enjoyable for everyone. Here though is a movie for anyone of any age who loves movies.

Reviewed on:
September 19th, 2004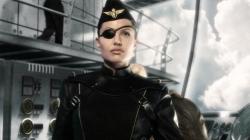 Angelina Jolie in Sky Captain and the World of Tomorrow.
Looking at this movie I felt as if I was watching a 1940's science fiction film with great effects. It starts out as film noir. You get the shadows and the dramatic cameras angles. Then it becomes this Flash Gordon type science fiction serial. It really is better than it sounds.
Law and Paltrow are good together, but like Scott, I didn't see any great chemistry. There should have been. The set up is perfect and the lines are funny. You will be repeating "lens cap" to yourself as you leave the theatre. It is a great punch line from the movie. Where as Law is reminiscent of Flynn, Paltrow looks like Veronica Lake.
I really enjoyed this movie but it is not that exciting. Sure there are lots of action and the pace is breathless. However, there is absolutely no tension to speak of. You know that none of the main characters will die. Perhaps that is likewise what is wrong with Law and Paltrow's chemistry? There is no real tension between them. After all, if they really had feelings for each other, why did it take an army of giant robots to bring them together?
Reviewed on:
March 10th, 2006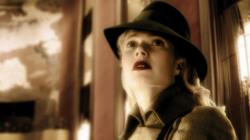 Gwyenth Paltrow in Sky Captain and the World of Tomorrow.
This movie does successfully conjure up Old Hollywood. Tracy and Hepburn, Errol Flynn and Veronica Lake have already been mentioned. For my money Joe and Polly are ideally Clark Gable and Rosalind Russell and I would take either Peter Lorre or Claude Rains in the Ribisi part. Angelina Jolie is the only 21st Century star that I see hanging with the legends, she can keep her role.
In addition to the character types, the time period is also given tribute in a scene at Radio City Music Hall where The Wizard of Oz is playing, and later there's a brief homage to Capra's Lost Horizon as well as King Kong's Skull Island. Even Laurence Olivier shows up near the end in one of the most unusual and creative cameos you're likely to see. They got all the background details right, that's for sure.
Law is adequate, the main problem with the movie is Paltrow. She is not right for the part. She looks the role, at least in a still photo, but she doesn't bring Polly Perkins to life. The part calls for a street sass that she doesn't possess. In one scene she breaks a window with a rock and says, "It's open." to Joe. It is supposed to be a wisecrack but she delivers it with utter seriousness. Then when the plane suddenly dives into the ocean she underplays the line, "We went under the water."
Angelina Jolie makes "Switching to amphibious mode." sound more memorable than anything Paltrow says. If you think about it, Paltrow's talent lies in the subtle intelligence she can bring to a character, but those are not the qualities needed to play Polly. The beauty of Sky Captain is its recreation of this magical 1930's movie world. As such Polly needed to be "bigger" and much less serious.
Was it just me or did the actors look like they were CGI at times? Was this an intentional use of lighting or was I just seeing things?
Visually it's a winner, I loved the shot of Joe and Polly in the sunlight at the end. Still to sum it up in the language of the times, "Close, but no cigar."
Photos © Copyright Paramount Pictures (2004)