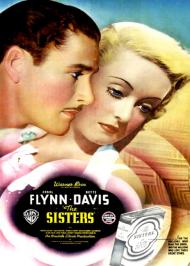 US Release Date: 10-14-1938
Directed by: Anatole Litvak
Starring
▸
▾
Errol Flynn

,

as

Frank Medlin
Bette Davis

,

as

Louise Elliott Medlin
Anita Louise

,

as

Helen Elliott Johnson
Ian Hunter

,

as

William Benson
Donald Crisp

,

as

Tim Hazelton
Beulah Bondi

,

as

Rose Elliott
Henry Travers

,

as

Ned Elliott
Jane Bryan

,

as

Grace Elliott Knivel
Alan Hale

,

as

Sam Johnson
Dick Foran

,

as

Tom Knivel
Patric Knowles

,

as

Norman French
Lee Patrick

,

as

Flora Gibbon
Laura Hope Crews

,

as

Mrs. Gibbon
Harry Davenport

,

as

Doc Moore
Janet Shaw

as

Stella Johnson
Reviewed on:
July 10th, 2012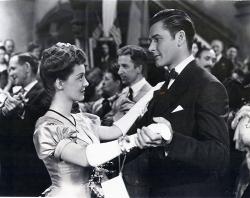 Bette Davis dances with Errol Flynn in The Sisters.
The Sisters was Bette Davis's follow up to her Oscar winning turn in Jezebel. It was the first of two movies she made with Errol Flynn (not counting Warner's 1943 all-star war effort Thank Your Lucky Stars in which they played themselves). Originally Flynn (fresh off his Robin Hood success) was given sole billing above the title but Davis fought for – and received – her name above the title as well. As she pointed out to the powers that be at Warner Bros., "Errol Flynn in The Sisters" had an unintentional sexual connotation. This B&W 1938 melodrama was based on the novel by Myron Brinig, although the studio changed the ending after preview audiences reacted negatively to the original outcome as written in the book.
The movie opens at an inauguration celebration for Teddy Roosevelt's presidential election in 1904. The city is Silver Bow, Montana. In attendance are the three Elliot sisters, Louise (Bette Davis), Helen (Anita Louise) and Grace (Jane Bryan). The story follows the three of them (but focuses mostly on Louise) and the men they wed, over the course of the next four years. The movie ends, like it began, at a presidential inaugural ball, only this time for William Taft in 1908. In between Louise survives the San Francisco earthquake of 1906 in a brief but well done special effects sequence.
Flynn plays Frank Medlin, an alcoholic newspaperman with an incurable case of wanderlust. He meets Louise during the opening ball sequence, they elope and she runs off to San Francisco with him. He eventually abandons her and sails for Singapore on the eve of the big quake. Although this is not the greatest role either of them would play - by a long shot - they do manage to create a few minor sparks together. Bette Davis is in nice girl mode as Louise, while Flynn is less roguishly heroic than usual. Director Anatole Litvak makes good use of close-ups in their romantic scenes together, showcasing Flynn's impossibly handsome face and Davis's large expressive eyes. Both do fine work with a decent script.
The supporting cast is filled with familiar faces. Anita Louise and Jane Bryan do solid – if unremarkable - work as Louise's younger sisters. Alan Hale, Donald Crisp and Harry Davenport all give reliable support in their small roles. Lee Patrick steals her scenes as Louise's earthy, chatterbox neighbor Flora, while Laura Hope Crews (Aunt Pittypat from GWTW) has one scene as Flora's mother. The Elliot sister's parents are played by Henry Travers and Beulah Bondi. This movie has the distinction of featuring a scene where Clarence the Angel shares a bed with Ma Bailey from It's a Wonderful Life. Ian Hunter, Dick Foran and Patric Knowles all play various men in the Elliot sister's lives as well.
Along with the central romance between Davis and Flynn are the marriages of the two younger Elliot sisters. Helen marries the middle-aged but wealthy Sam Johnson (Alan Hale). She's not in love but he can afford to give her the lifestyle she has always dreamed of in New York City. Baby sister Grace weds Louise's rejected suitor Tom Knivel (Dick Foran) and remains in Silver Bow.
The Sisters features a great cast making the most of a rather run of the mill plot. Davis and Flynn bring their unique brand of star power to Louise and Frank. The earthquake sequence is memorable but inferior to the one in MGM's San Francisco from two years earlier. The sentimental happy ending was tailor made to please audiences of the day.
Today The Sisters is remembered for the powerful combination of Bette Davis and Errol Flynn. The two of them would re-team the following year for the Technicolor epic The Private Lives of Elizabeth and Essex. Two very different movies, both of which showcase the charisma and talents of these two iconic stars.
Photos © Copyright Warner Bros. Pictures (1938)
Related Review