Movie Review
Sisters
Big sisters don't always know best.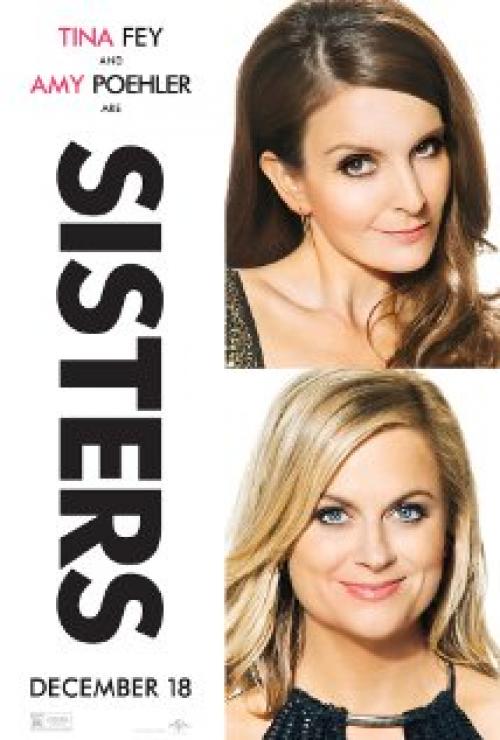 US Release Date: 12-18-2015
Directed by: Jason Moore
Starring
▸
▾
Amy Poehler

,

as

Maura Ellis
Tina Fey

,

as

Kate Ellis
Maya Rudolph

,

as

Brinda
Ike Barinholtz

,

as

James
James Brolin

,

as

Bucky Ellis
Dianne Wiest

,

as

Deana Ellis
John Cena

,

as

Pazuzu
John Leguizamo

,

as

Dave
Bobby Moynihan

,

as

Alex
Greta Lee

,

as

Hae-Won
Madison Davenport

,

as

Haley
Rachel Dratch

,

as

Kelly
Santino Fontana

,

as

Mr. Geernt
Britt Lower

,

as

Mrs. Geernt
Samantha Bee

,

as

Liz
Matt Oberg

,

as

Rob
Kate McKinnon

,

as

Sam
Brian d'Arcy James

,

as

Jerry
Colleen Werthmann

,

as

Cray
Jon Glaser

,

as

Dan
Renee Elise Goldsberry

,

as

Kim
Chris Parnell

,

as

Phil
Paula Pell

,

as

Dana
Dan Byrd

,

as

Patrick Campbell
Emily Tarver

,

as

Brayla
John Lutz

as

Joel Barme

Reviewed on:
December 20th, 2015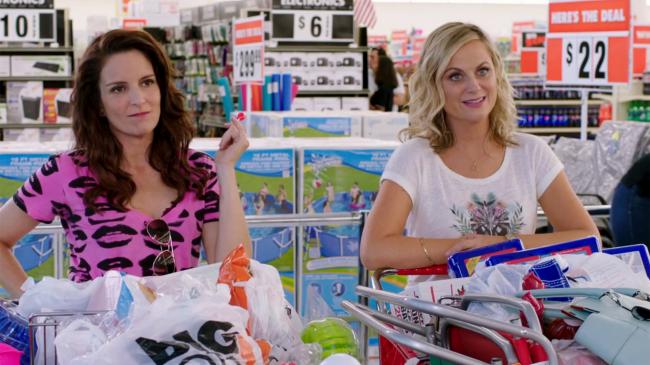 Tina Fey and Amy Poehler in Sisters.
Sisters isn't a classic comedy by any means, but it does have its charms. Tina Fey and Amy Poehler share a real comic chemistry. Having been friends for so long in real life, they share a sisterly relationship that shows on the screen, despite looking nothing like each other. The jokes start pretty weak, but their sheer relentlessness and their mounting frequency as the film progresses, eventually wears you down and wins you over.
Fey and Poehler play the sisters of the title. In a reversal of their usual comic personas, it's Poehler who plays the uptight sister, Maura, while Fey is Kate, the wild one. Kate is a single mother, hairdresser who's been fired from her latest job. Maura is a divorced doctor and do-gooder. The two of them reunite at their childhood home when they learn that their parents are selling it. They decided to throw one last party there and invite all their old friends from high school to give Maura the night she never had as a teenager, including, hopefully, having sex with a neighbor guy on her childhood bed, which Kate describes as a rite of passage.
The script is by longtime Saturday Night Live writer Paula Pell, but some of the humor feels like it was improvised. There is more than a whiff of sketch comedy about the jokes and the characters. It feels like a protracted sketch about a group of middle-aged people at a high school party. However, as the party progresses and the night wears on, the action and the jokes become more frenetic, fueled by drugs and alcohol. The cumulative effect of the mediocre jokes increases their humor.
It's the game cast that really helps sell the jokes. Along with Fey and Poehler, there are several other current and past SNL members. Maya Rudolph plays Kate's old high school nemesis while Bobby Moynihan plays an unfunny friend who tries way too hard. His humor is helped when he accidentally ingests some drugs. Rachel Dratch has a small part as a depressed partygoer. James Brolin and Dianne Wiest play Kate and Maura's long suffering parents. And John Cena physically looms over the party as the resident drug dealer.
The attempts to give the film heart are mixed. The relationship between the sisters is great and Maura's attempts to seduce the neighbor is nice, but the relationship between Kate and her daughter never really works and the deaf Korean, single mother, manicurist whose daughters are still in Korea, is far too much for this movie to handle. Part of the problem with Kate's storyline is that no matter how hard Fey tries, she never quite pulls off the wild child. It's hard to picture her actually doing something legitimately self-destructive.
Released in the same weekend as Star Wars The Force Awakens, this movie might get overlooked at the box office, but for fans of Fey and Poehler it's worth a watch, even if you do wait until it's released for home viewing.
Reviewed on:
December 21st, 2015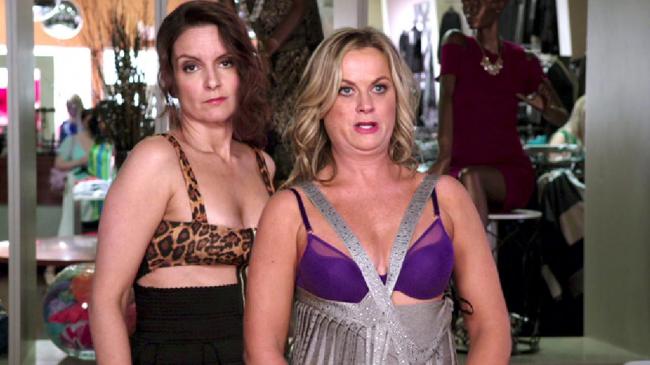 Tina Fey and Amy Poehler in Sisters.
I agree. The cast is better than the material. Sisters is enjoyable up to a point. With nearly a two hour run time this is one party you'll be ready to leave before it ends though. Like Scott, I found the humor to be hit and miss and only occasionally hilarious. The cast gives it the old college try and in so doing they manage to make the humor more entertaining than it truly deserves to be. Fey and Poehler make such a winning combination that it is easy to forgive Sisters' flaws.
When their parents showed up, I almost thought I was watching an episode of Life in Pieces. Like on that sitcom, James Brolin and Dianne Weist play a longtime married couple with grown-up children. They have a natural rapport together that makes them seem believable as an old married couple.
The rest of the supporting cast is likewise good. If only the script was a bit more clever. Too many of the jokes are of the silly slapstick or vulgar bathroom humor variety - for example, in one scene a character is rectally impaled by a ballerina music box. Anyone looking for sparkling repartee or bons mots should look back more than a few decades. What Sisters offers is a bloated SNL sketch with a terrific cast but a disappointing screenplay.

Reviewed on:
December 30th, 2015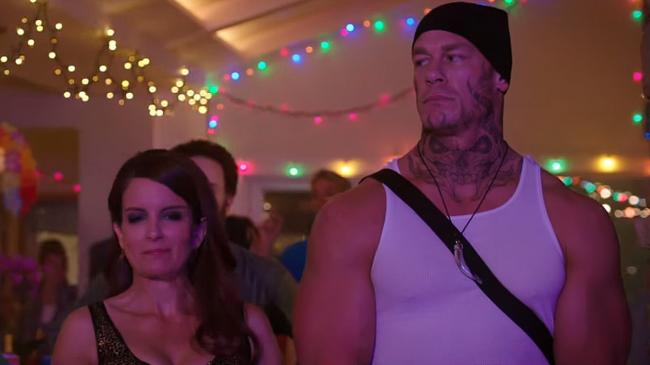 Tina Fey and John Cena in Sisters
Disappointing indeed. Scott has complained often about how Hollywood has recently been treating middle aged men like adolescent morons, well now it is the women's turn. Maura and Kate are a couple of immature idiots who assume having a party will somehow solve their problems. I excuse such juvenile ideas when they are thought up by a juvenile but these are women on the north side of 40.
Maura never rang true for me. She has a university degree and was married. She has far too many years of adult experiences to think getting laid in her childhood bed now will mean anything. She has spent her life being the responsible one but chucks it all out the window on a mere suggestion by her wild sister? Amy Poehler is good in the opening scene when she assumes she is doing something good. I found less to enjoy in her performance the wilder she became.
Kate is that stereotypical high school party girl that seemed to always have a good time but forgot to grow up. Kate is a pathetic parent. She threw a fit at her job and got fired. I am sorry, when you have a child and are responsible for taking care of them, you cannot act in such childish ways. I truly did not care for her in the least and she certainly deserved nothing good to come her way. I agree with Scott that Tina Fey was horribly miscast as a "tough" chick. Fey has some lines that are intended to generate a laugh but only caused me to cringe. Her saying such things as,"You're so full of shit, I'm gonna buy you Pull-Ups". and "Get your peanut butter out of my sister's chocolate." are only funny if you think they are so stupid as to be so.
The two best lines in the entire film are provided by none other than John Cena. His line, "My safe word is "keep going"." is awesome but it was shown in the previews so it lost its humor by the time I saw this in theaters. Later, Fey flirts with Cena, asking him, "Do you have any kids?" and Cena answers nonchalantly, "I'm sure I do." Cena has become somewhat of a surprise in films. He is built like a superhero but has yet to make a great action movie. Instead, he has become the go to himbo this year, stealing scenes here and in Trainwreck (2015).
Sisters has some economical jokes but over all, as Patrick wrote, the material is disappointingly weak.
Photos © Copyright Universal Pictures (2015)