Movie Review
Sinners' Holiday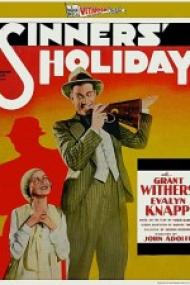 US Release Date: 10-11-1930
Directed by: John G. Adolfi
Starring
▸
▾
Grant Withers

,

as

Angel Harrigan
Evalyn Knapp

,

as

Jennie Delano
James Cagney

,

as

Harry Delano
Lucille La Verne

,

as

Ma Delano
Noel Madison

,

as

Buck Rogers
Otto Hoffman

,

as

George
Warren Hymer

,

as

Mitch McKane
Ray Gallagher

,

as

Joe Delano
Joan Blondell

,

as

Myrtle
Hank Mann

,

as

Happy
Purnell Pratt

as

Detective Sikes
Reviewed on:
January 15th, 2008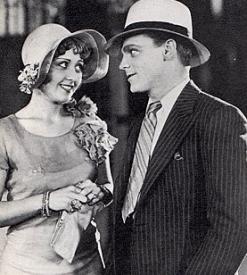 Joan Blondell and James Cagney in Sinner's Holiday.
Sinners' Holiday marked the movie debuts of James Cagney and Joan Blondell. They had originated their roles on Broadway where the story had been more aptly titled Penny Arcade. The show ran for only 3 weeks but was seen by Al Jolsen. He was so enamored of it that he bought the movie rights and sold it to Warner Bros. with the one stipulation that Cagney and Blondell be hired to recreate their roles. The title change had nothing to do with the plot. Apparently there had been a couple of hit movies in 1930 that had the word Holiday in their titles. Hence Penny Arcade became Sinners' Holiday.
Set at a penny arcade in Coney Island during prohibition, this one hour movie packs plenty of plot and drama. The romantic leads of the picture are Grant Withers and Evalyn Knapp. But Cagney and Blondell, in supporting roles, completely steal the movie, along with Lucille La Verne as the selfish mother who owns the arcade. She is remembered today for voicing the Wicked Queen in Disney's classic Snow White and the Seven Dwarfs.
Cagney plays Harry Delano, a young street punk. It is a more realistic role than the hard-boiled gangsters he would become famous for. He works at the arcade along with his mother, brother and sister. Their father died from booze and his mother will do anything to keep her baby on the straight and narrow. Unbeknownst to her Harry is already working for the local bootlegger.
The main gist of the story concerns the romance between Harry's sister and an ex-con drifter who gets a job at the arcade. When the bootlegger goes to jail Harry double-crosses him, only to be confronted by him, late one night, after the bootlegger gets out of the slammer. Harry is a yellow coward who begs for his life but then in a moment of desperation shoots the bootlegger. His sister is the only witness. The climax of the movie is will the sister let her man take the fall for her brother even though she knows her brother is guilty.
Cagney's best scene is where he admits to his mother that he is guilty of murder. He pleads with her to help him get out of the jam. His mother shows her ruthlessness by gladly letting her daughter's innocent boyfriend take the fall in order to save her precious son.
Joan Blondell plays Cagney's on-again off-again girlfriend. She is one tough cookie. Her Brooklyn accent, physical manner and looks are all reminiscent of a young Mae West. Critics of the day were quick to point out that Cagney and Blondell were the real stars of the movie. The rest, as they say, is history.
Photos © Copyright Warner Bros. Pictures (1930)
Related Review