Movie Review
Single White Female
Living with a roommate can be murder.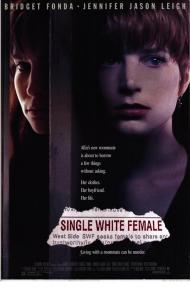 US Release Date: 08-14-1992
Directed by: Barbet Schroeder
Starring
▸
▾
Bridget Fonda

,

as

Allison Jones
Jennifer Jason Leigh

,

as

Hedra Carlson
Steven Weber

,

as

Sam Rawson
Peter Friedman

,

as

Graham Knox
Stephen Tobolowsky

,

as

Mitch Myerson
Frances Bay

,

as

Elderly Neighbor
Jessica Lundy

,

as

Talkative applicant
Michele Farr

,

as

Myerson's Assistant
Tara Karsian

,

as

Mannish Applicant
Christiana D'Amore

,

as

Exotic Applicant
Renee Estevez

,

as

Perfect Applicant
Kenneth Tobey

as

Desk Clerk
Reviewed on:
April 8th, 2015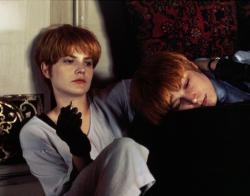 Jennifer Jason Leigh and Bridget Fonda in Single White Female.
Like Fatal Attraction, Basic Instinct, The Hand That Rocks the Cradle and Misery, Single White Female was part of a trend of movies in the late 1980s and early 1990s that featured a psychotic woman as its villain. In this movie, Jennifer Jason Leigh plays the original roommate from hell as she terrorizes Bridget Fonda in a fabulous prewar rent-controlled Upper West Side apartment. Based on John Lutz's 1990 novel SWF Seeks Same, with a screenplay by Don Roos (The Opposite of Sex, Marley & Me), Single White Female struck a nerve with audiences, grossing nearly $50 million at the domestic box office in the late summer and early fall of 1992.
Fonda plays Allison Jones, a software designer on the rise living in Manhattan. When she learns her boyfriend (Steven Weber) cheated on her with his ex-wife, she kicks him out and advertises for a single white female roommate. The inherent racism in her newspaper ad is never mentioned or addressed – it is taken for granted that she request a "white" person to share her apartment. Anyway she gets more than she bargained for when she picks the shy but sweet Hedra Carlson (Leigh).
At first Hedy (as Allie calls her) seems like the perfect choice, but her behavior soon becomes overbearing and bizarre. At one point she has her hair dyed, cut and styled to look exactly like Allie's (see photo) and she also begins dressing like her more stylish friend. She becomes Allie's doppelganger – or her twin. When Allie reconciles with her ex-boyfriend, Hedy snaps. She reveals herself to be a sociopath with violent tendencies. This leads to an exciting final 30 minutes as she stalks Allie all around their apartment building.
The Ansonia, on Manhattan's Upper West Side, was used for exterior shots as well as for the scenes in the stairwells. The building is like a character in the story. The climax in the basement is tense and well-filmed with the two actresses pulling out all the stops. Jennifer Jason Leigh acts circles around Bridget Fonda. Leigh is especially good when playing crazy. Fonda's career was based more on her looks and family name than acting ability. One of the most famous scenes is where Hedy pretends to be Allie as she gives Allie's boyfriend a blow job. Both actresses appear nude in several scenes.
Single White Female is a product of its day. This was in the infancy of the internet and cell phone era, back when a telephone answering machine could still play a pivotal role in a movie plot and Bridget Fonda was still considered a movie star. One thing that has stood the test of time is the portrayal of Hedy Carlson by Jennifer Jason Leigh. She won an MTV Movie Award for Best Villain of 1992 and nearly a quarter of a century later she remains a seriously disturbed -and disturbing- character. She's reason enough for watching Single White Female.
Photos © Copyright Columbia Pictures (1992)