Movie Review
Sin City
Walk down the right back alley in Sin City and you can find anything.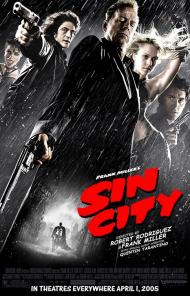 US Release Date: 04-01-2005
Directed by: Frank Miller & Robert Rodriguez
Starring
▸
▾
Jessica Alba

,

as

Nancy Callahan
Rosario Dawson

,

as

Gail
Elijah Wood

,

as

Kevin
Bruce Willis

,

as

John Hartigan
Benicio Del Toro

,

as

Jack Rafferty
Michael Clarke Duncan

,

as

Manute
Josh Hartnett

,

as

The Salesman
Brittany Murphy

,

as

Shellie
Clive Owen

,

as

Dwight
Mickey Rourke

,

as

Marv
Nick Stahl

,

as

Junior/Yellow Bastard
Rutger Hauer

,

as

Cardinal Roark
Devon Aoki

,

as

Miho
Alexis Bledel

,

as

Becky
Nicky Katt

,

as

Stuka
Tommy Flanagan

,

as

Brian
Powers Boothe

as

Senator Roark

Reviewed on:
March 31st, 2005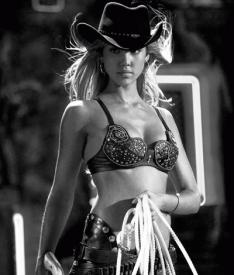 Jessica Alba in Sin City.
Sin City is a cross between a movie like The Maltese Falcon and Kill Bill. It was filmed almost entirely in black and white (apart from a few splashes of color for effect), and features melodramatic dialogue like "There's wrong and there's wrong, and then there's this" and "She smelled the way an angel smells." It also features over the top violence and gore that rivals Kill Bill. And all of these elements are packaged in a stylish wrapper, with a stellar and all-star cast.
The movie is based upon the graphic novel by Frank Miller (who shares a co-director credit on the film) and it shows. There have been other comic book to movie adaptations, but none that have clung so closely and so effectively to their source material's visual style. In many of the scenes you can see very clearly how the panels in the novel must have looked. And yet the stylish look of the film never gets in the way of the stories being told, they merely enhance the experience.
My one complaint involves the plot of the movie. It's really three separate stories that are being told, each of which cross over with the others very slightly. That is, they all take place in Sin City and some of the secondary characters cross over into the various stories, but the three leads (Willis, Rourke, and Owen) never interact directly. Their separate stories are told episodically. Willis' story is split in two, opening and closing the movie, but after his opening, Rourke's story is told in its entirety, followed by Owen's. I wish that they had been cut together, so that all the stories happened simultaneously, rather than following each other.
Each of the stories features a hard-boiled male lead. Willis plays Detective Hartigan, an aging cop who is one hour away from retirement when he goes after the child-molesting son of a corrupt senator. Rourke is a violent psychopath (with a heart of gold) looking to extract revenge from the murderers of the prostitute he wakes up in bed with. And Clive Owen is a murderer on the lam who teams up with the Prostitutes of Old Town to stop a mob war. All of the stories are great, but Rourke's is the best. He's a one-man army as he wreaks havoc in pursuit of Goldie's killers.
The women in the movie, all of whom are sexy and gorgeous, range from the traditional Noir heroine in need of saving, to the opposite end of the spectrum where they're the ones who do the saving with guns blazing and knives slashing.
While the heroes all seem violent and disturbed, they are nothing compared to the villains of Sin City. Nick Stahl plays a child molester who ends up physically looking like the demon he is. Elijah Wood is a cannibal who prefers the flesh of prostitutes, making them watch as he sucks the meat from their bones (although it is never shown onscreen, only referred to, thank god). There are also more than enough corrupt cops and politicians along with an assortment of thugs, hoodlums, and gangsters to go around.
"Walk down the right back alley in Sin City and you can find anything," one of the characters says, and they're right; including one hell of a great movie.

Reviewed on:
April 1st, 2005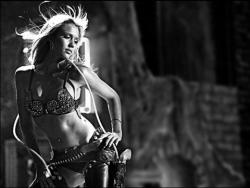 Jessica Alba in Sin City.
With Sin City, film noir goes hardcore! Violence, gore and thong clad women reign supreme in Sin City. Your testosterone level will rise from watching Sin City. Yeah, I liked this movie and so did the audience I watched it with. A twenty something sitting near me in the theater exclaimed at the end of the film that, "This movie kicks ass!"
Not only does the action blow you away, but it begs for a second viewing. I disagree with Scott, the order in which the film plays out is perfect. At the end of the movie you begin to see where all of the pieces fit together. Isn't the car that the prostitutes get for Dwight the same one Nancy and her abductor abandoned on the side of the road?
Sin City is definitely a guy movie. The action is non stop and all of the women are dressed for sex. Alba plays a very hot, modern day Lauren Bacall to Bruce Willis's Humphrey Bogart. Willis is in fine form doing what he does best. The tough guy with a soft heart is his best character and this is his best role since Die Hard.
Sin City is not to be missed!
Reviewed on:
April 21st, 2005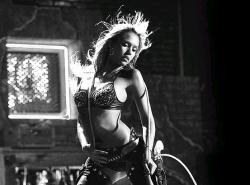 Jessica Alba in Sin City.
Visually Sin City is absolutely stunning. The black and white cinematography is incredible. I agree wholeheartedly with my brothers on this one. It draws you into its world filled with tough guys, thugs, hookers and psycho killers. But as familiar as all these "types" are Sin City manages to make them original.
Everyone in the cast does a great job. For my money though, Mickey Rourke is the standout. Like a modern day Cagney he makes you care about a character with very few redeeming personality traits.
My one small complaint is that with all the scantily clad women running around the streets of Sin City you would think there would be some beefcake as well.
Photos © Copyright Dimension Films (2005)
Related Review