Movie Review
Silver Linings Playbook
Watch for the signs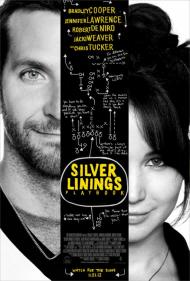 US Release Date: 11-16-2012
Directed by: David O. Russell
Starring
▸
▾
Bradley Cooper

,

as

Pat
Jennifer Lawrence

,

as

Tiffany
Robert De Niro

,

as

Pat Sr.
Jacki Weaver

,

as

Dolores
Chris Tucker

,

as

Danny
Anupam Kher

,

as

Dr. Cliff Patel
John Ortiz

,

as

Ronnie
Shea Whigham

,

as

Jake
Julia Stiles

,

as

Veronica
Paul Herman

,

as

Randy
Dash Mihok

,

as

Officer Keogh
Matthew Russell

,

as

Ricky D'Angelo
Cheryl Williams

,

as

Tiffany's Mother
Patrick McDade

,

as

Tiffany's Father
Brea Bee

as

Nikki

Reviewed on:
December 2nd, 2012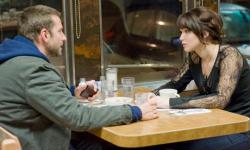 Bradley Cooper and Jennifer Lawrence in Silver Linings Playbook.
There's nothing overly original about Silver Linings Playbook. Its theme of love conquers mental illness has been done before in movies such as Garden State and As Good as it Gets. However, despite the feeling of having seen some of it before, some great performances and writing make this a highly enjoyable movie.
Bradley Cooper has been generating Oscar buzz for his role as Pat Solitano, a man who has been institutionalized after beating his wife's lover nearly to death when he caught the two of them having sex in his shower. Pat suffers from a bi-polar disorder and as the movie begins he is released into the custody of his parents providing that he remains on his medication and attends therapy sessions. Cooper is good in the part, showing a manic charm, but the almost universal raves for his performance seem a bit overblown.
Playing the part of Tiffany, the Manic Pixie Dream Girl, is It Girl of the moment, Jennifer Lawrence. Tiffany is dealing with her own issues, having recently been fired from her job after sleeping with most of the staff following the death of her husband. She and Pat are thrown together and she convinces him to be her partner in an upcoming dance contest. In exchange, she promises to get a message to his wife, who has a restraining order against him. Lawrence, who is definitely a talent to watch, delivers a heartfelt performance. If there's any flaw in her part, it's just that Lawrence seems barely old enough to be married, let alone widowed. It's not a fatal flaw in the film, but it is noticeable.
The other important relationship in Pat's life is with his father, Pat Sr., played by Robert De Niro, who delivers his best performance in quite some time. I wouldn't be at all surprised to see his name on the Best Supporting Actor ballot. Pat Sr. shows signs of O.C.D. and evidence of a nasty temper, providing clues as to where Pat's mental issues may have originated.
If the previews make the movie look as if it crosses genres, it's because it does. The story begins quite darkly and despite some black humor, seems to be very much a drama. As the plot moves on, it lightens somewhat and the ending is straight out of a romantic comedy and is more feel good than I anticipated it would be. Is it an overly sweet ending? I supposed that depends upon your tolerance for sugar. Personally, I quite enjoyed it.
At just over two hours, the movie does run long. It's the relationships between Pat and his father and Pat and Tiffany that is the emotional heart of the story and everything else is just extraneous. There are several supporting characters that could have been dropped or trimmed, including a rare appearance by Chris Tucker in a non Rush Hour film and a tiny part for Julia Stiles.
What's important in a movie like this, is that you care about the characters and their outcome. In this case, I was emotionally invested in the outcome. Sure, it's fairly predictable, but no less enjoyable for it.
Reviewed on:
January 20th, 2013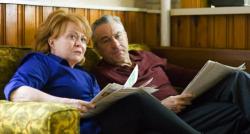 The Oscar nominated Jacki Weaver and Robert De Niro in Silver Linings Playbook.
It may be unpopular to say this but, what the hell, I will anyway. Silver Linings Playbook has been somewhat overrated. Now don't get me wrong, I liked it. The cast bring their characters vividly to life, the script is filled with well-written dialogue. It's a solid three star movie. I'm not sure it deserves all the acting nominations it has garnered and I will respectfully suggest that Kathryn Bigelow was more deserving of a Best Director nod. But as a contemporary romantic dramedy it certainly entertains.
But it also has some flaws. As Scott mentioned, the story arc is unoriginal and predictable. Anyone who doesn't immediately figure out the truth about the letter Tiffany gives to Pat hasn't seen enough movies. And the dance contest finale is hopelessly schmaltzy and completely unlike the darker tone of the majority of the movie. I get that his silver lining playbook has finally paid off but it's still a bit overdone. Having both the father and the son have their bets pay off in such an obviously contrived manner is a let down from the topnotch quality of slice-of-life realism the script had maintained up till then.
Bradley Cooper is someone whose charms have always been a mystery to me. Yes he has a handsome face but his acting has always been less than impressive. I don't think he gives a performance worth raving about but he at least demonstrates some talent in that direction as Patrick Solitano. He plays angry and confrontational well enough at any rate. And he handles the romantic scenes with aplomb.
Jennifer Lawrence is adorable and equally good at making a scene as Tiffany Maxwell. These two characters are perfect for each other and they have chemistry in spades. Their journey to each others arms is quite romantic and truthful. Her best scene is where she argues to Pat's father about just why she is a better good luck charm when spending time with Pat during Eagle's games than when Pat watches the game at home with his father. It is a brilliantly written scene and De Niro's reaction to her argument is likewise his best moment. I definitely enjoyed these lighter moments more than the overly dramatic ones and the ending wouldn't have seemed as jarringly out of place if they had gone the more traditional romantic comedy route.
Win or lose on Oscar night Silver Linings Playbook has made Academy Award history in two categories.
One: it's the first movie since Million Dollar Baby in 2004 to get the Big Five Oscar nominations; Picture, Director, Actor, Actress, and Screenplay. This feat is not as rare as it seems but still worth mentioning. SLP is the 41st movie in history to achieve it. Getting nominated for the Big Five is one thing, winning them is quite another. History doesn't bode well for SLP's chances. While just three movies have taken home all five of the top trophy's: It Happened One Night (1934), One Flew Over the Cuckoo's Nest (1975) and The Silence of the Lambs (1991); seven went home minus any of the Big Five awards: Cat on a Hot Tin Roof (1958), The Hustler (1961), Bonnie and Clyde (1967), Love Story (1970), Lenny (1974), Atlantic City (1981), and The Remains of the Day (1993). Chances are SLP will wind up somewhere in the middle.
Two: it's the first movie since Reds in 1981 to get nominated for all four acting awards. This is actually rarer than getting all Big Five nominations. SLP is just the 14th movie to be so honored. To date no motion picture cast has ever gone home with all four acting statuettes, although A Streetcar Named Desire and Network won three apiece. My Man Godfrey and Sunset Boulevard are the only movies to get nominations in all four acting categories without winning any of them. Will Silver Linings Playbook join them in this dubious honor? Perhaps...

Reviewed on:
January 23rd, 2013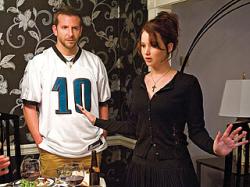 Bradley Cooper and Jennifer Lawrence in Silver Linings Playbook
Of all the films nominated for the Best Picture Academy award this year, Silver Linings Playbook is the one I am most likely to watch a second time. No other film nominated made me both laugh and cry. I am rooting for it to take home the big prize.
For a film to succeed it must engage the audience emotionally. We must care about at least one character and want them to overcome some obstacle. Early on, Pat is shown as a victim, and we want him very badly to be okay. As Patrick noted in his review, we see things clearer than Pat. We know that what he wants is not what is best for him. It is his journey to that understanding that we watch him with piqued interest.
Pat is prone to emotional outbursts. I loved his reaction to Ernest Hemingway's "A Farewell to Arms". Although Cooper proves to be a competent dramatic actor here, his strengths lie in comedy. Watch how he interrogates the nervous woman at the school with questions about his wife. She is trying to quickly get inside the building while Pat annoys her with questions. Although he has some great moments of levity, Cooper never overplays his hand. He does an amazing balancing act between drama and comedy.
As part of his release from the hospital, Pat has to attend therapy, but his real cathartic experience is brought about by Tiffany. Jennifer Lawrence plays Tiffany as if she were a bad tempered, exotic bird with a broken wing, who desperately wants to fly again." At first she is described as a slut, but we later learn just why she herself perpetuated that reputation. It is her abrasively honest approach to Pat that eventually breaks through to him, and in turn, it is his dedication to his wife that attracts her.
Pat's OCD father is played to perfection by the great Robert De Niro. In him we see a man who may have unintentionally handed down some problems to his son but is unable to teach him how to deal with it. He is a man struggling with his own issues while agonizing through his sons. Everything in Pat senior's life must be just so, and his concentrated focus on a particular football team seems to be his way of keeping his mind in order.
Because of the other character's flaws we better understand that there is hope for Pat. Although he only sees his salvation coming from one source, we all know he is sniffing up the wrong skirt. We see Pat grow even as he himself does not acknowledge it. He off-handedly defends Tiffany to a policeman. He runs off one of her dates. He does these things without actually seeing himself in a heroic role. He is just reacting to a situation as he sees it. Tiffany however, takes full note of his actions and her feelings for Pat grow even more desperate.
As with The Fighter, David O. Russell again treats a dysfunctional family with honesty and understanding. He must have a fondness for mother figures, as he has lead another little known actress to an Oscar nomination. Jackie Weaver has a small but key role as the cement that supports and keeps this dysfunctional family together.
My brothers used words like "predictable" and "unoriginal" to describe the plot, and I have to admit, I was almost in agreement. During dance practice, Pat and Tiffany do the Dirty Dancing "trust" jump. It fails during rehearsal, but then came the contest and I assumed it would play out the same way it did for Patrick Swayze and Jennifer Grey. It refreshingly enough did not. Silver Linings Playbook may occasionally resemble some other films, but there are still enough unique aspects to the story to make it a truly great film.
Photos © Copyright The Weinstein Company (2012)
Related Reviews