Movie Review
Shrek 2
Once upon another time...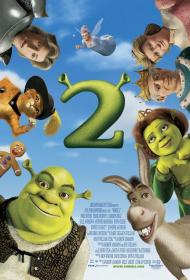 US Release Date: 05-19-2004
Directed by: Conrad Vernon, Kelly Asbury
Starring
▸
▾
Mike Myers

,

as

Shrek (voice)
Eddie Murphy

,

as

Donkey (voice)
Cameron Diaz

,

as

Princess Fiona (voice)
Julie Andrews

,

as

Queen (voice)
Antonio Banderas

,

as

Puss In Boots (voice)
John Cleese

,

as

King (voice)
Rupert Everett

,

as

Prince Charming (voice)
Jennifer Saunders

,

as

Fairy Godmother (voice)
Larry King

as

Ugly Stepsister (voice)


Reviewed on:
May 22nd, 2004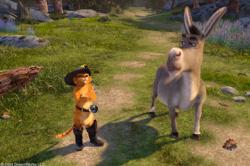 Puss and Donkey in Shrek 2.
Shrek 2 is a remarkably satisfying sequel. Maintaining the tone from the first film, it has something for young and old audiences alike. Shrek and Fiona return from their honeymoon to find Donkey and an invitation to return to Fiona's kingdom to be reunited with her parents. Fiona's parents are King and Queen of the land of Far Far Away. They are adequately voiced by British entertainment legends John Cleese and Julie Andrews. Also, providing voices are fellow Englanders Jennifer Saunders and Rupert Everett. Saunders is Fairy Godmother and Everett plays her son Prince Charming. Together they try to break up Shrek and Fiona's marriage so Charming can marry Fiona.
The best new character is Puss In Boots, voiced by Antonio Banderas. Playing up the Zorro angle, Puss is a sword yielding bad guy who changes sides once he meets Shrek and Donkey. When in a jam, Puss relies on his sword and claws. When he is really in a jam, he uses his best weapon, big sad eyes. No one is immune. Both of my sons wanted Puss In Boots toys after the movie. Judging by the fact that there were more Shrek action figures left on the store shelf than Pusses, I will guess that my sons weren't the only ones who took a liking to him.
My favorite part of the movie is when Pinocchio, The Gingerbread Man and some other characters from the first movie are watching the magic mirror as if it were a television. Shrek, Donkey and Puss in Boots are being pursued and arrested as if they were on Cops. Puss is up against a wall as one guard finds a plastic baggie of catnip on him. Puss weakly explains that, "It's not mine."
This movie plays up more dramatic emotion than the first film. While visiting Fiona's parents, Shrek and Fiona question their relationship and the realities of it. Fiona's dad learns a lesson or two and the audience learns his big secret as well. This film has more heart felt moments but less action than the first Shrek movie.
The final message of Shrek 2 is the same as in the first movie. Be proud of who you are, even if you are an ogre.
Reviewed on:
May 22nd, 2004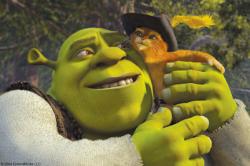 Shrek and Puss in Shrek 2.
I'd go so far as to say that not only is Shrek 2 a completely satisfying sequel, as Eric says, but that it is actually funnier than the original.
The addition of Antonio Banderas alone makes this movie better. He easily steals every scene in which he appears. Like Eric, I found the spoof of Cops to be one of the funniest moments in an already very funny movie.
Despite the fact that he now has competition as Shrek's sidekick from Puss in Boots, my favorite character remains Eddie Murphy's Donkey. His enthusiastic, easily hurt, and often times annoying personality make him the heart of the movie.
What truly makes this cartoon stand out is the fact that its writers knew enough to throw in lots of jokes for adults. An opening scene spoofs a moment from From Here to Eternity, and during the Cops spoof it is reported that the authorities are chasing a white bronco (in this case an actual horse), an OJ reference that will probably go unrecognized by the kiddies.
Eric mentions the adequate performances by British legends John Cleese and Julie Andrews. As big a fan as I am of both them, I have to agree with his assessment, but its not really either of their faults. So many of the laughs are reserved for Shrek and co., that there is none left for the smaller parts. Apart from the name recognition, almost anyone with a British accent could have done their voices.
Nearly every cartoon claims that it is fun for the whole family, but rarely is that true. Shrek 2 however, should honestly entertain everyone, no matter what their age.
Reviewed on:
June 1st, 2005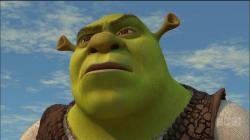 Shrek in Shrek 2.
This one is funnier but the first one is still a better movie. Like most sequels, plot wise at least, it's not quite as fresh as the original. I agree that Puss In Boots steals many scenes and I also concur with Scott about Donkey; he remains my favorite character as well. Eddie Murphy is a comic genius. "Oh, Shrek. Don't worry. Things just seem bad because it's dark and rainy and Fiona's father hired a sleazy hitman to whack you."
As my brothers have already pointed out Shrek 2 goes more for laughs than thrills. The first movie was about an exciting and dangerous quest, this one has less of a sense of adventure. But it IS funnier. And the pacing seems more brisk. It does seem though, with all the romance and double-entendres and without the dragon adventure, that this movie is aimed more at adults (or at least teenagers) than young children. At any rate is has a fairly adult sense of humor.
Any animated movie where a gingerbread man gets to say, "It looks like we're up chocolate creek without a Popsicle stick!" is a winner in my book.
Photos © Copyright Dreamworks (2004)
Related Reviews