Movie Review
Short Cuts
Short Cuts raises the roof on America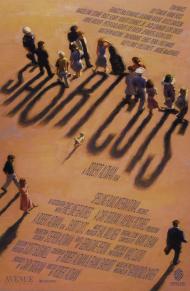 US Release Date: 10-01-1993
Directed by: Robert Altman
Starring
▸
▾
Matthew Modine

,

as

Dr. Ralph Wyman
Julianne Moore

,

as

Marian Wyman
Fred Ward

,

as

Stuart Kane
Anne Archer

,

as

Claire Kane
Buck Henry

,

as

Gordon Johnson
Huey Lewis

,

as

Vern Miller
Lily Tomlin

,

as

Doreen Piggot
Tom Waits

,

as

Earl Piggot
Zane Cassidy

,

as

Casey Finnigan
Bruce Davison

,

as

Howard Finnigan
Andie MacDowell

,

as

Ann Finnigan
Lyle Lovett

,

as

Andy Bitkower
Jack Lemmon

,

as

Paul Finnigan
Lili Taylor

,

as

Honey Piggot Bush
Robert Downey Jr.

,

as

Bill Bush
Jennifer Jason Leigh

,

as

Lois Kaiser
Chris Penn

,

as

Jerry Kaiser
Tim Robbins

,

as

Gene Shepard
Madeleine Stowe

,

as

Sherri Shepard
Lori Singer

,

as

Zoe Trainer
Annie Ross

,

as

Tess Trainer
Peter Gallagher

,

as

Stormy Weathers
Frances McDormand

,

as

Betty Weathers
Robert DoQui

,

as

Knute Willis
Michael Beach

,

as

Jim Stone
Alex Trebek

as

Himself
Reviewed on:
October 14th, 2014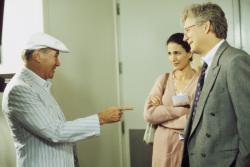 Jack Lemmon, Andie MacDowell, and Bruce Davison in Short Cuts.
Based on the work of the celebrated short story writer and poet Raymond Carver, who died of cancer at the age of 50 in 1988, Short Cuts is Robert Altman's latter day masterpiece. It's a toss up between this and Nashville as to which is the maverick director's absolute best film. Both tell seamlessly intertwined stories set in an American city featuring very large ensemble casts. Both films demonstrate the director's trademark layering of sound, and both films incorporate music into the story in a very important way. And of course, since this is Robert Altman, both films have a decidedly cynical view of humanity. Look elsewhere for happy endings.
Over the course of a few days we see the lives of no less than 22 people living in Los Angeles (Altman changed the setting from Carver's original Pacific Northwest). There is no central character, the camera simply follows various people, who are sometimes related and sometimes only very loosely connected, as they go about their daily routines. We wander in and out of their lives as they deal with issues of fidelity and death. Along the way there's some humor and songs are sung, and it ends with an earthquake.
Jennifer Jason Leigh plays a phone sex operator. She talks dirty while changing her baby's diapers and her husband looks on with jealousy. According to Robert Altman, Leigh spent time with real phone sex workers and came up with her own dialogue. These scenes are darkly funny but also a bit disturbing. You can't help but feel for the husband (Chris Penn), that is until we learn about his dark side later on.
Julianne Moore has one very famous scene. She plays it naked from the waist down as she argues with her husband (Matthew Modine). It's about a five minute scene and the fearless Moore seems completely comfortable the entire time (while proving she's a natural red head). Madeleine Stowe was Altman's original choice for this role but she balked at doing this scene. Ironically, the character Stowe switched to still ended up nude in the movie but only her breasts are shown.
Jack Lemmon has a very small role but he makes an impact. He plays a man who has been estranged from his son for years. He reconnects with his son's family after his grandson is hit by a car and hospitalized. His speech where he pours his heart out while his son (Bruce Davison) listens, is a masterclass in film acting. His face tells a story. Cabaret singer Annie Ross provides the voice to the soundtrack. Her smoky burnt-out vocals on these eclectic torch songs helps set the mood for the entire film, which is quiet despair.
The closest thing to a central thread in the movie is the story of this little boy (Zane Cassidy) who gets hit by a car. Altman shoots the accident in one long take. We see the boy happily running down the sidewalk. We see the car, driven by the Lily Tomlin character, pass by as the boy runs into the street without looking. The camera is behind the car and we hear the impact and see the boy fall to the street in front of the car. Still in the same take, Lily gets out and helps the boy to his feet. He insists he's alright but seems shaken and ashamed. The scene ends with him walking off alone. Zane Cassidy is outstanding in this scene. He acts so believably. It's exactly how a small boy might behave in such circumstances.
Tomlin has never been better, proving she is not just a great comic, she's also an accomplished dramatic actress. She plays a waitress married to an alcoholic limo driver played by Tom Waits. They fight and make up several times over the course of the movie. They share a great chemistry and seem like a real couple we've all met.
Robert Altman said he liked to think that he took these nine short stories (and one poem) by Raymond Carver and turned them into a novel. Gore Vidal agreed. Upon seeing Short Cuts he is supposed to have quipped, "The reason we've never read the Great American Novel is because it's a Movie." Short Cuts isn't for everyone. It's more than 3 hours long and doesn't offer much in the way of resolution to these stories. But for anyone with a decent attention span and a healthy curiosity about the lives of others, Short Cuts is a brilliant film (although I still prefer Nashville).
Photos © Copyright Fine Line Features (1993)
Related Review