Movie Review
The Shootist
He's got to face a gunfight once more to live up to his legend once more - TO WIN JUST ONE MORE TIME.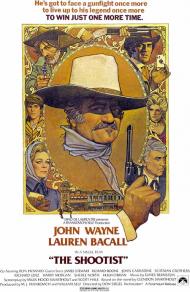 US Release Date: 08-20-1976
Directed by: Don Siegel
Starring
▸
▾
John Wayne

,

as

J.B. Books
Lauren Bacall

,

as

Bond Rogers
Ron Howard

,

as

Gillom Rogers
James Stewart

,

as

Dr. Hostetler
Richard Boone

,

as

Sweeney
Hugh O'Brian

,

as

Pulford
Bill McKinney

,

as

Cobb
Harry Morgan

,

as

Marshall Thibido
John Carradine

,

as

Beckum
Sheree North

,

as

Serepta
Rick Lenz

,

as

Dobkins
Scatman Crothers

,

as

Moses
Melody Thomas Scott

as

Girl on Streetcar


Reviewed on:
April 1st, 2015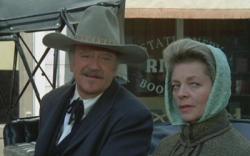 John Wayne and Lauren Bacall in The Shootist.
There has been many a movie whose plot details reflected onto the real life of its stars. The Angriest Man in Brooklyn (2014) starred Robin Williams as a man who tries to commit suicide. It was released the same year he killed himself. The Misfits (1961) featured Marilyn Monroe in her final completed role as a lonely woman surrounded by admiring men who each see her not as she is but how they want to. In On Golden Pond (1981), an aging father and his middle aged daughter reconnect. The roles were played by real life estranged father and daughter Henry and Jane Fonda. In Hollywood filmdom, no movie has been more noted as a film that so suits its star at the end of the star's career as The Shootist.
It begins with clips from John Wayne's earlier films as a narration speaks of the legend of J.B. Books as a gun fighter and lawman. After proving to a bandit that he may be old but still not to be messed with, Books arrives in Carson City at the turn of the century. We see telephone lines and automobiles as a sign of the changing times, marking the end of the traditional old wild west. Books is there to visit an old doctor friend in what is an immensely sentimental scene for film buffs. The doc is played by Jimmy Stewart in one of his final film appearances. They greet each other and remark that it has been 15 years since they have seen each other. It is not a coincidence as Wayne and Stewart had last worked together 15 years previous in The Man Who Shot Liberty Valance.
After the doctor confirms to Books that he has cancer and not long to live, Books decides to stay at a rooming board run by the widow Bond Rogers, played by Lauren Bacall who had previously worked with Wayne in Blood Alley (1955). She is not thrilled to have such a notorious man under her roof while her teenage son, Gill (a miscast Ron Howard) is. Books intends to live out his remaining days quietly and die peacefully in his rented room. However, Gill brags to others that a famous person is staying in his house and before too long, Books is getting visits from the local sheriff, a reporter and an old flame. He sends them all packing after they individually try his patience.
He also attracts the attention of gun fighters wanting to make names for themselves by being the one to kill the famous gun fighter. While Books wants to live out his final days quietly romancing Mrs. Rogers and mentoring Gill, men begin showing up to guarantee his final days will not be as peaceful as he wants. Wayne and Bacall share some mildly romantic moments as Books slowly wins her over. As sentimental and representative of Wayne's career as this movie is, I wonder why Maureen O'Hara was not cast as Bond or his former girlfriend, played here by Sheree North.
In real life John Wayne was diagnosed with cancer in the 1960s but declared cancer free in 1969. It was not until 1979, that he was again found to have cancer. It took his life on June 11, 1979. John Wayne had one of the greatest Hollywood careers of any actor before or since. Although The Shootist is a bit slow and Ron Howard over acts, the nostalgia factor is unquantifiable. This may not be John Wayne's best film but I cannot imagine a better role for him to end his career on. His final scene is a shootout. How else should the Duke go out but in a blaze of gun fire.
Reviewed on:
April 28th, 2015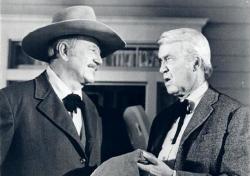 John Wayne and James Stewart in The Shootist.
For a movie that is so tied to the end of its star's career, it's surprising to learn that at first Paramount wasn't interested in casting Wayne in the lead role. They wanted George C. Scott to play the character of the aging gunfighter. Wayne, who had tried unsuccessfully to buy the rights to the original novel, had to lobby for the part and, according to a few sources, even make an under the table deal with a doctor that allowed him to pass the insurance physical. Now of course it's impossible to imagine anyone else in the role of J.B. Books.
Part of the problem Paramount reportedly had with casting Wayne is that they felt he was too old for the part. He was in his late sixties when he made the film and looks it, despite playing, according to the dates on his tombstone, a man 10 years younger. Even at his advanced age and even though he was a cancer survivor who'd had one of his lungs removed in the 1960s, Wayne is still able to effectively convey a man of action and danger. It helps that he's supposed to be old and he's supposed to be sick. Those facts and the use of stuntmen and camera cuts keep everything within the bounds of reality.
The largest bonus to casting Wayne was his ability to attract famous co-stars. Stewart hadn't made a feature film in 5 years, but returned for this one as a favor to the Duke. Their scenes together are the biggest treats in the film for any movie buff. Like Eric, I couldn't help but think that casting Maureen O'Hara in the part of Bond Rogers would have seemed natural given the number of films she made with Wayne. However, Wayne specifically asked for Bacall and she does a terrific job with the part. She and Wayne have several nice moments together and while the two leads share a warm, comradely relationship, the filmmakers are wise enough to not get too bogged down in an Autumn romance. With just a few exceptions, Wayne didn't really do love stories. Richard Boone was another old friend of Wayne's who joined the cast at the Duke's request. His character is underdeveloped, but he still brings more personality than either of the other two opponents of Books's.
As good as the story is, the final gunfight feels a little anticlimactic. It's staged well enough, but the fight lacks an emotional element. The three "villains" are never developed enough. It's not an heroic enough death. It might have been better if Boone, and perhaps some lackeys, had been the sole final enemy, since at least he had a genuine grudge against Books. Perhaps he could have been a rival of Books's from way back or at least been given more of a backstory.
And speaking of the ending, it was the one thing that Wayne insisted be changed from the novel. In that ending, it is young Gillom who kills Books before strapping on Books's guns, and, most distastefully to Wayne, Books shoots one of the villains in the back. Wayne didn't like either prospect. He supposedly told director Don Siegel, "I've made over 250 pictures and have never shot a guy in the back. Change it." Whether he really said that or not, some have pointed out that Wayne had in fact shot a few people in the back in several of his films, including The Searchers. But in either case, the ending was changed.
Eric's right that the film is a little slow paced, but it still runs just 90 minutes. It's an intimate story and a fitting end to a movie legend's career.
Reviewed on:
April 29th, 2015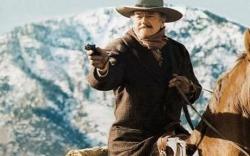 John Wayne living up to the title in The Shootist.
If this wasn't a John Wayne picture I would think that the changes made in the transition from page to screen hurt the finished product. Earlier in the movie Books tells Gillom that it's always a dumb amateur that does you in, foreshadowing that Gillom will be the one to kill Books and thus beginning his own career as a shootist. Wayne's ending is more uplifting but lacks the irony of the novel. But like I said, since this is the Duke's final movie it works.
The parallels between the story and real life don't end with John Wayne. Lauren Bacall had been the most famous widow in Hollywood, having cared for her husband Humphrey Bogart as he faced a terminal case of cancer, just like John Bernard Books. This certainly added some resonance to the role for her. This is also some of the finest acting John Wayne ever did, especially in his scenes with Bacall. My favorite line of his is when he quietly states, "I'm a dying man, scared of the dark."
I disagree with Eric that Ron Howard overacts. He's a bit too old for the character but apart from that this is the type of role he was born to play and he does it justice. He was one of the few actors of his generation that could make an aw-shucks delivery sound natural. He's in awe of J.B. and it shows in every scene. It is to Gillom that Books says his most famous line from the movie. " I won't be wronged. I won't be insulted. I won't be laid a-hand on. I don't do these things to other people, and I require the same from them."
Like my brothers said, the supporting cast is filled with famous friends and former coworkers of Wayne's. I'm surprised that neither of them mentioned John Carradine. He was also in Liberty Valance and had appeared in Wayne's first iconic western, Stagecoach, back in 39. Although he was never a big star like Wayne, Carradine was one of the most prolific character actors during Hollywood's golden age. His list of credits spans nearly 60 years and well over 200 titles. He has one humorous scene in a barbershop, playing an undertaker with greed written all over his face.
From the moment Books buys that newspaper with the headline about the death of Queen Victoria, on the day he arrives in Carson City, you know that the theme of The Shootist is that of outliving one's time. J.B. Books has outlived his. The Old West is dead. This is best symbolized by the manner in which the various characters arrive at the big showdown. Books catches a trolley car and one of the bad guys drives up in an early motor car. In real life John Wayne's era as a movie star was likewise at an end and The Shootist is a fitting final tribute to the man, the movie star, and the legend.
Photos © Copyright Paramount Pictures (1976)