Movie Review
Ship of Fools
EXPLORER, MISTRESS, VAGRANT, LOAFER, ARTIST, TRAMP ... THEY ARE ALL AT THE CAPTAIN'S TABLE!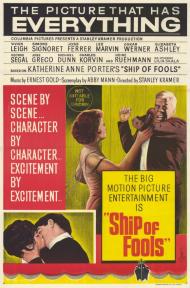 US Release Date: 07-29-1965
Directed by: Stanley Kramer
Starring
▸
▾
Vivien Leigh

,

as

Mary Treadwell
Simone Signoret

,

as

La Condesa
Jose Ferrer

,

as

Rieber
Lee Marvin

,

as

Tenny
Oskar Werner

,

as

Dr. Schumann
Elizabeth Ashley

,

as

Jenny
George Segal

,

as

David
Jose Greco

,

as

Pepe
Michael Dunn

,

as

Glocken
Charles Korvin

,

as

Capt. Thiele
Heinz Ralhmann

,

as

Lowenthal
Lilia Skala

,

as

Frau Hutten
Barbara Luna

,

as

Amparo
David Renard

as

Woodcarver
Reviewed on:
October 5th, 2010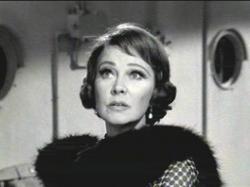 Vivien Leigh in her final screen role.
Ship of Fools has been described as Grand Hotel on a boat. It does have some similarities with that MGM classic, a diverse group of characters staying in a glamorous setting, a minor character that talks directly to the audience to introduce and conclude the movie; however it is more of a Stanley Kramer "Message Picture". It was taken from the novel by Katherine Anne Porter. Kramer was known for tackling serious topics like racism (The Defiant Ones), the aftermath of nuclear war (On the Beach) and the teaching of evolution in public schools (Inherit the Wind) in long B&W movies (serious dramas were the last bastion of black and white cinematography, as late as 1968 they were still being made). Here Kramer once again tackles racism, specifically anti-Semitism as he had in Judgment at Nuremberg. He would revisit the topic again in Guess Who's Coming to Dinner although that movie would finally be in color.
The setting is a German run cruise ship on a transatlantic run from Mexico to Europe just as the Nazis have come to power. Only the German passengers are asked to dine at the Captain's table. Well all the German passengers except one Jewish man and a dwarf (that is the un-PC word he uses to describe himself). He is the character that introduces and concludes the story.
The other passengers include the ship's kindly doctor, an American ex-baseball player, a rabidly anti-Semitic German man who ends up sharing a cabin with the Jewish man, a drug addicted woman on her way to prison in Spain, a young American painter and his paramour, and a wealthy American widow, among several others. Also on board and living on the lower deck are several hundred Spanish peasants being sent back to Spain as the manual labor jobs they were needed for are no longer available.
What's interesting about this movie is that it was made in 1965 when Hollywood had finally shed the restrictions of the Hays Code and is set in 1933 the year before the code went into effect. Sounds like a great combination. The problem is that the sensibilities and manner of speaking of the majority of the characters (not to mention the ladies hair styles) seems more 1960's than 1930's. For example though pre-code movies were up front about sex they never spoke about bodily functions, they had more class than that. In this movie a doctor asks a female patient when the last time she had her period was. I'm not sure that term would have been used in 1933.
Another interesting thing is how people aged differently in those days. The doctor asks a patient how old she is. By today's standards she looks 60 but it turns out she is just 42. In one scene the character played by Vivien Leigh states that today is her 46th birthday. While she (Leigh was actually 51) looks OK for that age she acts as if her life is over.
Speaking of Vivien Leigh, she is the best thing the movie has going for it. She is the only character that truly seems to embody the time period and glamorous setting. And though she was going through many mental and physical health problems during filming she proves that her acting chops were still intact. One scene where she gets drunk, performs an impromptu Charleston and then applies make-up in a grotesque manner is particularly impressive and sad. This would be "Scarlet O'Hara's" final screen role and she would be dead within 2 years of its release.
Lee Marvin and a very young George Segal play the uncouth ex-ball player and the socially conscious painter respectively. The romance between Simone Signoret and Oskar Werner gets more screen time but it is Vivian Leigh's tragic aging alcoholic flirt that steals the movie and is the main reason it's remembered at all.
Ship of Fools is an interesting movie that tries very hard, but it is no Grand Hotel.
Photos © Copyright Columbia Pictures (1965)