Movie Review
Shining Through
He needed to trust her with his secret. She had to trust him with her life.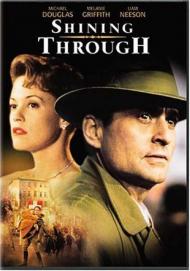 US Release Date: 01-31-1992
Directed by: David Seltzer
Starring
▸
▾
Michael Douglas

,

as

Ed Leland
Melanie Griffith

,

as

Linda Voss
Liam Neeson

,

as

Franze-Otto Dietrich
Joely Richardson

,

as

Margrete Von Eberstein
John Gielgud

,

as

Sunflower
Francis Guinan

,

as

Andrew Berringer
Patrick Winczewski

,

as

Fishmonger
Anthony Walters

,

as

Dietrich's Son
Victoria Shalet

,

as

Dietrich's Daughter
Sheila Allen

as

Olga Leiner, Margrete's Mother

Reviewed on:
October 12th, 2012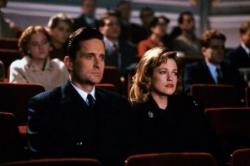 Michael Douglas and Melanie Griffith in Shining Through
Shining Through is a romantic take on World War II. You can call to task the inaccuracy and implausibility of it all, or you can just sit back and enjoy the movie. Just as the main character, Linda, likes to discuss old movies, Shining Through unfolds very much like an old fashioned black and white film, only longer.
It is told in flashback with an elderly Linda being interviewed by the BBC about her experiences in World War II. In 1940, she was hired as a translator for Ed Leland in a New York office. Ed is a man of mystery, whom Linda soon discovers is a spy. This first part of the film is like Working Girl set in 1940. Linda is a middle class girl trying to make it in a business world where people have higher pedigrees and education.
Linda and Ed fall in love but are soon parted due to the events on December 7, 1941. In a scene reminiscent of Casablanca, Ed and Linda say goodbye, with Linda delivering the film's most telling line, "What's a war for-if not to hold on to what we love." Ed disappears to unknown assignments while Linda goes to work in the war department. One day at a USO party, they run into each other and reconnect. Linda goes back to work for Ed,only now she has near full disclosure of what his job is.
After an agent is killed, Linda convinces Ed to send her into Germany to take the agent's place in retrieving information on Germany building rockets. Linda intends to become a cook for a high ranking Nazi, but things do not go as planned and she ends up a nanny for a widowed German officer's children.
Although this is the part of the film that is intended to be exciting, it quickly becomes bogged down in a plethora of storylines and coincidences. Linda's contact is a grumpy old man. She makes friends with a German woman of high standing. She sends a message through a fishmonger looking for her Jewish relatives hiding in Berlin. The single father develops feelings for her. Through it all, Linda has one close call after another, but it needed a better focus.
Before everything is said and done, Linda is betrayed and nearly killed. The tension is always there but as we know by the BBC interview, she obviously lives through the war. The scene of her escape from Germany with Ed's help is exciting and very over-the-top.
What makes Shining Through work at all is Melanie Griffith. She plays common better than anyone. Other than in Working Girl, her charm has never been better displayed. Although she had been acting since the 1970s and continues to today, this was the height of Melanie Griffith's career. After her dismal performance in the remake of Born Yesterday (1993), she fell out of favor at the box office.
As a film buff it was interesting to hear Linda refer to so many old films like The Mortal Storm (1940) and Espionage Agent (1939). However, at one point she says that The Fighting 69th (1940) starred Brenda Marshall and Cary Grant, when in fact it starred James Cagney and Pat O'Brien.
Photos © Copyright Twentieth Century Fox Film Corporation (1992)