Movie Review
Shaun the Sheep Movie
Catch them if you ewe can!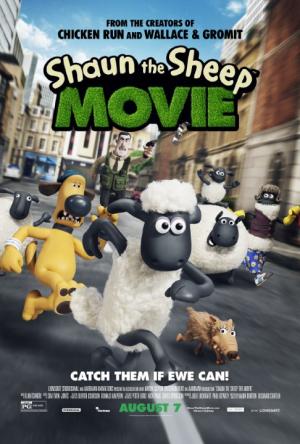 US Release Date: 08-05-2015
Directed by: Mark Burton, Richard Starzak
Starring
▸
▾
Justin Fletcher

,

as

Shaun / Timmy (voice)
John Sparkes

,

as

The Farmer / Bitzer (voice)
Omid Djalili

,

as

Trumper (voice)
Richard Webber

,

as

Shirley (voice)
Kate Harbour

,

as

Timmy's Mum / Meryl (voice)
Tim Hands

,

as

Slip (voice)
Andy Nyman

,

as

Nuts (voice)
Simon Greenall

,

as

Twins (voice)
Emma Tate

,

as

Hazel (voice)
Jack Paulson

,

as

Celebrity with Hair Trouble (voice)
Sean Connolly

,

as

Maitre D / Golfer / Stylists / Angry Panto Horse / Hospital Characters (voice)
Henry Burton

,

as

Junior Doctor / Animal Containment Visitor (voice)
Dhimant Vyas

,

as

Hospital Consultant (voice)
Sophie Laughton

,

as

Animal Containment Visitor (voice)
Nia Medi James

,

as

Operatic Sheep (voice)
Stanley Unwin

,

as

Bus Station Announcer / Hospital Announcer (voice) (archive footage)
Nick Park

as

Himself (voice)
Reviewed on:
January 28th, 2016
Shaun the Sheep with Blitzer the dog in Shaun the Sheep Movie.
From the studio that brought you Wallace and Gromit, Chicken Run, and The Pirates! Band of Misfits (among others) comes Shaun the Sheep Movie, based on the popular BBC children's television series of the same name. Like those earlier films, this one is charmingly animated using stop motion with a touch of CGI for some effects. Although still enjoyable by audiences of all ages, this one is definitely aimed at the younger members of the audience.
Another difference between this movie and Aardman Animations' other work is that this one plays out like a silent movie. The animals, despite being intelligent, never speak and when the humans do it sounds like gibberish. Perhaps this is meant to be how the animals hear them, but at the same time the animals are able to read and do other complex things, such as disguising themselves as humans, and constructing horse costumes large enough in which to hide half-a-dozen sheep, and a couple of dogs. With all of the clever visual devices on display, the lack of dialogue is hardly missed, but it does add to the sense that this is much more of a children's movie at heart than their previous work. A sense that is helped by the presence of a couple of bodily function jokes.
The plot is simple. Shaun is a young sheep living on a farm in the English countryside run by a farmer and his dog. After becoming bored with the routine of the everyday life of a sheep, Shaun orchestrates a day off with the help of his fellow sheep by lulling the farmer to sleep and putting him inside a trailer. The plan goes awry however when through a series of accidents, the trailer ends up bouncing down a hill toward the big city with Shaun and his fellow sheep in hot pursuit. Eventually the trailer gets into an accident and the farmer ends up with amnesia. Shaun and his sheep run afoul of an animal control officer and must sneak through the city in an effort to find their farmer and hopefully restore his memory.
Although the slapstick seems aimed at the little ones, there is still plenty for the grown-ups to enjoy. The animation--as with of all of Aardman's work--is so cleverly done that it's impossible to not be impressed. There's always something to see and marvel at. I should add that not all of the jokes are strictly for the kids. As with all great animation there are a few gags clearly intended to slip over the heads of the smaller members of the audience and I would be lying if I said I hadn't laughed out loud several times while watching. And even when I wasn't laughing, I was still enjoying the cleverness of how it was all assembled.
With Pixar's Inside Out as its competition, Shaun the Sheep isn't likely to win the Oscar for Best Animated feature, but it is certainly deserving of its nomination. A sequel has already been announced, and if it is of the same quality as this one, I will happily enjoy it.
Photos © Copyright Aardman Animations (2015)