Movie Review
Shanghai Express
Many Men Had Loved Her -- but only one had been loved in return!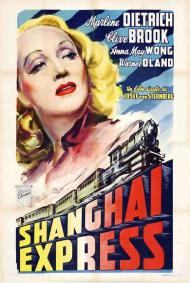 US Release Date: 02-12-1932
Directed by: Josef von Sternberg
Starring
▸
▾
Marlene Dietrich

,

as

Shanghai Lily
Clive Brook

,

as

Captain 'Doc' Harvey
Anna May Wong

,

as

Hui Fei
Warner Oland

,

as

Mr. Henry Chang
Eugene Pallette

,

as

Sam Salt
Lawrence Grant

,

as

Reverend Mr. Carmichael
Louise Closser Hale

,

as

Mrs. Haggerty
Gustav von Seyffertitz

,

as

Eric Baum
Emile Chautard

as

Major Lenard

Reviewed on:
August 19th, 2010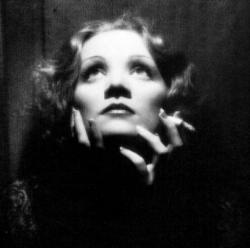 Marlene Dietrich in Shanghai Express.
Shanghai Express is a taut, romantic thriller that tells of one trip by a group of people on the titular train during the Chinese revolution. At just 80 minutes it flies by and is a great showcase for its star, Marlene Dietrich.
The movie's opening rather reminded me of an Agatha Christie novel. An assorted and varied group of people are boarding a train bound for Shanghai. These were the days when train journeys took days to complete and in the confined spaces of the train people from different levels of society, who under normal circumstances would never interact, are thrust together.
Dietrich plays Shanghai Lily, a notorious woman known as a 'coaster', because she is a "woman who lives by her wits along the China coast", which is just a fancy way of saying that she makes her living by being the mistress of rich men. I've not seen many Dietrich films, but I have to say that here it's very easy to believe that she could live this way. With many actresses of the period you have to say things like, "She was beautiful for the time", but Dietrich was beautiful no matter what the period. Her look actually seems quite modern, although many of her costumes do not.
While Dietrich's accent is actually kind of sexy, it doesn't help her performance. It makes her seem a bit stiff at times. There are a couple of scenes where she speaks in French, and I don't know if it's just because I don't understand the language, but her performance seems more smooth and relaxed when she's speaking it.
Lily's presence on the train causes a scandal, with several people shocked that she and fellow passenger, Hui Fei (Anna May Wong), another woman of "low character" are allowed to travel on the same train with decent people.
Among the other passengers is British Army Officer and surgeon, Captain Harvey, with whom Lily once had a passionate affair. Or at least we're told it was passionate. Given how dull and starch-lipped Harvey comes across, it's a bit difficult to see what Lily sees in him. A better actor in the part could definitely have helped the romance angle.
Halfway through the journey, the train is stopped by Chinese Rebels who need a hostage to trade with the government for one of their own who has been taken prisoner. When they decide to hold Captain Harvey, it's up Lily to make a sacrifice to get him out of trouble.
I wasn't surprised to learn that this movie won the Oscar for Best Cinematography, as it is filmed very stylishly. Some old black & white movies are filmed the same way as they would have been filmed if they were shot in color, but this movie takes full advantage of the limitiations of black & white and turns them into advantages. The shadows and the contrasts are deliberately placed and give a very atmospheric feel to every shot.
Anyone who's read very many of my reviews knows that I have a pet peeve about movies that are just too long. That's definitely not the case here. Shanghai Express lives up to its name and moves along at a nice clip. Modern filmmakers please take note!
Reviewed on:
June 16th, 2011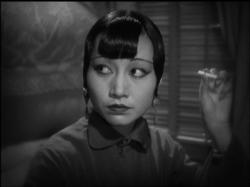 Anna May Wong in Shanghai Express.
Besides the impossibly glamorous Marlene Dietrich, the credit for Shanghai Express belongs to director Josef von Sternberg. He was very hands on with this movie. He helped art director Hans Dreier design the starkly atmospheric sets, and (according to Dietrich's autobiography) was responsible for most of the actual cinematography that, as you mentioned Scott, won an Oscar (which went to Lee Garmes).
Still it is Dietrich in the full bloom of her stardom that ensures the movie's immortality. Travis Banton outdid himself designing gowns for his muse. She wears lace veils, ostrich feathers and lots of fur and looks like the definition of a movie star throughout the picture. She also gives several stunning close-ups, one where she is trying not to cry while holding her head back and smoking a cigarette that is particularly memorable (see photo in Scott's review).
She also gets to utter one of the most well-known and oft quoted lines of her career. When Captain Harvey questions her about changing her name he asks if she has gotten married. Her famous, defiant reply, "It took more than one man to change my name to Shanghai Lily."
Hollywood's first Asian star, Anna May Wong, is underused but gets to play a key role in the plot. China initially wanted to ban Shanghai Express until Paramount conceded not to make any more films dealing with Chinese politics. The Hays Code (which hadn't yet grown its fangs) disapproved of one line spoken by the mixed race character of Henry Chang. He matter-of-factly says to Eugene Pallette's character, "I'm not proud of my white blood."
Shanghai Express was the highest grossing movie in America in 1932. It became a pop culture landmark, even being spoofed in a dance number entitled "Shanghai Lil" that was performed by James Cagney and Ruby Keeler in the Warner Brothers musical Footlight Parade the following year.
I agree Scott, Shanghai Express is a taut, romantic thriller and a great showcase for Marlene Dietrich.


Reviewed on:
November 6th, 2011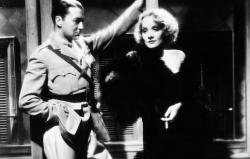 Clive Brook and Marlene Dietrich in Shanghai Express
I have to get this out. Marlene Dietrich was not a great actress. She had a timeless look and an accent that begged you to pay attention. What Dietrich did, better than anyone, was to give great face. She could pose herself and walk in extremely dramatic fashion. She understood her body in ways most women never will. She could say so much just by walking across the screen and glancing in a particular direction. If born a few years earlier, she would have made one hell of a silent film star.
Patrick mentioned my favorite line, "It took more than one man to change my name to Shanghai Lily." Scott is being too polite when calling Lilly, "...the mistress of rich men." She is, or was, clearly a prostitute. She may have been a high priced one as she was a minority and had a unique look for the locale, but she was a whore none-the-less.
My favorite line exchange is when Chang propositions Lily. "Could I persuade you to accept my hospitality until such time that you should grow weary of me." Dietrich responds, "I'm weary of you now." He continues, "I had no reason to believe that my invitation would give offense to Shanghai Lily." Dietrich announces, "Shanghai Lily has reformed." He later adds, "I'll make it worth your while."
She then gets saved by Captain Harvey, played by the dull Clive Brook. Gary Cooper of Clark Gable could have done wonders with the part, but since everyone on screen is playing second fiddle to Dietrich, it may have been best to have Harvey played by someone forgettable.
Hollywood has provided the world with many sexy women but few have found dramatic roles that allowed their sexuality to so dominate a movie. Dietrich is incredibly sexy when she goes to see Captain Harvey near the end of the film. He says she seems nervous and that her hand is trembling. She responds, "It's because you touched me, Doc." With Shanghai Express, Rita Hayworth in Gilda and Sharon Stone in Basic Instinct owe much to Marlene Dietrich and her haute couture.
Photos © Copyright Paramount Pictures (1932)
Related Reviews