Movie Review
Shall We Dance
Step out of the ordinary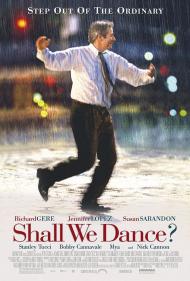 US Release Date: 10-15-2004
Directed by: Peter Chelsom
Starring
▸
▾
Richard Gere

,

as

John Clark
Jennifer Lopez

,

as

Paulina
Susan Sarandon

,

as

Beverly Clark
Stanley Tucci

,

as

Link Peterson
Bobby Cannavale

,

as

Chic
Lisa Ann Walter

,

as

Bobbie
Omar Benson Miller

,

as

Vern
Anita Gillette

,

as

Miss Mitzi
Tamara Hope

,

as

Jenna Clark
Stark Sands

as

Evan Clark

Reviewed on:
October 24th, 2004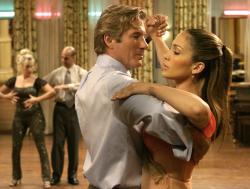 Richard Gere and Jennifer Lopez in Shall We Dance.
A midlife crisis is hardly an original plot device. However, it gets a unique perspective in Shall We Dance. After 19 years of marriage, two children, and a repetitive job, John decides to take ballroom dance lessons. At first, he is attracted to the lessons because of one of the attractive instructors. He makes a weak attempt at seducing her. She quickly shoots him down. He sticks with the dancing as he has discovered that he likes it. His wife has no idea he is taking a dancing class and assumes he is having an affair.
Gere has grey hair and a big nose. He also has that movie star charm that enables him to appeal to viewers. Based on the makeup of the audience I was in, he really appeals to female viewers. He never looks stupid or ridiculous dancing. He is the most sophisticated American movie star working today.
Lopez does nothing in this film, other than wear butt hugging dresses. Any number of actresses could have played her role with out affecting any change to the movie. Of course, her character is not very well fleshed out. All that we learn about her is that she is a dancer who lost a big contest and a boyfriend recently. She has one solo dance number that shows off her moves and a few with Gere.
Speaking of dancing. Shall We Dance uses dancing as a metaphor for happiness. John does not have a sad life, it is just lacking in happiness. He finds it in dance class. Dancing is passionate and liberating. It works well as symbolism, but it also gives me something to complain about.
At one point in the movie, the entire dance class watches a scene from The Band Wagon (1953). In it, Fred Astaire and Cyd Charise dance in a long continuous shot. They had talent! You knew that they practiced that number a hundred times to get it right for the movie. You gotta respect their conviction. The dance scenes in Shall We Dance are so edited that I do not believe for a moment that Gere actually ever performed an entire dance routine. The director should have left the camera alone and just let the dancing be it's own editor. The quick shots and edits to add movements to the dances do not work. It only made me wish all the more for an old time musical number, where you know for sure that the actors are actually dancing and not just posing.
Lisa Ann Walter and Stanley Tucci provide the comic relief. Walter plays a dance student who constantly wears tacky, skintight clothes over her large rear end and then barks at everyone to, "Quit staring at my ass!" Tucci plays John's coworker, who is a closet dancer. He pretends to like sports at work but then dresses up in a disguise and dances at night.
This movie's message is about second chances and finding happiness in unexpected places. Although not quite a perfect film, Shall We Dance is a funny romantic film that says trying new things is a good way to find happiness.
Photos © Copyright Miramax Films (2004)