Movie Review
Sgt. Pepper's Lonely Hearts Club Band
Only their music could conquer the forces of evil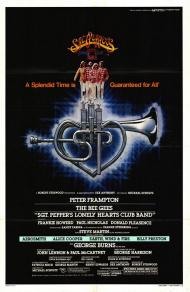 US Release Date: 07-24-1978
Directed by: Michael Schultz
Starring
▸
▾
Peter Frampton

,

as

Billy Shears
Barry Gibb

,

as

Mark Henderson
Robin Gibb

,

as

Dave Henderson
Maurice Gibb

,

as

Bob Henderson
Frankie Howerd

,

as

Mr. Mustard
Paul Nicholas

,

as

Dougie Shears
Donald Pleasence

,

as

B.D. Hoffler
Sandy Farina

,

as

Strawberry Fields
George Burns

,

as

Mr. Kite
Dianne Steinberg

,

as

Lucy
Steve Martin

,

as

Dr. Maxwell Edison
Aerosmith

,

as

Future Villain Band (FVB)
Earth Wind & Fire

,

as

Themselves
Alice Cooper

,

as

Marvin Sunk
Billy Preston

,

as

Sergeant Pepper
Stargard

,

as

The Diamonds
Carel Struycken

as

The Brute

Reviewed on:
May 6th, 2012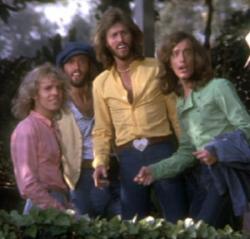 Peter Frampton and the Bee Gees in Sgt. Pepper's Lonely Hearts Club Band.
This is another movie from my childhood that I remember watching and enjoying multiple times on HBO. What can I say? I was very young.
Watching it now for the first time in over 30 years, I can of course see it for what it is, a laughably bad movie. What surprised me was that it wasn't horrible for the reasons I thought it would be, but for entirely different ones.
I assumed that a movie made in 1978, the height of the Disco era, featuring the Bee Gees and Peter Frampton covering classic Beatles' songs that it would be the music that would be the worst thing about it. Actually, and Beatles purists can be damned, some of the songs are pretty good. Granted, quite a few of them are horrible and very dated, but others aren't bad at all.
Barry Gibb's "A Day in the Life" and Peter Frampton on "The Long and Winding Road" are probably the two best versions by the leads. Sandy Farina has a sweet enough voice on "Here Come's the Sun" and "Strawberry Fields Forever." Steve Martin does his best Wild and Crazy Guy version of "Maxwell's Silver Hammer". Aerosmith's version of "Come Together" is probably the most successful cover and even made the Top 40. Earth, Wind and Fire's version of "Got to Get You Into My life", while not one of my favorites, also sold well as a single. The soundtrack is helped enormously by the fact that it was produced by the Beatles' legendary producer, George Martin.
Some of the worst versions are George Burns performing "Fixing a Hole", Frankie Howard's "When I'm Sixty-Four" and Donald Pleasance (of all people) on "I Want You".
Patrick recently referred to 1927's The Jazz Singer as a "silent musical" and you could use the same expression to describe this movie. There is no dialogue, just the songs. George Burns provides narration, but none of the main characters ever actually speak. It's one of the script's many problems.
Frampton and the Bee Gees may not have been great actors and they may not have had American accents, but then neither did the Beatles and they made a couple of successful movies. The thing the Beatles did have--besides lots of musical talent--was personalities. Someone came up with, or it evolved naturally, that each member of the band had a distinctive trait. George was the quiet one, Ringo the funny one, Paul the cute one and John the sarcastic leader. Without dialogue, Frampton and the Bee Gees aren't given a chance to demonstrate anything like that. They're all singing, interchangable non-entities.
The plot is silly, but not much fun. Frampton and the Bee Gees play Sgt. Pepper's Lonely Hearts Club Band, a musical group from a small town who makes it big, but who must return to their hometown when some magical musical instruments are stolen from a local museum. They then have to track down the instruments and defeat the evil mastermind who stole them, played by Steven Tyler of Aerosmith. While it sounds like it could be ripe for some campy humor, only Steve Martin seems to be playing it as broadly as it needs to be played.
With such a lightweight plot and no dialogue, you also wouldn't expect a movie to last nearly 2 hours, but this one does. After the villain is defeated, it throws in a death and a suicide just to lighten the mood for awhile. Of course, not to worry, Billy Preston shows up as a supernatural coronet player just in time to use his magic powers to prevent the suicide and bring the dead character back to life. And that may have been the silliest sentence I've ever written in a movie review.
One odd and interesting note about the film is that at the movie's climax there is a reprise of the title track sung by an enormous group of celebrities of the day. They range wildly in fame and stature, and include Wolfman Jack, Carol Channing, Sha-na-na, Tina Turner, Keith Carradine, Peter Allen, Connie Stevens, Heart, Frankie Valli, Robert Palmer, Bonnie Raitt, Leif Garret and many, many others. It adds nothing to the movie, but it is a pop culture oddity to see so many familiar faces in one place.
At best, I'd hoped for some nostalgic enjoyment from watching this movie, but whatever enjoyment I once found in it is long gone. I'd also hoped that it might be so bad that I could enjoy the unintentional humor. Instead, it was just an awful movie with a few halfway decent cover versions of some great songs.
Reviewed on:
June 5th, 2012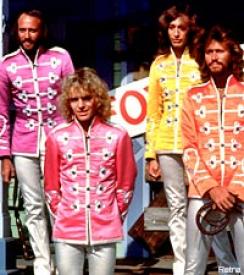 Peter Frampton and the Bee Gees in Sgt. Pepper's Lonely Hearts Club Band.
This movie played a significant role in my childhood. In the summer of 1978 I was eleven. Sgt. Pepper's Lonely Hearts Club Band represented a milestone in my young life. It was the first time I was allowed to go to the movies without being accompanied by a parent. I went with my fourteen year old sister (she was a huge Peter Frampton fan) and I can vividly remember the impact this movie had on me. We both pretty much thought the movie sucked but we loved the songs. I bought the double album soundtrack and listened to it over and over. I agree with Scott that as bad as the movie is, the music in it remains surprisingly good.
Scott, the silent musical description is apt since none of the characters utter any lines of dialogue – other than George Burns as Mr. Kite. I remember being disappointed by this when I first saw the movie and I still don't like it. In fact I dislike musicals in general where they don't speak, but only sing (Evita comes to mind). It's a device that really only works for opera. Of course the real reason they use it here is most likely due to the lack of acting talent among the main stars. The Bee Gees are particularly lacking in this respect. Even just pantomiming broad emotions and gestures is a stretch for them. Frampton is slightly better, even managing to cry in one scene.
I remember being frightened by Alice Cooper as a kid. He was just so oddly menacing. He was in rehab at the time and was allowed out to film his scenes. Like Scott I think Aerosmith's cover of "Come Together" is a highlight. I also still like the title song, as it's sung early in the movie, not the all-star collaboration at the end. Speaking of which, what a freak show that was. It was filmed at MGM Studios on December 16, 1977. Scott mentioned many of the musicians and singers present but here are a few more just to further cement the mental image... Helen Reddy, Etta James, Minnie Riperton, Donovan, Yvonne Elliman, José Feliciano, Nona Hendryx, Hank Williams, Jr., Bobby Womack, Chita Rivera, George Benson, Curtis Mayfield, Gwen Verdon and several dozen others. This was, of course, an obvious attempt to recreate the famous Sgt. Peppers album cover.
This movie proves that as gifted as the Beatles were as musicians and singers, their true genius was as songwriters. The variety of musical styles represented here is quite amazing. Lyrically and stylistically they demonstrate a great range. As Scott said not all the covers work but some of them are very good. Billy Preston's "Get Back" is a stand out in my opinion. But that's not surprising considering he played the piano on the original Beatles' version. Sgt. Pepper's Lonely Hearts Club Band is an awful movie; it's a cinematic oddity whose only saving grace is a memorable soundtrack. On a personal note, as bad as it is, whenever I watch it I'm transported back to more innocent days.

Reviewed on:
August 7th, 2014
Steve Martin provides the film's most entertaining moment.
One of my favorite songs from the original "Sgt. Pepper's Lonely Hearts Club Band" album is "Sgt. Pepper's Lonely Hearts Club Band (reprise)". It has a drum beat that is infectious and captures the Beatles at their most funky. The version in this movie nearly eliminates the percussion from the song, taking away the best part of it. My favorite song in the film is Aerosmith's cover of "Come Together."
The Beatles made some truly amazing songs, "The Long and Winding Road" being my personal favorite, but I have to write something that will likely cause many to scoff or outright consider me just plain musically stupid. The Beatles are over-rated. I think far too often people look back on the Beatles as a fond window into their youth and thus excuse their nonsensical lyrics. Seriously folks, songs like "Lucy in the Sky with Diamonds" make no sense. The best part about the performance of it here is the variety of camel toe on display. Beatle fans have put these guys on such a pedestal that if they had recorded three minutes of burping sounds, it would likely be the basis for some liberal college course given by an old hippy.
I know Beatle fans do not want to read this and may disagree, but so many of their songs are dated. You do not believe me? Then tell me this, why was Beatles Rock Band a sales failure? The video gamer crowd is not much interested in their psychedelic tunes.
The Beatles were not as deep as their fans like to think they were. According to Paul McCartney, the Fab Four misheard "salt and pepper" as "Sgt Pepper" during a meal, giving Paul the idea for the song and the concept of dressing in band uniforms. The Beatles wrote pop/drug songs and it likely helped to be stoned when listening to them and it for damn sure likely helps to be stoned when watching this horrendous movie.
With that said, this odd movie perfectly fits the peculiar songs. This is nothing more than a series of music videos loosely tied together into a plot, if that is what you want to call it. The songs have no cohesive connection to each other.
The original idea for this movie is based on the belief that "Sgt. Pepper's Lonely Hearts Club Band" is considered a concept album but it truly is not. Don't just take my word for it, "Sgt Pepper is called the first concept album, but it doesn't go anywhere. All my contributions to the album have absolutely nothing to do with the idea of Sgt Pepper and his band; but it works 'cause we said it worked, and that's how the album appeared. But it was not as put together as it sounds, except for Sgt Pepper introducing Billy Shears and the so-called reprise. Every other song could have been on any other album." John Lennon.
Photos © Copyright Universal Pictures (1978)