Movie Review
The Seven Little Foys
The story of a husband who didn't have time to come home! Daddy couldn't get home, so the kids all trouped down to Broadway and got into the act. The incredible, incomparable story of America's most fabulous family!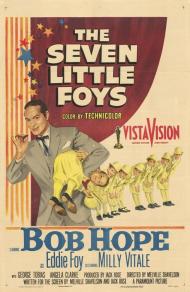 US Release Date: 06-23-1955
Directed by: Melville Shavelson
Starring
▸
▾
Bob Hope

,

as

Eddie Foy
Milly Vitale

,

as

Madeleine Morando Foy
George Tobias

,

as

Barney Green
Angela Clarke

,

as

Clara Morando
Herbert Heyes

,

as

Judge
Richard Shannon

,

as

Stage Manager
Billy Gray

,

as

Bryan Lincoln Foy, as a teen
Lee Erickson

,

as

Charley Foy
Paul De Rolf

,

as

Richard Foy
Lydia Reed

,

as

Mary Foy
Linda Bennett

,

as

Madeleine Foy
Jimmy Baird

,

as

Eddie Foy Jr.
Tommy Duran

,

as

Irving Foy
James Cagney

,

as

George M. Cohan
Charley Foy

as

Narration
Reviewed on:
December 6th, 2011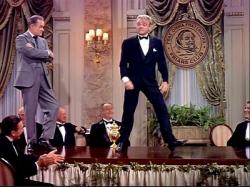 Bob Hope watches James Cagney dance in The Seven Little Foys.
The Seven Little Foys tells the story of Vaudevillian Eddie Foy. How he met and married his wife, produced 7 children with her and later put them successfully into his stage act. It stars Bob Hope in a rare straight role. He still gets to deliver some one-liners but he also does plenty of dancing and even handles a few dramatic scenes. This Technicolor biopic was released in 1955. The story is narrated by Charley Foy, one of Eddie's real life sons.
Struggling stage performer Eddie Foy meets and falls in love with a beautiful Italian ballerina named Madeleine. He disrupts her performance of Swan Lake one night and turns it into a comic number. After this somewhat rocky start they soon get married and begin churning out little Foys.
The story moves at a brisk pace. Eddie's act grows in popularity and he buys his family a nice new home in New Rochelle. He is away from home performing most of the time however. When tragedy strikes, Eddie's life is turned upside down. What's an old trouper to do except bring his offspring into the act.
This is a heartwarming family stage musical. Eddie's eldest son gets some of the best lines as he is cynical about his father's absence. At one point he refers to their dad as "one of mother's friends". Bob Hope gives a decent performance although he was not a great actor. He plays Eddie Foy like Bob Hope.
The highlight of the movie comes around the halfway mark. The character of Eddie Foy had one scene in the famous George M. Cohan biopic Yankee Doodle Dandy. Eddie Foy Jr. played his father. The real Eddie Foy had been kind to a struggling young actor in the early 1920's named James Cagney. Cagney reprised his Oscar winning turn as Cohan for this movie at no salary. He did it in honor of Eddie Foy.
While the rest of the movie is solidly entertaining, the six minutes or so in which Cagney and Hope share the screen is justifiably classic. The occasion is a banquet in which Cohan is presenting an award to Foy. They share some good natured ribbing before hopping up on the table for a dance off. Each does a short solo turn before they join up for one of the most joyful and carefree dance duets ever committed to film. It is a splendid and legendary moment that elevates the entire movie. At 51 and 54, respectively, Hope and Cagney remained riveting entertainers.
The Seven Little Foys is a good old-fashioned musical biopic featuring one absolutely unforgettable scene.

Photos © Copyright Paramount Pictures (1955)
Related Review