Movie Review
Seven Dwarfs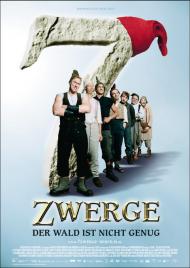 Germany Release Date: 10-28-2004
Directed by: Sven Unterwaldt Jr.
Starring
▸
▾
Otto Waalkes

,

as

Bubi / Bubis Mutter / Bubis Vater / Fanfarenblaser 1
Heinz Hoenig

,

as

Brummboss
Mirco Nontschew

,

as

Tschakko
Boris Aljinovic

,

as

Cloudy
Markus Majowski

,

as

Cookie / Cookis Mutter
Martin Schneider

,

as

Speedy
Ralf Schmitz

,

as

Sunny
Cosma Shiva Hagen

,

as

Schneewittchen
Nina Hagen

,

as

Bose Konigin
Norbert Heisterkamp

as

8. Zwerg


Reviewed on:
December 6th, 2011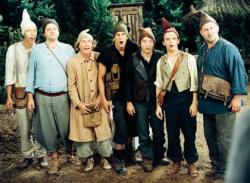 7 Zwerge
This version of the classic fairy tale Snow White and the Seven Dwarfs will either tickle you funny or leave you cringing. Personally, Seven Dwarfs (7 Zwerge) cracked me up. It follows the original story with plenty of odd twists.
In the forest live seven ridiculously stupid men. They are not dwarfs but call themselves such. Their height is a running joke. They live together as a sort of he-man woman haters club. When describing women, one of them says, "Stupid cows always in a shitty mood." They have all been hurt by a woman and have decided to live in the woods without them
As in the original story the evil queen asks her mirror who is the fairest of them all and becomes incensed when it is announced that it is Snow White and not her. She calls for her huntsman. After having him shoot her trumpeters, another running joke, she sends him to kill Snow White, who has meanwhile run away to the forest where she meets the seven dwarfs.
When the seven men first see her they are scared to a panic. After getting a better look at her they get turned on. You can tell by how their pointy hats straighten. They soon take a liking to her and paint half of their cottage pink.
Former punk singer Nina Hagen steals every scene as the evil queen. She takes diva to a whole new level. As a blonde, she has a jester tell her only jokes that insult brunettes. When the hunter cannot find Snow White, she yells, "What happened to that bitch of a brunette?"
She takes matters into her own hands and abducts Snow White. The seven dwarfs set out to rescue her. My favorite scene in the entire film is when they each audition to be the evil queens new court jester. They each tell the same joke but in different ways.
Seven Dwarfs has a few slightly adult jokes and a bit of swearing in the subtitles. There is plenty of slapstick, such as the dwarfs version of a board game which involves hitting each other with a wood board. Nods are made to such films as Bonny and Clyde, The Right Stuff, Star Wars: Return of the Jedi and Lord of the Rings: The Two Towers, as well as other fairy tales.
Seven Dwarfs was such a big hit in Germany that a sequel was made two years later. The dwarfs marching song will stay in your head. I do not know German but the melody is locked in tight. German celebrities make cameo appearances in both films. No doubt Germans get more out of this film than people of other countries, but enough of the jokes translate to make this a comedy worth laughing at.
Reviewed on:
December 15th, 2011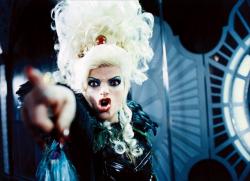 Nina Hagen as the Evil Queen in Seven Dwarfs.
Yes the humor is juvenile, silly and stupid but it's done with such enthusiastic glee that I found myself enjoying this movie. It reminded me a bit of Monty Python and the Holy Grail only with more slapstick. I agree that Nina Hagen is a scene stealer as the Evil Queen and I also cracked up at the evasive and sarcastic tone of the Magic Mirror.
Eric mentioned a few running gags, of which the movie is filled. I laughed at the tall guy that wants to be a dwarf but since there are seven of them already they keep telling him to "piss off". The Queen keeps asking for a "black-eye" and a "black guy" sticks his head in the door every time. That joke reminded me of early Mel Brooks with its politically incorrect racial overtones. There is another running gag where each time a character refers to a specific event by saying "That Night!" there is a dramatic flash of thunder and lighting.
Other jokes include the Queen using a giant Tupperware container as Snow White's glass coffin and a male dwarf that sings like a woman. Some of the jokes don't work however. The cow manure catapult comes to mind. And although the movie runs only 90 minutes, I was definitely ready for the silliness to end at about the 75 minute mark.
Seven Dwarfs was shot entirely on a soundstage. Visually they did a good job of creating the enchanted forest and surrounding lands. There are some mildly surreal details like the seven dwarfs all riding on the very long back of their horse. This gag includes some bathroom humor.
Seven Dwarfs manages to be the kind of comedy that both adults and children can enjoy. As Eric pointed out there are some mild swear words and sexual innuendo but nothing that is too shocking for the kiddies and they will likely crack up at the stupid slapstick antics of the dwarfs. Like Eric, I found their theme song to be quite catchy. They also do a little dance to it. "Hey zwerge, hey zwerge, hey zwerge, ho".

Photos © Copyright Universal Pictures (2004)
Related Reviews