Movie Review
The Sessions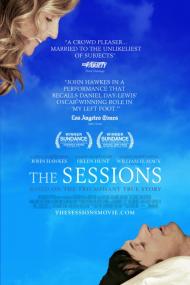 US Release Date: 11-16-2012
Directed by: Ben Lewin
Starring
▸
▾
John Hawkes

,

as

Mark O'Brien
Helen Hunt

,

as

Cheryl
William H. Macy

,

as

Father Brendan
Moon Bloodgood

,

as

Vera
Annika Marks

,

as

Amanda
Adam Arkin

,

as

Josh
Rhea Perlman

,

as

Mikvah Lady
W. Earl Brown

,

as

Rod
Robin Weigert

,

as

Susan
Blake Lindsley

,

as

Dr. Laura White
Ming Lo

,

as

Clerk
Rusty Schwimmer

,

as

Joan
Jennifer Kumiyama

as

Carmen

Reviewed on:
January 13th, 2013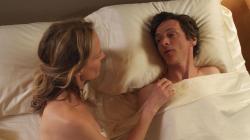 Helen Hunt and John Hawkes in The Sessions.
The Sessions is a feel good movie about sex and the disabled. It's based on an article by Mark O'Brien, a paralyzed writer, entitled "On Seeing a Sex Surrogate", which detailed his loss of virginity at the hands of a professional sex therapist. It treats its delicate subject with honest frankness and a gentle sense of humor.
John Hawkes stars as O'Brien, a writer and poet living in San Francisco, who has been paralyzed from the neck down since the age of six due to polio. He still has feeling in his body, but can not move a muscle and spends nearly all of his time in an iron lung, only emerging for three to four hours a day. He is supervised nearly round the clock by a rotating group of carers. When one of them, a young, female college student, awakens romantic feelings in him that are rejected, he starts to wonder about the possibility of losing his virginity, eventually hiring a sexual surrogate (played by Helen Hunt) for whom he begins to develop feelings for.
Although both Hawkes and Hunt are nominated for Golden Globes for their performances, it is only Hunt who is nominated for the Oscar. Personally, I'm not sure how she got nominated for either,although I have a theory. Hawkes, on the other hand, is very deserving of the praise he has received. Anyone who only knows him from his sinister role as Jennifer Lawrence's meth addicted uncle in Winter's Bone, will be very surprised at the differences in this part. He's funny in a self-deprecating way. He only has his head, face and voice to act with and yet he creates a fully rounded, three-dimensional character who is limited, but never defined by his handicap.
Hunt does a fine job as Cheryl, the sexual surrogate, but the most notable thing about her performance is the nudity. She does quite a lot of it, which is rare for a couple of reasons. You don't often see an actress in her late 40s doing nude scenes and it's filmed in a very matter of fact way. It's in the course of a sexual act, but it's hardly filmed in a way designed to be titillating. For the record, Hunt is still in great shape and even though it's not particularly erotic, her nudity does become the focal point of those scenes simply because we're not used to seeing it. Beyond her willingness to do the full Monty, there's nothing else that really stands out about her performance or that screams, "Give me an award." It's nice. It's fine. Good even, but if her scenes had been filmed in a way where we didn't see her naked, would we hear her name on Oscar night?
One of the most refreshing aspects of the movie is the way sex is discussed and filmed in a grown-up manner. While there is humor in Mark's quest to lose his virginity, there's no giggling behind hands like a teenager when the subject comes up. It combines jokes and drama in a way that builds up to a life affirming, if melancholy, ending.
Reviewed on:
January 16th, 2013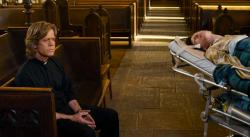 William H. Macy and John Hawkes in The Sessions.
The Sessions is an unusual, but sweetly romantic, love story. It tells of one man's journey of discovery. Mark not only discovers the joys and sensations of sex he also achieves the heights of ecstasy and endures the agonizing lows of romantic love. His is a bittersweet and incredibly moving story.
Most of us able bodied types go through life without giving disabled people much thought beyond a vague sense of pity. I'm rather ashamed to say that before watching this movie I had never really thought about someone in Mark's situation having a sexual, or even a romantic, relationship. If nothing else, The Sessions shows that everyone should have the potential to give and receive romance and sex, at least as far as their physical limitations will allow.
John Hawkes is brilliant in the role of Mark O'Brien. Why wasn't he Oscar nominated? He not only acts his head off (as Scott wrote, that's the only part of his body he can consciously control), but he also endured physical discomfort for the role. To get his spine to appear curved he placed a piece of foam as large as a soccer ball behind the left side of his back. It got to the point that his chiropractor warned him that his internal organs were beginning to migrate. Now that's suffering for your art.
Of course the amount of time Helen Hunt spends naked certainly explains some of the attention she has received for the role of Cheryl, Mark's sex surrogate. But this isn't a gimmick. She gives a sensitive performance filled with depth and a refreshingly open attitude towards sex. She is one fearless actress.
William H. Macy brings a bit of humor to the story in the role of Mark's priest. Before beginning the sex-therapy sessions Mark asks his priest if it is a sin. After mulling it over, the understanding clergyman replies, "I have a feeling that God is going to give you a free pass on this one. Go for it."
The Sessions is a heartwarming true story that will most likely move you to tears by the time it's all said and done. And you won't soon forget Mark O'Brien.

Reviewed on:
February 5th, 2013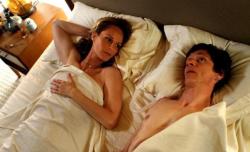 Helen Hunt and John Hawkes in The Sessions
Although, as Scott wrote, Helen Hunt going nude is what has garnered this film so much attention, I was struck by Mark's amazing attitude. Here is a man paralyzed from the neck down, yet he has a sharp optimistic wit. Early on he says in jest, "I believe in a God with a sense of humor. I would find it absolutely intolerable not to be to able blame someone for all this."
He is expectedly very nervous when meeting his sex surrogate, and hides behind his sense of humor. When Cheryl asks him, "How do you feel right now?" Mark responds, "Out of my league." Cheryl then states, "I understand you're able to have an erection." Without missing a beat, Mark replies, "Not by choice."
For me, the sheer beauty of this story is that this severely handicapped man has such a positive out look. He was dealt an incredible hardship but never spends a moment complaining about it. Perhaps it was his faith or his poetry that kept him from falling into a pitiful stupor, but he made me regret every bad mood I have ever experienced.
The story itself, that of a man anxiously losing his virginity, has been done more times than can be counted. What makes Mark O'Brien's story original is how openly and honestly it demonstrates that the need for love and the need to express it is not only for the healthy. Like Patrick, this film gave me pause to the lives of those with such disabilities. It is that by which this film may have made its greatest mark.
Photos © Copyright Fox Searchlight Pictures (2012)